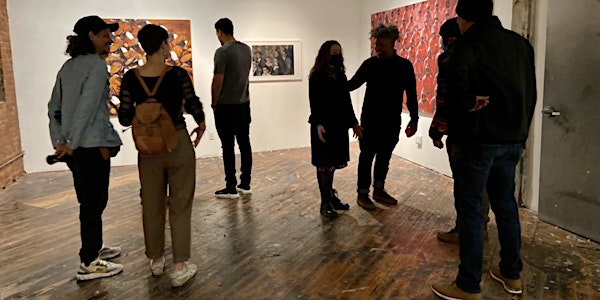 Pablo A. Medina | Paintings 2020-22 | Pop-up solo exhibition
Join us to toast the very special occasion of Pablo A. Medina's first solo exhibition.
When and where
Location
250 44th St 250 44th Street Brooklyn, NY 11232
About this event
Exhibition description:
FINDING A WAY OUT BY WALKING THROUGH
By combining letterforms rooted in sign painting traditions with messages pulled from freeform journal writing, these paintings materialize both the adversities and the joys of life during the capricious years of 2020-2022.
Underneath the messages are ideas familiar to some of the world's great spiritual traditions. The koan-like qualities of Zen Buddhism, the psychotropic nature of sacred Amazonian rituals and the polyrhythms of Santería can all be found within the works.
Although created during times of isolation and loss, the paintings serve as sign posts pointing towards lighter and more hopeful days.
Artist bio:
Pablo A. Medina is a Cuban-Colombian artist whose work combines folkloric letterforms with spiritual and ancestral themes. In 2018, the Latin America Contemporary Fine Art Competition (Chelsea, NY) awarded him an exhibition space in Miami's Spectrum Art Fair during Art Basel. In 1999, He was the youngest exhibitor in the Design Triennial exhibition at the Smithsonian's Cooper Hewitt Museum. He has been a contributing artist for a series of fundraising exhibitions that have collectively raised over $15,000 for non-profit organizations including the ACLU, The Standing Rock Council, Make the Road NY and City Harvest. On October 3, 2020, he marched along with hundreds of other artist activists in the historic Wide Awakes procession, protesting police violence, encouraging voting and manifesting Black joy. He has taught art and design at Parsons School of Design, Maryland Institute College of Art (MICA) and at California College of the Arts (CCA).