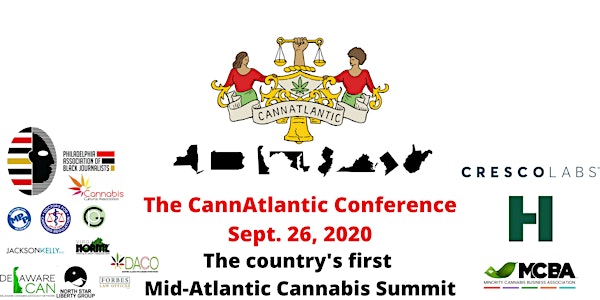 PABJ Presents: The CannAtlantic Cannabis Conference
Celebrate the country's first Mid-Atlantic Cannabis Conference focused on education and equity within the cannabis space.
About this event
As of 2019, 34 states, including Washington D.C., Guam and Puerto Rico have legalized cannabis to some capacity. Eleven of those states have now legalized cannabis for adult use.
The CannAtlantic Cannabis Conference is an educational opportunity that brings Mid-Atlantic community leaders, policy makers, business owners, journalists, patients and curious minds across the region to discuss and share the scope of ongoing social, political and community cannabis movements across the region.
This important convening is organized by The Philadelphia Association of Black Journalists (PABJ), the oldest and first association of Black journalists in the country. PABJ understands that dialogue and education makes for a more informed, and civically engaged, public. PABJ recognizes all media outlets, content creators and journalists must be conscious about the cannabis legalization movement and properly include critical nuance, historical context and facts grounded in science and research to properly address the myriad of issues within the legalization movement; issues that continue to affect Black and brown communities.
COVID19 has wrecked the nation, and now states are starting to discuss that cannabis legalization can help mitigate some of the impacts of a large state budget deficits. Here in Pennsylvania, lawmakers, community members and businesses now actively discussing adult use legalization. Both Governor Tom Wolf and Pennsylvania Lt. Gov. John Fetterman have publicly endorsed cannabis legalization too.
Join us, and our growing list of presenting partners, to learn how legalization efforts are underway in New York, New Jersey, Pennsylvania, Delaware, Maryland, West Virginia, Virginia and D.C.
Each presenting partner will give an educational "State of State" report. Attendees will learn about different legalization efforts happening in the region, difficulties and successes community members are facing in the region, how the media is covering legalization in various states and solutions and suggestions on how we can improve and spread our knowledge to highlight issues that continue to go overlooked or underreported -- issues that tend to affect Black and brown populations.
Presenting partners include: DelawareCAN, CannaCultural Association, North Star Liberty Group, Virginia NORML, Marijuana Policy Project, DACO, Pure Genesis, Doctors for Cannabis Regulation, Jackson Kelly Law Firm and Forbes Law Office.
Corporate Sponsors include: Cresco Labs, Holistic Industries, Minority Cannabis Business Association