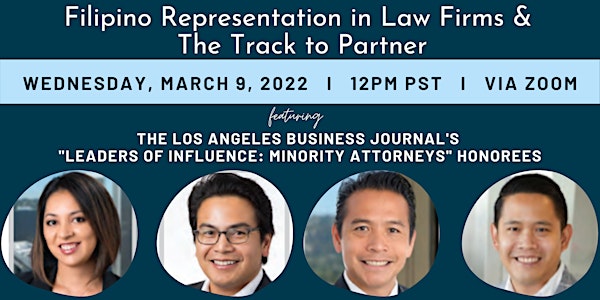 PABA's Rising To The Top - Zoom Webinar on Wed. 3/9/2022, 12:00 p.m.
PABA presents "RISING TO THE TOP: Filipino Representation in Law Firms & The Track to Partner" on Wednesday, 3/9/2022 12pm (PST)
About this event
The Philippine American Bar Association presents "RISING TO THE TOP: FILIPINO REPRESENTATION IN LAW FIRMS & THE TRACK TO PARTNER" on Wednesday, March 9, 2022 at 12pm (PST) via Zoom.
Panelists include honorees featured in The Los Angeles Business Journal's "Leaders of Influence: Minority Attorneys":
Maribeth Annaguey, Partner at Ellis George Cipollone O'Brien Annaguey, LLP
Ernie Ocampo, Partner at Reed Smith
Albert Valencia, Partner at Ervin, Cohen & Jessup, LLP
John De La Merced, Senior Counsel at Stubbs Alderton & Markiles, LLP
Moderated by Josephine Brosas, Partner at Lewis Brisbois
Visit www.PhilippineAmericanBar.org for more information.
Zoom link will be provided in a separate email prior to the event.