PAANC 2017 Holiday Gala

Friday, December 15, 2017 from 6:30 PM to 11:30 PM (EST)
Event Details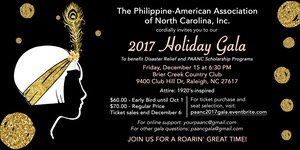 The Philippine-American Association of North Carolina, Inc.
cordially invites you to our

2017 HOLIDAY GALA
To benefit Disaster Relief and PAANC Scholarship Programs

Friday, December 15 at 6:30 PM
Brier Creek Country Club
9400 Club Hill Dr, Raleigh, NC 27617

Attire: 1920's-inspired

$60.00 - Early Bird until Nov. 15
$70.00 - Regular Price
Ticket sales end December 6

For ticket purchase and seat selection, visit: paanc2017gala.eventbrite.com

For online support: yourpaanc@gmail.com
For other gala questions: paancgala@gmail.com

JOIN US FOR A ROARIN' GREAT TIME!
**************************************************************************************************************

Information on the PAANC 2017 Holiday Gala
Q: What is this event?
A: The Holiday Gala is the premier event of the Philippine-American Association of North Carolina [PAANC]. This year's event promises to be spectacular! The gala committee has thoughtfully chosen a beautiful venue, a fun theme to go along with it, as well as great entertainment!
Q: What is the purpose of this event?
A: To raise awareness of the organization's mission, share its accomplishments with the community, and raise funds to sustain both existing and new projects.
Q: What is the venue like?
A: The Brier Creek Country Club is in a golf course community, conveniently located in Raleigh. It is nestled in a picturesque setting with the golf course as its back drop. You and your guests will spend the evening in an elegant ballroom in a relaxed luxury you deserve.
Q: Where do I park and are there parking fees?
A: There is ample onsite parking and it is free to guests. There is also additional parking nearby if needed.
Q: What is the theme of this event and what should I wear?
A: This year's theme is 'Great Gatsby.' Be sure to don your 1920s inspired fashion and style garb, complete with feathers and frills.
Q: What does my ticket include?
A: Your ticket includes admission to the event, dinner, beverage, dance (music provided by an outstanding DJ), one raffle ticket, opportunity to bid on silent auction items, and much more.
Q: Can I sit with my group at this event?
A: You may select your seats based on availability at the time you purchase your tickets. If you would like to be seated with your group, either purchase the tickets for the group and do the seat selection for them, or coordinate the booking with them.
Q: I missed the deadline to purchase tickets, can I still buy?
A: Depending on seat availability and if the tickets are purchased before the final headcount is submitted to the venue.
Q: Can I pay for my tickets at the door?
A: No. The venue requires us to submit the final headcount in advance so they can prepare and staff accordingly.
Q: I am attending the gala, but I have dietary restrictions or requests, what do I do?
A: Please e-mail the gala committee at: paancgala@gmail.com with your requests by December 6, 2017.
Q: What is your refund policy?
A: Unfortunately, we are unable to do refunds.
Q: Who may attend this event?
A: This event is for members and non-members who wish to support our organization.
Q: Can I bring my child to the gala?
A: This event is organized with adults in mind. Safety of all our guests is a priority. Therefore, we recommend making alternate arrangements for your children. However, for older children (10 years and over) may attend the event with parental supervision. Also, they will need to pay a full priced ticket.
Q: Will there be childcare services at the venue?
A: We regret to inform you that we will not be providing child care services this year.
Q: What is the check-in process at the event?
A: Since tickets are prepaid and seats are pre-selected, check-in should be a breeze. Just present your e-tickets at the check-in desk. There will be ushers to assist you in locating your tables.
Q: What if I lose or forget my ticket?
A: The check-in desk will have the guest list, so you may still check in hassle-free.  
Q: Is there a place to put my coat?
A: Yes, a coat check-in will be available free of charge.
Q: Is there a cash bar at the event and what are their hours? Do I tip the bar tenders?
A: Yes, there is a cash bar from 7-11 PM. There will be two bartenders stationed at the bar. And yes, it is customary to tip bartenders (per drink) at these events.
Q: I understand the tickets are just to cover the event expenses, how then can I help the organization raise funds?
A: PAANC would not exist or be able to carry out its mission without your support. Here are some of the ways you can help the organization:   
Prior to the event:
place business ads in our calendar or personal greeting in our coffee table book

donate items for the silent auction or prizes
At the event:
Make a donation: 100% of your donation go toward our humanitarian projects and it is tax deductible
Purchase our calendars, coffee table books and keepsake items

Bid at the Silent Auction  

Buy raffle tickets (50/50)
If I have an unanswered question, who can I talk to?
Thank you! PAANC would not exist without your support and we want to keep working with you to keep our mission going!
Venue map / Brier Creek Country Club
65384789
PAANC 2017 Gala - Early Admission
4
#998ae6
64874653
PAANC 2017 Gala - Early Admission
1
#ffbc32
64874654
PAANC 2017 Gala - Regular Admission
2
#ff8000
When & Where

Brier Creek Country Club
9400 Club Hill Dr.
Raleigh, NC 27617


Friday, December 15, 2017 from 6:30 PM to 11:30 PM (EST)
Add to my calendar