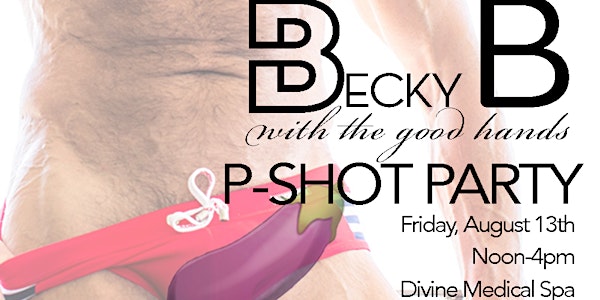 P-Shot Party presented by BeckyB with the good hands
P-Shots for Increased Sensitivity, Potency & Size. BeckyB is the only trained professional performing P-Shots in all of the Keys.
When and where
Location
Divine Medical Spa 624 Whitehead Street Key West, FL 33040
Refund Policy
Contact the organizer to request a refund.
Eventbrite's fee is nonrefundable.
About this event
The P-Shot Procedure is short & painless taking about 30 min total. There is also NO recovery time so you can begin to enjoy the effects of the procedure immediately! The event will take place in hour long sessions between Noon & 4pm so be sure to contact BeckyB to book which hour slot your procedure will be.
Cost: Total cost for the procedure is $1900 but BeckyB will be offering a $150 discount to anyone booking for this event.
Deposit: $350; for scheduling and to insure supplies a deposit is being asked which you can pay through this Eventbrite link. 95% of candidates are eligible for the procedure but if for some reason you are not, your deposit will be refunded in full.
Disclaimers:
- By booking an appointment and paying the deposit you are agreeing to uphold your appointment time.
- If you No Show to your appointment or arrive excessively intoxicated you will forfeit your deposit.
READ FURTHER FOR MORE INFO ABOUT THE P-SHOT
What is the P-Shot?
The Priapus Shot (P-Shot) uses safe, pain-free injections of a patient's own platelet rich plasma (PRP) to rejuvenate the penis and increase stimulation of new tissue growth, resulting in improved erections that are larger, firmer and more frequent. Because the PRP comes from your own body, it is more effective and more natural than other erectile dysfunction treatments.
P-Shot®: Penile Enhancement to Improve Sexual Function and Confidence
Erectile dysfunction (ED) is a problem for millions of men. Now, a revolutionary treatment is bringing relief to men of all ages using platelet rich plasma (PRP). Radiant Divine Medical Spa is one of the few leading-edge medical spas offering patients this innovative new treatment that promise to improve male sexual function and satisfaction, for patients and their partners.
What are the benefits of the P-Shot?
P-Shot patients report achieving firmer, larger erections and improved sexual enhancement. Other benefits include:
Non-surgical
Drug Free
Enjoy sexual relations on the day of procedure
Increased sensitivity
Increased desire
Larger girth & length
Almost instantaneous results
Fast & relatively painless
Better, healthier sex
Improved relations & stronger family
What can I expect during my appointment?
The Priapus Shot procedure is a quick, usually painless, 20 minute, nonsurgical procedure. The Priapus Shot procedure begins with numbing the penis and then a simple blood draw. Then, using a proprietary technique, platelet rich plasma is extracted from the blood and then injected into the shaft & into the head of the penis. There is no recovery time and the results are almost immediate in some men. Full results appear in 2-3 months.