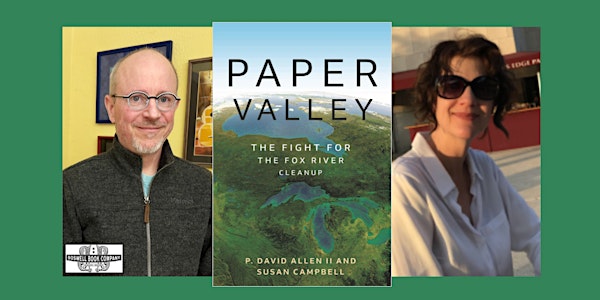 P. David Allen II and Susan Campbell for PAPER VALLEY - a Boswell event
P. David Allen II and Susan Campbell, authors of PAPER VALLEY - an in-person Boswell event
Date and time
Starts on Thursday, April 27 · 6:30pm CDT
Location
Boswell Book Company 2559 North Downer Avenue Milwaukee, WI 53211
About this event
Boswell Book Company hosts an evening with P. David Allen II and Susan Campbell, author of Paper Valley: The Fight for the Fox River Cleanup.
When government scientist David Allen arrived at his new jobsite in the 1990s, the Fox River near Wisconsin's Green Bay was dominated by hulking paper mills, noxious industrial odors, and widespread ecological damage. Confronted by his lack of resources to force the politically powerful "Paper Valley" polluters to fix their mess, Allen along with journalist Susan Campbell were relentless in bringing the case to the public at the time. In a rare and major environmental win, the Fox River became the site of the largest polychlorinated biphenyls cleanup in history, paid for by the paper companies rather than taxpayers, to the tune of $1.3 billion, and completed in 2020. Allen and Campbell eloquently outline the problematic bureaucracy involved in environmental cleanup efforts and reveal tactics to compel corporate entities who would dodge accountability for decades of contamination.
From William Rapai, author of Lake Invaders: Invasive Species and the Battle for the Future of the Great Lakes: "Paper Valley provides a first-person account of a significant environmental win, not just for the people and wildlife of northeastern Wisconsin but for everyone and everything who loves or lives around our Great Lakes. This book is a road map for those who are seeking environmental justice, yet it reads like a whodunit as Allen and Campbell describe how they faced physical threats and put their careers in jeopardy to do the right thing."
P. David Allen II is a retired wildlife biologist and environmental consultant, who has worked for federal, state, tribal, and local governments in twenty-five states.
Susan Campbell is a former environmental reporter for the Green Bay Press-Gazette and the coauthor of Beyond Earth Day: Fulfilling the Promise, with the late Earth Day founder, Sen. Gaylord Nelson.
Click here to order your copy of Paper Valley. Signed copies and personalization available on pre-orders. Please note that signed copies will not be shipped until after the event.