Ozone Spring Sound-Off 2020
About this Event
Sound-Off 2020 Headliners
Mandeville music-lovers are in for special night of original music headlined by Joanna Cotten (also a vocalist for the Eric Church band), Acadiana's Lance Dubroc and New Orleans-based Kennedy Kuntz.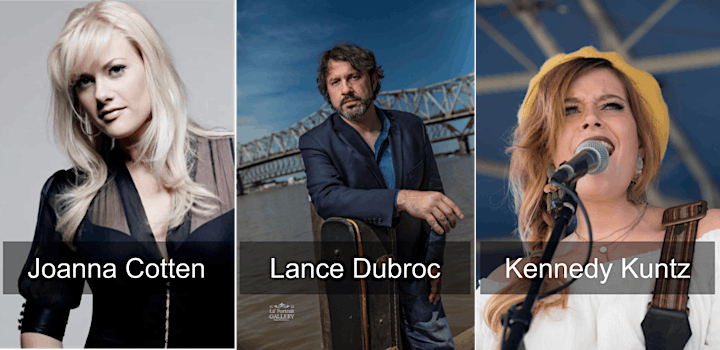 The night begins at 6:15PM with a performance by Bella, one of our Ozone Music Gifting Program graduates, who has now started writing her own songs. Bella will be joined by Emily Marin.
The first of the songwriter rounds then begins at 6:30PM with three great, young local writers: he talented, multi-instrumental Kiley McDonnel who won 2nd place in the 2018 Ozone Song Contest; Covington-based James Knobloch brings his powerful vocals and country/americana sound; from Long Beach, MS, Savannah Ray brings her hard-driving americana tunes to this year
The headline round starts at 7:30PM and features:
The powerful, soulful vocals of singer/songwriter Joanna Cotten who is taking time away from performances with the Eric Church band.
Lance Dubroc, who is making waves in the southern songwriter circuit for his powerful delivery and exceptional musicality.
New Orleans-based Kennedy Kuntz brings her skillful songs and great vocal delivery to the event.
Finally, the night ends with a Songwriter Open Mic which will feature original music by local writers. You'll be impressed by the local talent on display.