Event Information
Location
Troubadour
9081 Santa Monica Blvd
Los Angeles, CA 90069
About this Event
Ozma
In 1995, while still in high school, the members of Ozma first met and began conducting Casiotone counterpoint exercises and lyrical experiments in double entendre together. After selling homemade cassettes and CD-Rs at all ages shows throughout California and producing demos with Weezer's Jason Cropper and The Rentals' Rod Cervera, Ozma released their debut album Rock And Roll Part Three on January 1, 2000, nearly 20 years ago to the day. At the advent of digital distribution, the 11 slabs of infectiously singable powerpop on this "little-album-that-could" ruled Napster, Limewire, and MP3.com. Rock and Roll Part Three couldn't be ignored by Rivers Cuomo, who praised it in Rolling Stone and invited Ozma to join Weezer on several North American arena tours, catapulting the band to international success. Joe Escalante of The Vandals also became a lifelong supporter, signing Ozma to his Kung Fu Records imprint, giving them worldwide distribution to for their first three LPs and a headlining slot on the Warped Tour. Throughout the 2000s, Ozma continued touring tirelessly with era-defining bands including Rilo Kiley, Nada Surf, The Get Up Kids, Shiny Toy Guns, The Rentals, Superdrag, Nerf Herder, Piebald, Yellowcard, Hellogoodbye, Rooney, Asian Kung-Fu Generation, The Format, and innumerable partners on the road.
On 12/20, Ozma will celebrate the 20th anniversary of Rock and Roll Part Three by playing the album live in its entirety.
Cheekface
Cheekface is a rock combo from Los Angeles made up of guitarist and singing person Greg Katz, bassist and other singing person Amanda Tannen, and drummer Mark "Echo" Edwards. Inspired by the great American talk-singers like Jonathan Richman, Stephen Malkmus and Lou Reed, and British indie rock bands like Wire and The Fall, Cheekface released their first single "Glendale" in 2018, a song Indie Shuffle lauded as "an art-pop gem." Following what The Line Of Best Fit called "a stream of instant-classic singles," the band's debut LP Therapy Island materialized in spring of 2019 on the New Professor label. Post-Trash called the album "extremely charming and catchy," and Punk News said it's "a perplexing, rewarding experience." A groundswell of support for the album led the band to issue it on vinyl in October 2019, a pressing that quickly sold out.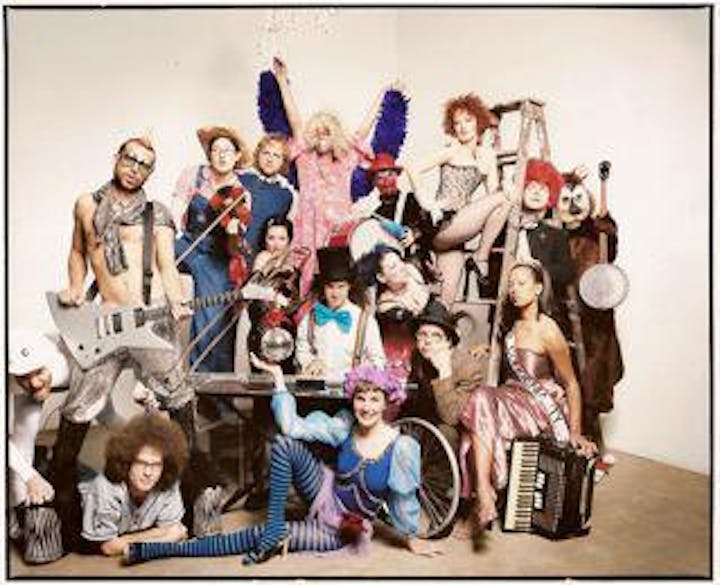 Quazar & the Bamboozled
After many years behind a drum set, Brandon Jay aka "Quazar" began what could only be called a romance with the piano. To his delight, he discovered his knack for songwriting. After his first show playing these songs live, a friend and fellow musician said in earnest "I'd love to play in your band when you get one together." That was all Brandon needed to hear. He invited every local musician he had admired over the years and "Bamboozled" them into starting a band. Together they recorded " The Lovely Lunatickle Musical Review", a frolicking adventure through circus-y sounds and upbeat melodies that are sure to get you grinning. The band (expanding and contracting in size at each performance) has had over 50 members pass through its doors since the Bamboozled opened for business. You will recognize the same warmth, charm and humor as their influences inspire – the likes of Randy Newman, Dr. Teeth and the Electric Mayhem, Leon Russell, T-Rex, Harry Nilsson and Frank Zappa. Brandon's knack for a good tune grew, and began to flourish further in projects like Gwendolyn and the Good Time Gang and ultimately landed him the happy job of composing music for the Showtime television comedy "Weeds" and Netflix's "Orange is the New Black".
Brandon relishes performing live on stage and is in the midst of recording his sophomore album "Get Bamboozled!" You never know - after seeing the show - you, too might want to join the band!
Performers
Date and Time
Location
Troubadour
9081 Santa Monica Blvd
Los Angeles, CA 90069
Refund Policy