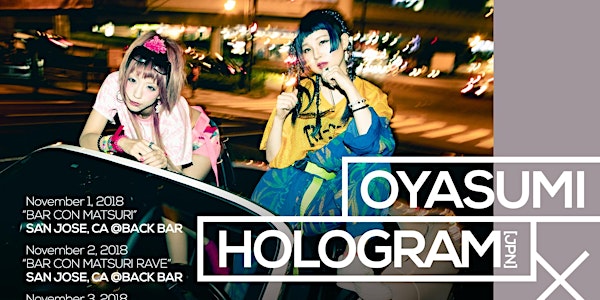 Oyasumi Hologram World 27 Tour W/Toriena- Bar Con Matsuri VIP Ticket
When and where
Location
Back Bar 418 South Market Street San Jose, CA 95113
Description
BAR CON MATSURI: Season 2 Episode 11, FEATURING Japan's very own indie rock, alternative idols OYASUMI HOLOGRAM. This is the very first show on their WORLD 27 TOUR! They are joined at this show by Japan's very own Chiptune Queen, TORIENA! Also, special co-host for the evening is Eri from the Los Angeles based idol duo, PhEri!
Oyasumi Hologram and Toriena will also be doing chekis/buppan at the show as well. Please support Oyasumi Hologram on their first ever world tour and also hang out and enjoy some great music by Japanese artists!
VIP Ticket INCLUDES THE FOLLOWING:
Early Admission to the show
Oyasumi Hologram Special VIP T-shirt, Wrist Band, and Signed Poster.
Toriena Special VIP T-shirt (Sixth Sense Riot), Sixth Sense Riot Sticker, and Sixth Sense CD special limited edition jacket, Selfie two shot, Signing of goods