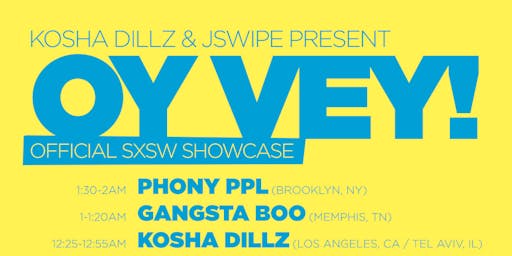 Music
OY VEY SXSW @ Parish w/Gangsta Boo, Kosha Dillz Phony Ppl + more
OY VEY SXSW is the brain child of rapper Kosha Dillz. It's aim is to promote unity with a kick ass Jewish theme,OY VEY! Now gimme a pickle!
Parish
214 East 6th Street
Austin, TX 78701
Free Event
Registration Encouraged
Tuesday, March 12
7:00pm - 2:00am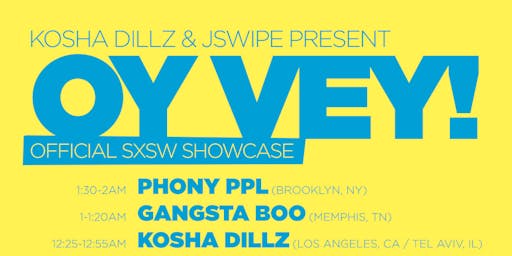 About this event
This is the 5th year of OY VEY SXSW and certainly the biggest.
The DIY artist run showcase has aim to bring all upcoming artists shine, and has included everyone from Trinidad James and The Cool Kids to local emo puppet NPR superstars Fragile Rock .
The 5th annual official OY VEY SXSW showcase
Kosha Dillz presents: OY VEY! SXSW
Doors 7 pm.
free w/ badges and wristbands.
RSVP for free pickles.
7:40-7:55 Ben Buck
8-8:25 Am Fragile Rock (austin)
8:35 - 8:55 am Bones Garage (Tlv)
9:05 - 9:30 am Lyons and CO. (chicago)
9:40 - 10 am There (Los Angeles)
10:10 - 10:30 am Ori (berlin, DE)
10:40- 11 am Jonz (Tel Aviv, IL)
11:05 -11:15 am Ben Buck (austin, TX)
11:20- 11:35 am Noa James (san Bernardino, CA)
11: 40 -11:55 am Jabee (Oklahoma City, OK)
12:00 - 12:20 am Dillon Cooper (Brooklyn, NY)
12:25 -12: 55 am Kosha Dillz (TLV)
1:00 - 1:20 am Gangsta Boo
1:30 - 2 am Phony PPL