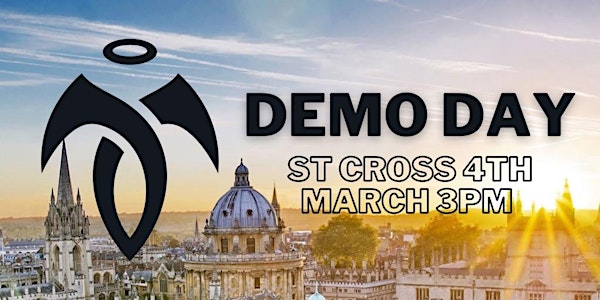 Oxford Angel Incubator Demo Day (2021-22)
Our Demo Day is the culmination of months of idea development for University of Oxford students enrolled in Angel Incubator's programme.
When and where
Location
St Cross College 61 St Giles' Oxford OX1 3LZ United Kingdom
About this event
The inaugural Angel Incubator pre-accelerator incubator programme is finally approaching its peak: Demo Day is here. Since its kick-off in September 2021, Angel Incubator has been supporting several teams in developing their ideas to first-stage impact start-ups. Demo Day is testament of what the teams have achieved: the milestones they have hit; the products they have developed; the partnerships formed; and the teams that have been built. It is also a way to look back at all that has been accomplished, and to what they will achieve next. And it is here at Demo Day where teams will be taking their ideas to the next level by pitching them to a panel of judges to win a selection of prizes.
The Demo Day will kick off with a Keynote speech by Maiko Schaffrath of Impact Hustlers: "Lessons Learned from the best impact-driven founders: How can entrepreneurs set themselves up for success?". We will then go into each team's pitch, covering various SDGs, before culminating in judge feedback and awarding of the prizes.
About Angel Incubator
We are the University of Oxford's only impact driven pre-accelerator programme for aspiring student entrepreneurs to turn their ideas into reality. We encourage idea development related to the Sustainable Development Goals, across health, education and environmental wellbeing.
We support students at the very early stages of their entrepreneurship, starting from idea development to funding pitch training. Our pre-accelerator programme aims to inspire students to realise their potential and explore entrepreneurship through providing a wide range of workshops led by experts within and outside of the University. As an incubator, we offer start-ups and new ventures all the resources they need to succeed.