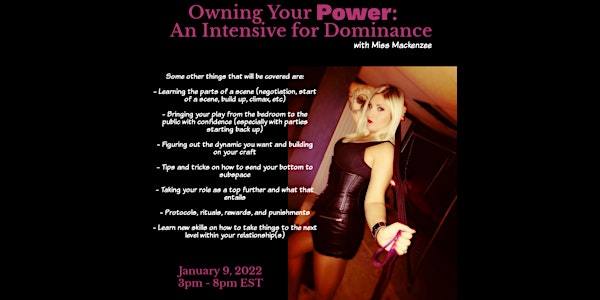 Owning Your Power: An Intensive for Dominance
Don't miss your chance to get the perspective of a Dominant and their 24/7, long term live-in submissive in this amazing intensive!
Refund Policy
Contact the organizer to request a refund.
Eventbrite's fee is nonrefundable.
About this event
So you think you have a strong Dominant side... but now what? Many people who get involved in BDSM don't really understand what that entails or how to stand out as a skilled and desirable player. This intensive is designed to discuss the responsibility and accountability that goes with that title, helping participants to hone their Dom skills and step further down the path of expertise in their roles. Even if you are not new to the lifestyle, you won't want to miss this extensive training as you will gain an abundance of information as well as see exciting demos! Miss Mackenzee will help to cover some of the questions people have when navigating their role as Dominant. We'll go over ways to keep the energy alive and fresh in established relationships and how to express your commitment. Some other things that will be covered are:
Learning the parts of a scene (negotiation, start of a scene, build up, climax, etc)
Bringing your play from the bedroom to the public with confidence (especially with parties starting back up)
Figuring out the dynamic you want and building on your craft
Tips and tricks on how to send your bottom to subspace
Taking your role as a top further and what that entails
Protocols, rituals, rewards, and punishments
Learn new skills on how to take things to the next level within your relationship(s)
Submissives and bottom-minded folks are encouraged to attend so they can support their D-types or gain knowledge on what to look for in a Dominant. This intensive will be 5 hours long which will include 4.5 hours of education and a 30 minute break. You will get the perspective of a Dominant that has a 24/7, long term live-in submissive who will be there as well to offer their insight. Regardless of gender identity, sexuality, relationship status, kink identity, experience level, age, or race, all are welcome to join this class.
About the presenter:
Miss Mackenzee is a Professional Dominatrix, Certified Erotic Hypnotist, Sexual Wellness Coach, Lifestyle and Adult Industry Mentor, as well as an International BDSM and Sex Educator. She has been involved in the kink lifestyle for 20 years. Miss Mackenzee co-hosts the Kink, Intimacy, and Cannabis Lounge podcast and also creates beautiful one-of-a-kind self defense tools and BDSM toys with her live-in submissive. Mindfulness is a practice that she incorporates not only into her play but her everyday life and enjoys helping others become more in tune with themselves and their partner(s). She teaches a full range of subjects including but not limited to energy/Tantra, bondage, power exchange, hypnosis, sexuality, and the art of sadism.
Miss Mackenzee is highly sought after for private lessons with individuals and couples as well as presenting at conventions and graduate programs at major universities. She has brought her experiences and skills to various organizations such as Kink.com, Widener University, TES, SF Citadel, Dark Odyssey, Celebrity Cruiseline, VoxBody Studio, Wicked Grounds, Black Thorn/Sacred Muse, SINergy, Kinky Kollege, Bound In Boston, YNot, SheBop, Adventures in Sexuality, ROPECRAFT, Weekend of Wickedness, Purple Passion, Rochester Erotic Arts Festival, Sexploratorium, EXXXotica, and many others.
She prides herself on creating a fostering environment that is safe from societal judgments for people to explore their kinks and sexuality. Each and every workshop is taught with passion and includes intentional energy as she feels it is essential to building a connection to not only her demo bottoms but the participants in her classes. She welcomes people to be free and honest with themselves and their desires.
She invites you to interact with her:
www.MissMackenzee.com
Twitter: @MissMackenzee
Instagram: Miss.Mackenzee
Fetlife: MissMackenzee
PLEASE READ:
THIS IS AN ONLINE EVENT. This workshop will take place in the privacy of your own home, from your personal computer, tablet or smartphone.
You must be 18+
Please log in on time.
All sales are final.
Notes for Zoom:
A link to join the Zoom meeting will be sent via the email you registered with.
Please download Zoom immediately to your computer, smartphone or tablet once you receive the link.
This will save you time and also ensure that you will be able to join the class on time.