About this Event
The leadership team in your company – or, at your client – moves fast and demands results. If you have an audience with them, you'd better articulate the ways in which you intend to help them produce useful output, or forget about an invitation to return. This poses a serious problem for many in the Human Performance field: You may see difficulties they don't notice, you may perceive solutions they haven't considered, and you may, in fact, understand their biggest problems better than they do. But as soon as you start talking about people systems, human performance, collaboration, and – perish the thought – morale, you get categorized, marginalized, and ignored.
For decades, highly competent Human Resource and Human Performance professionals have bemoaned their difficulty in getting a seat at the proverbial table. This may well be true, but the solution most often proposed – getting leaders and executives to more clearly perceive and appreciate the value you bring – is one sided at best, and has fallen predictably flat. These executives are, in the end, your customers!
Accusing them of lacking enlightenment and of not listening is no recipe for success; attempting to address this deficiency in the form of stories of processes and products that have helped other people in similar scenarios isn't much better. As with any other customer base, you win your leaders over not by begging them to accept your ideology, and not by showing them the products you like, but by discussing real solutions to their real problems, in terms to which they can relate. If you can do that, you won't have to ask for a seat at the table. You'll be offered one, and it will be yours to keep.
What to Expect:
In this one-day session, you'll gain both theoretical knowledge and practical tools to bring unique and useful solutions to leaders at all levels of your organization or your clients' organizations. You'll gain a framework that underpins and adds to the expertise you already have, and that will allow you to discuss, in specific and particular terms, your clients' real problems:
Execution: How to ensure that the work leadership wants is what gets done at all levels
Metrics: How to measure the right outputs without getting distracted by everything else
Accountability: How to validate real performance to useful objectives
Decisions: How management at all levels can make better decisions for better results
Development: How to create bench strength across the company, and not just at the top, so that when someone leaves, someone else can step in seamlessly
Meetings: How to observe and report actionable and useful recommendations in this critically necessary (and widely hated) element of the business world
To OWN YOUR SEAT is to feel safe, competent and well-positioned in any seat at any table, whether you're shoulder-to-shoulder with front-line managers or the Board of Directors, so that you can practice your profession proudly and with maximum impact.
Lunch is included as part of your registration fee.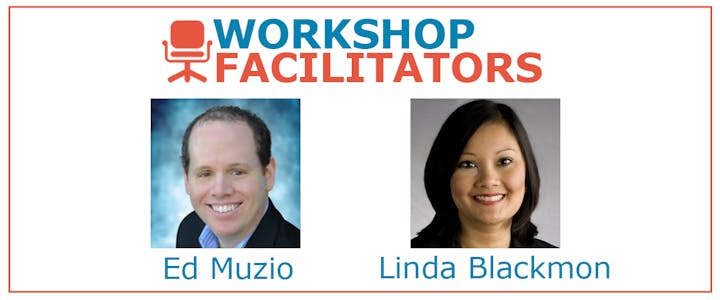 ABOUT THE FACILITATORS
Ed Muzio is a recognized expert on business culture and communication. His mantra is "higher output, lower stress, sustainable growth" – and his work on that kind of change has been hailed for producing substantial results even in the most challenging circumstances. Ed is the CEO of Group Harmonics, and since 2004 has been providing corporations with practical and effective solutions to common workplace challenges focusing on business infrastructure, communication, systems, and performance. Ed is the author of several award winning books including his latest, Iterate, in 2018 and has been featured as an expert in media outlets including CNN, Fox Business News, Inc. Magazine, The Washington Post, and SHRM. Learn more about Ed at www.GroupHarmonics.com
Linda Blackmon is a serial entrepreneur, investor and currently the CEO of the recruiting and human capital outsourcing companies ExtendMyStaff and ExtendMyTeam. Her companies support pre-IPO, explosive growth and SMB clients. She also co-founded the co-working space Duo Works in Austin and serves as Board Advisor for Datahoist. Linda brings 20 years of leadership, corporate HR and operations experience in a variety of roles from Fortune 50 to early stage companies. She has specific expertise in project management, talent acquisition, talent development, succession planning, diversity programs, and vendor selection for US and international projects and is known for building high performing teams.
WORKSHOP AGENDA
8:00-8:30 - Registration and Networking
8:30-12:00 - Morning Workshop
12:00-12:30 PM - Catered Lunch Provided
12:30-4:30 - Afternoon Workshop
*This session is pre-approved for 7.0 recertification credits with SHRM and Business credits with HRCI.