Description
Meet and greet Forbes Coach, International Business Strategist and Author Tamiko Cuellar online as she shares her powerful and inspiring message from her new book, "Own Your Brilliance! - A Woman's Guide to Hiring Herself." Tamiko will share her personal experiences that led to the birthing of the book and excerpts from the book.
You will walk away feeling inspired to own your brilliance and learn how you can prosper from your gifts, talents, skills, and abilities on your terms. A special announcement will be made for those who want to connect with Tamiko live in Cape Town, South Africa in April 2018!
One ebook will be given away at the event All others are encouraged to purchase their ebook following the event.
This event is sponsored and hosted by Womandla.com - "Celebrating the power of women."
---
Learn more about Tamiko by watching her Forbes profile video! ---> https://www.youtube.com/watch?v=cbCKVmGtCS8&feature=youtu.be
---
Book testimonial and endorsement: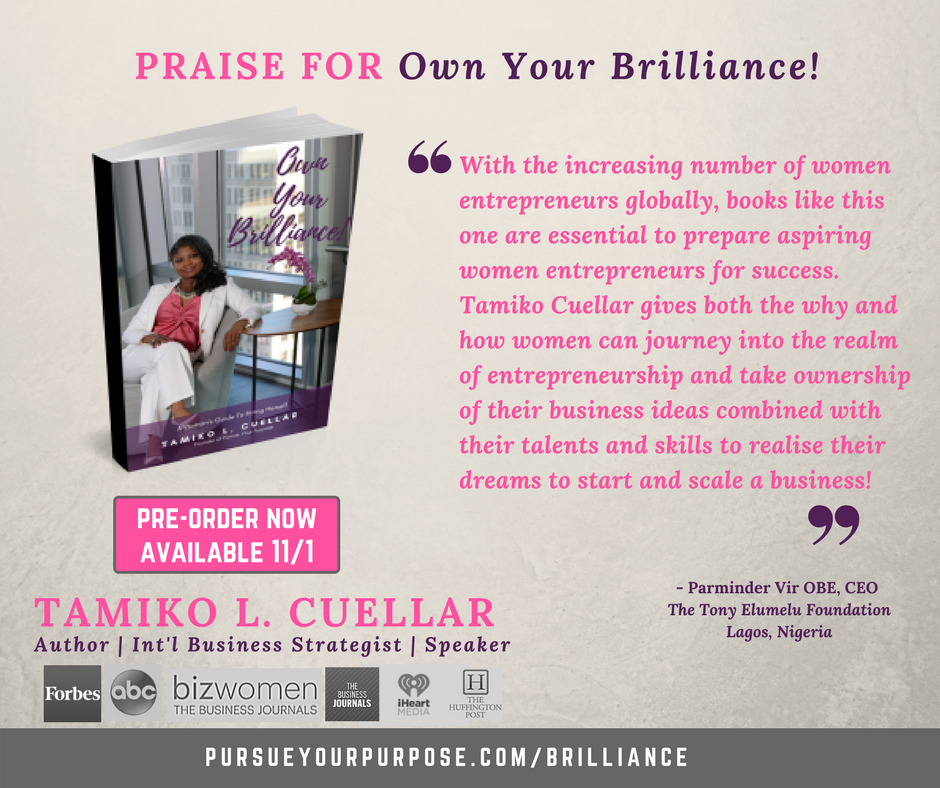 Organizer of "Own Your Brilliance!" VIRTUAL book event & workshop with Tamiko Cuellar
Recognition. Dynamite in a small package, fearless and inspiring are just a few words to describe Tamiko Cuellar, the CEO and Founder of Pursue Your Purpose. She is a proven leader in the marketplace among small business owners nationally and internationally. Recognized for her leadership abilities, she has been invited to speak at Microsoft, First Bank, the City of St. Louis, the Greater North County Chamber of Commerce, Grace Hill Business Center, the Center for the Acceleration of African American Business (CAAAB), Justine Petersen, Better Family Life, churches, conferences, on several radio programs, and more. Shehas been featured on Forbes.com, in The Huffington Post, the St. Louis Business Journal, on ABC, STL TV and on the cover of the UK based Small Business Owner Magazine for her work with entrepreneurs and was nominated for the 2013 Business Influencer Award and in 2016 recognized by The Women's Business Journals as a Woman on the Move. In 2015, she was selected to audition for TEDx to present on Breaking the Cycle of Generational Poverty. She also served as an Adjunct Professor of Entrepreneurship/Small Business Management at City Vision University.  In 2016, she was appointed as a Mentor to emerging entrepreneurs in Kenya and Uganda as part of billionaire Tony Elumelu's Entrepreneurship Programme which funds and develops new enterprises throughout the continent of Africa. She is also a member of the Forbes Coaches Council and the National Association of Professional Women (NAPW).
Background. Born in low income housing projects into a broken family, in poverty, in a crime ridden neighborhood, and educated in the under performing school district of East St. Louis, Illinois. she considers herself to be a flower that was determined to rise from the cracks of concrete to grow and flourish. She went on to obtain three business degrees from the University of Missouri-Columbia on a full academic scholarship, the University of Phoenix and City Vision University respectively, and has had a successful and adventurous career helping to secure $30 million clients, training employees and obtaining millions of investment dollars in corporate America prior to launching Pursue Your Purpose.
Her Company.  Pursue Your Purpose LLC is a global firm that coaches high-performing, purpose-driven women executives, managers and leaders with strategies to successfully transition into entrepreneurship. Tamiko coaches both aspiring and existing women business owners worldwide to pursue their purpose in the marketplace and equips them with proven strategies and inspiration that catapult their businesses to the next level.  Pursue Your Purpose LLC provides live and virtual conferences, strategy sessions, group and private coaching, workshops, and books. Tamiko is also the best selling author of "20 Beautiful Women: 20 More Stories That Will Heal Your Soul, Ignite Your Passion And Inspire Your Divine Purpose" Volume 2, "101 Tools to Take Your Startup or Solopreneur Business to the Next Level" and "Own Your Brilliance! - A Woman's Guide to Hiring Herself". For corporations, colleges, conferences, churches, radio, and TV interviews, Tamiko is available as a guest, speaker or facilitator on topics related to entrepreneurship, business and personal success, women's leadership development, and discovering and pursuing your life's purpose.