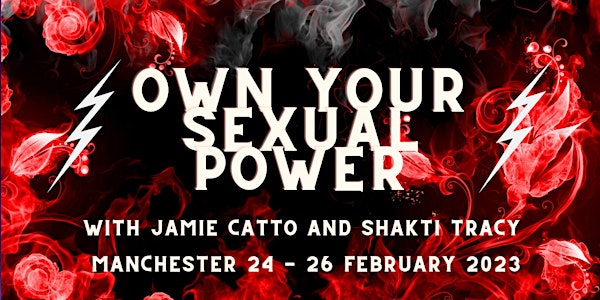 Own You Sexual Power with Shakti Tracy and Jamie C
Shakti Tracy and Jamie Catto are joining forces to help you hold your power in a healthy and honest way in relationships with others.
Date and time
February 24 · 7pm - February 26 · 5pm GMT
Location
The lighthouse hub Greenside Street Openshaw M11 2EX United Kingdom
Refund Policy
Refunds up to 30 days before event
Eventbrite's fee is nonrefundable.
About this event
Own Your Sexual Power with Shakti Tracy and Jamie Catto.
Shakti Tracy (Shamanic Practitioner and Breathwork Facilitator) and Jamie Catto (Workshop Facilitator, Author, Director, and Musician) are joining forces in a weekend workshop & retreat, in Manchester, 24-26 February 2023, to help you hold your power in a healthy and honest way in relationships with others.
The workshop's aim is to help you move away from the cycle of hurt and blame in your life and relationships, to a life where we all consciously own our own shadows, hold our power and stand in the truth of who we are, in relationships with others.
Over the 3 days can expect activities such as -
⚡Shamanic Ritual of Release of Pain from Past Relationships
⚡Shamanic Journeys to Call Back Powers lost in Old Relationships
⚡A Lighthearted Exploration of Boundaries
⚡Some Fun Honest Communication Games
⚡Conscious Connected Breathwork to Connect to our Inner Divine Lover
⚡Shamanic God/Goddess Mask Journeying to help us see our Subconscious Behaviours in Relationships
⚡Games to Understand how we might try to Manipulate others in Relationships,
⚡Channelling some Relationship Advice from your Higher Self
⚡and more!!!
We will also explore the possibility of experiencing deeper and more nourishing connections in our relationships, in all areas of life, which includes both the vulnerability and the presence to share more and more of ourselves.
During the workshop, Shakti Tracy will be bringing in shamanic practices and conscious breathwork to support this journey, whilst Jamie Catto will be bringing a mix of games and conscious communication practices.
Doing this inner work can help to transform our connection with ourselves, each other and the entire planet.
This is a fully catered event. All the food is vegan and gluten-free and prepared by our wonderful onsite chef Paula Marie who absolutely fills all of her food with so much LOVE.
On Saturday evening, there is also a sound healing session, to make sure that everyone is fully held and filled to overflow with love throughout the weekend.
How lush does all that sound?!!!
Details
Dates - Friday 24rd February 7pm - Sunday 26th February 5pm, 2023
Location - The Lighthouse Hub, Greenside Street, Openshaw, England, M11 2EX
Cost - £200pp (optional sleepover for extra £30 see below for info)
Food - Fully catered with Vegan Meals
Times - Friday 7pm - 10pm, Saturday 9-6pm , Sunday – 9-5pm (with optional sound healing session on saturday evening)
Whilst this workshop focuses on healing the wounds between men and women, the space welcomes men, women, non-binary and gender-fluid people. If you feel called to be there please come along - let's help to heal these planetary wounds and create something new together.
*NOTE there is no nakedness or sexual contact in this workshop - this is about owning our sexual power as energy within.
Accommodation
This is a NON-RESIDENTIAL retreat, but if you do need somewhere to stay over, there are some spaces in the venue hall. You would be in camping style on the hall floor with a Buffet Vegan Breakfast in the morning. You would need to bring your own blankets and a mattress.
Cost for 2 nights stay with breakfast is (£30) - Spaces must be reserved in advance. To reserve a space please email shakti.tracy@gmail.com
Further info:
For more info about Jamie Catto and his trainings, workshops, music, book, films and other ridiculously awesome things see - https://www.jamiecatto.com/
Shakti Tracy can mostly be found on Facebook and Instagram inciting a LOVE revolution one way or another. www.facebook.com/diamondheartnetwork
IMPORTANT -
Please be aware that these practices are powerful and can bring emotions to the surface and cause transformation. Whilst we do try to create a safe and loving container for this journey. It's also really important to check in if it's right for you at this time and also commit to looking after yourself during the weekend and the days following. There is never any need to push further than feels right to you.
It is NOT recommended that you do Conscious Connected Breathwork if you have heart or blood pressure problems, have a history of psychosis or severe mental illness, or have epilepsy, glaucoma or detached retina. An alternative heart breathing technique will also be given to anyone who would prefer to use that.