Description
Own the Room MASTERY is a four-day comprehensive event that combines Own The Room CORE: Base + Ascent with two additional days of ADVANCED content, practical techniques and leadership skills.
Our learning approach is non-traditional, highly interactive and, yes, fun. No lecture here! You will experience our progression methodologyguaranteed to produce dramatic and rapid improvement in your public speaking, presentation skills and confidence to "own the room."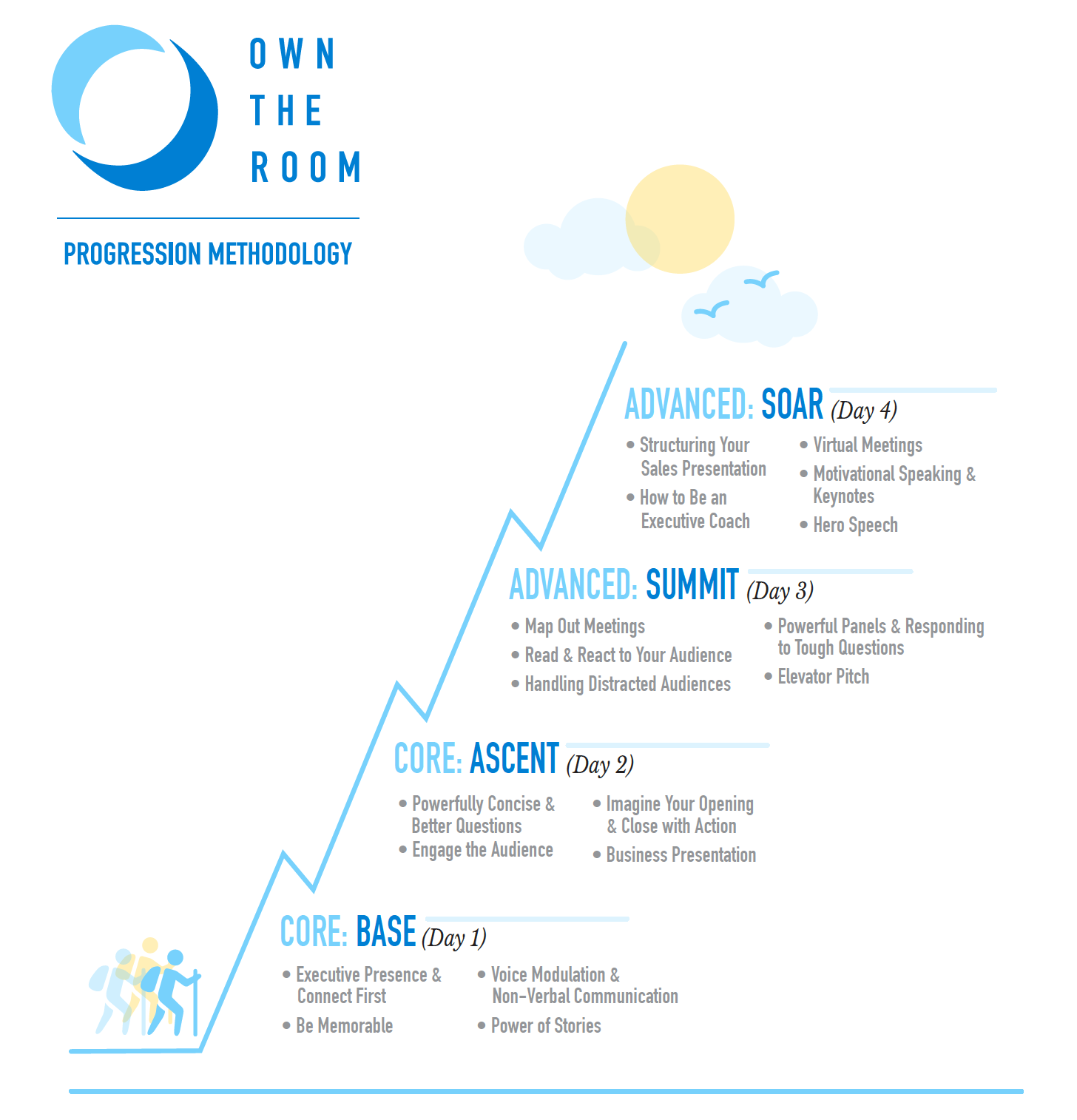 Key takeaways from Own The Room Core: Base Training (Day 1)
Day One focuses on Communication and the Power of Stories. Using voice modulation, strong gestures, and basic brain science, we focus on making your message stronger by saying more with fewer words.


Key takeaways from Own The Room Core: Ascent Training (Day 2)
Day Two focuses on audience engagement. Learn how to craft a powerful opening technique, deliver a business presentation applying feedback from coaches, and discover the art of closing the sale with four techniques that will inspire your audience to retain your ideas and take action.


Key takeaways from Own The Room Advanced: Summit Training (Day 3)
Day Three offers practical, yet powerful, solutions for connecting in a focused and professional environment. From mapping out meetings, to handling distracted audiences, to perfecting your elevator pitch, you'll stand out once you master these persuasive techniques.


Key takeaways from Own The Room Advanced: Soar Training (Day 4)
Day Four focuses on how to hone effective leadership skills. Successfully structure your sales presentation, maximize your video conferencing tools, and discover the art of the Hero Speech and motivational speaking.


What To Prepare
Bring a fully charged smartphone or tablet with storage space to record and save short videos.

Be sure to look your best (business casual), as you will be filmed multiple times.
Additional Event Notes
Breakfast & Lunch will be provided.

There may be a few photos taken during class for social media and our own records. We promise we will never post anything unflattering or embarrassing, but if you have an issue with your photo being taken, please let the coach know.

Unfortunately, we are unable to give refunds. However, you may request a credit and we'll apply the credit to a training session at a later date. Please contact Own The Room Production Services - production@owntheroom.com - for more information.