Description
Bryan will teach the concepts espoused in the book "Own The Gap" how to build a daily kaizen culture. He will give examples of how the Own The Gap model has been applied in multiple industries that he has lead to create a culture where improving the work is the work. He will show how the model supports the behaviors for leaders and team members to drive a culture of engagement. The model has been proven to drive excellent results in multiple industries and different sizes of organizations. These include job shops, high volume manufacturing, defense, healthcare, service and retail. From single site locations to multi site organizations from 150-40,000 employees.
---
The Model: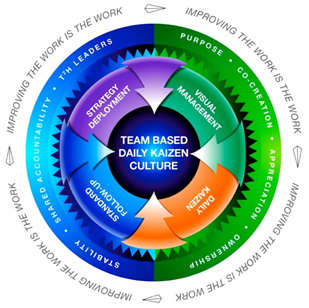 "Improving the Work is the Work"
---
About Bryan:
Bryan Crowell is the AVP of Continuous Improvement at Intermountain Healthcare and former VP of manufacturing for ATK Armament Systems group, as well as former plant manager at the highest scoring, first two-time winner of the Shingo prize-winning Autoliv Airbag Module Plant in Ogden, Utah. He has led multiple organizations through cultural transformation. With the combination of structure, processes and leadership behaviors, Bryan has demonstrated the ability to engage all team members to drive results. Employees under his leadership and processes have implemented over 500K ideas being recognized as World Class throughout industry. Bryan co-authored the Shingo prize winning book, "Own The Gap: How to Build a Daily Kaizen Culture". He received a bachelor's degree in physics from Weber State University and an MBA from Utah State University.
---
Agenda:
8:30 a.m. Registration
9:00 a.m. Introductions
9:15 a.m. Own the Gap Model How to build a Daily Kaizen Culture where improving the work is the work
How to design systems that promote behaviors that build culture
Building an Autonomous Management Structure
Everyone knows what it means to Win
Strategy Deployment Process and examples
Lagging/Leading Measures
10:30 Are We Winning?
Visual Management processes to clarify, notify, escalate
Examples and discussion
11:30 Lunch
12:15 If we have gaps what are we doing about them
Keys to capturing employee ideas
Build your employee idea closed loop system
Examples and discussion
1:15 How leaders can help their team win more often
Closed Loop Management Systems
How to design systems to close the loop on problem solving
Maintenance Closed loop systems
Industry Examples and Discussion
2:15 Engagement Multipliers
Systems that show respect
Employee Loyalty
Make work Fun
2:45 Wrap up
Bryan Crowell

Intermountain Healthcare

Asst VP- Continuous Improvement