About this Event
WELCOME TO A NEW AGE OF CHALLENGING
Twenty years after the concept of the "Challenger Brand" was coined, PHD and eatbigfish define the shift in what makes challengers successful today - not necessarily brands that challenge somebody, but brands that challenge something; something they feel needs to change.
Today, the challenger behaviour is not confined to the new or the small.
Brands of all sizes – whatever their category, competition, heritage or personality – can benefit from adopting a challenger mindset and drive more ambitious growth.
So in challenging times, we welcome a new breed of challengers.
CHALLENGE & GET CHALLENGED
Learn from the new wave of challengers who are changing the way categories think and behave as we unlock the secrets to the narrative you need to cut through in an increasingly noisy, crowded and distracted world.
PHD proudly launches Overthrow II in Malaysia, by unveiling its very own identically titled book of the same name, and also by lining up some exciting speakers who will bring forth the latest thinking when it comes to challenger mindsets.
Here's a sneak peak of what you can expect in this coming event: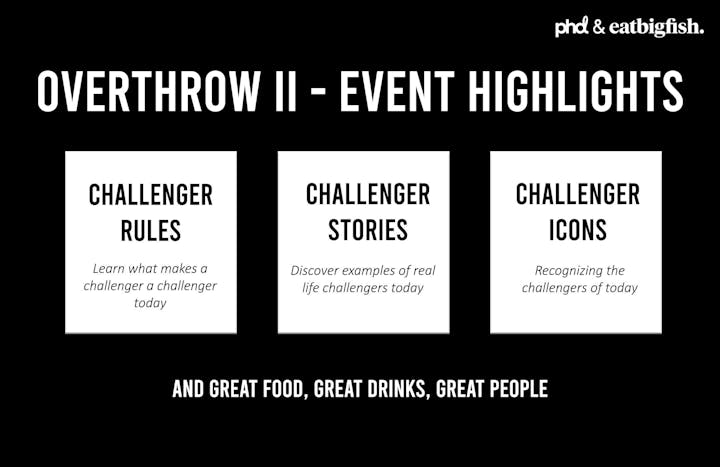 In today's ever dynamically challenging market, it can only be expected that the brands & the people behind it, will have rise to face these challenges. We look forward to seeing you at Overthrow II.