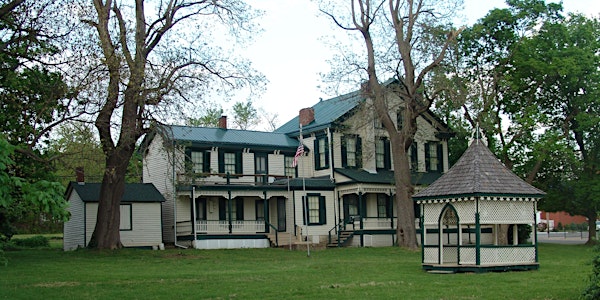 Overnight Ghost Adventure in Potosi, MO
Overnight Ghost Adventure in Potosi, MO with Paranormal Task Force - From 6 p.m. to 3 a.m.
When and where
Location
Sweet Memories Shop 105 W Breton Street Potosi, MO 63664 United States
Refund Policy
Contact the organizer to request a refund.
Eventbrite's fee is nonrefundable.
About this event
Dare to be scared and let your 1st or next ghost adventure be at the historical and haunted properties of the Mine Au Breton Historical Society in Potosi, Missouri! Be a Ghost Hunter for a night while investigating in three historic and haunted buildings and an adjacent small cemetery.
Available dates for 2022
April 30
October 15
Paranormal Task Force has been featured in various documentaries and productions which have aired on SyFy, Chiller, Destination America, Travel Chanel, and others not listed. Such shows and productions include "Children of the Grave", "The Haunted Boy (The Exorcist File)", "Fact or Faked: Paranormal Files" segment "Truck Stop Terror", "Ghost Adventures" special 100th episode, Destination America's "Exorcism Live" and more.
During your exploration you will have access to three historic and haunted buildings of the Mine Au Breton Historical Society and adjacent small cemeteries! Their properties include the James Long Home (Long-Banta House), the Austin-Milam-Lucas Store and the Old Presbyterian Church and three small adjacent cemeteries.
The lovely Victorian Long-Banta Home was built about 1865 and was home to the prominent Long and Banta families. Many were born and even passed away within its walls. Some still call it their home today. Visitors have reported seeing shadow figures, hearing disembodied voices and experiencing other unexplainable activity.
The Austin-Milam-Lucas Store started as a rustic log cabin built in 1797 by Moses Austin, the father of Stephen Austin. As you may know, Stephen is known as the "Father of Texas". As a log cabin store it saw "Trail Of Tears" victims in 1830 and then invading confederate soldiers in 1864. Through the following years it was added onto then turned into a boarding house. In 1932, a bank clerk named Frank Flynn ended his own like by shooting himself in the heart with a .38 revolver! Some of the boarders still remain there today as visitors have experienced shadow figures, disembodied voices, phantom foot steps, being touched by the unseen and more within these walls!
The Old Presbyterian Church is the oldest Presbyterian Church standing west of the Mississippi River as it was built in 1833. It served as a church until 1907 and then afterwards used as the Masonic Auditorium, school gymnasium, silent movie theater, Boy Scouts meeting hall and now as a museum. Visitors have reported hearing footsteps of someone who was not there, significant unexplained temperature changes and more! Do residents of the adjacent cemeteries still gather there today?
A pre-investigative meeting and tour will start at 6:00 p.m. to present the historical & haunted history of the properties being investigated and to tour them while it is still light. Then the all night investigation will begin around 8 p.m. and conclude at 3 a.m.
Attendees will be divided into three groups and rotate to investigate a different building at different times throughout the night. Everyone will have the opportunity to investigate with investigators of Paranormal Task Force and to receive paranormal field training as desired.
Where: Mine Au Breton Historical Sites in Potosi, Missouri
Cost: $60
Minors have to be accompanied by an adult. No one under 12 allowed.
No refunds unless the event is cancelled or rescheduled.
Overnight in Potosi Includes:
Pre-Investigative Tour
Overnight Access until 3 a.m. (Some areas will be restricted)
Private Ghost Hunt with Investigators from Paranormal Task Force
History & Hauntings of the buildings
Use of Hand Held Ghost Hunting Equipment (you can still bring your own if you desire)
Flashlights Required
- Note - An "at your own risk" liability waiver will be required to be signed by attendees. Paranormal Task Force and the Mine Au Breton Historical Society reserves the right to refuse admittance to anyone and to remove those who are disruptive to others. There is also no guarantee that anyone will witness or experience paranormal activity at this event.