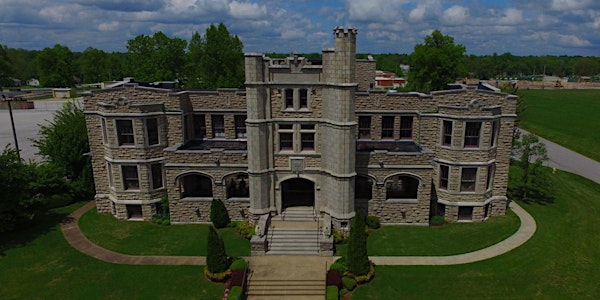 Multiple dates
Overnight Ghost Adventure at Pythian Castle
Overnight Ghost Adventure at Pythian Castle in Springfield, MO with Paranormal Task Force - From 7 p.m. to 3 a.m.
Date and time
March 12, 2021 · 7pm - November 12 · 3am CST
Location
Pythian Castle 1451 East Pythian Street Springfield, MO 65802
Refund Policy
Contact the organizer to request a refund.
Eventbrite's fee is nonrefundable.
About this event
Dare to be scared and let your 1st or next ghost adventure be at this historic, enchanting and haunted location! Be a Ghost Hunter for a night while investigating Missouri's most haunted castle and one of the most haunted locations in the Mid-West.
Available dates for 2023
June 10
November 11
More dates may be added
Pythian Castle has been featured in such paranormal shows as "Children of the Grave", "Ghost Lab", "The Haunted Collector" and "Ghost Adventures" along with being in various paranormal books, news articles and other media! Paranormal Task Force (PTF) has been featured in various paranormal shows and documentaries which have aired on SyFy, Chiller, Destination America, Travel Chanel and more. Such includes "Children of the Grave", "The Haunted Boy (The Exorcist File)", "Fact or Faked: Paranormal Files", "Ghost Adventures" and more.
Originally built around 1911 by the Knights of Pythias for use as a home for widows and orphans where dark hidden secrets and tragic events went untold for years. The Castle later became part of the Army's O'Reilly Hospital Complex in 1942 and served as the Service Club for enlisted men. It was during this period that the Castle also started serving a plethora of unexplainable activity. During WWII the O'Reilly Complex also housed three or more wards of POW's. Many of them were interrogated within the walls of the Castle and tales from visiting veterans over the years sometimes tell of "not so happy" endings. In 1947 the Castle became part of the Veterans Administration 500 bed tuberculosis hospital until 1952 when vacated. From that time forward it served as many uses until being bought by the current owner in 2003.
With it's eloquent charm, mystic atmosphere, mysterious past, lovely hosts and an abundance of occurring unexplainable events; this is one place that you want to add to your "places to visit before you pass on" list. When you indulge yourself within this building once, you will find yourself with an addiction to return multiple times to experience more of what it has to offer.
Your 8 hour learning, fun and sometimes scary adventure into the paranormal realms will start with a pre-investigative introductory meeting with Paranormal Task Force, followed by a informative presentation and walking tour of the Castle by one of their experienced tour guides! Afterwards you will be given an informative presentation about the paranormal investigative equipment you will be able to use and will see in action during your journey. You and members of your party will then be in one of three groups that will rotate through the three floors of the Castle, where you will be able to both explore and/or interact with a PTF team members and learn various investigative techniques and more about the paranormal. After the rotations you will be able to refuel your energy during the midnight meal break where you will be served pizza, other snacks and may even be one of the winners of the free attendance raffle we hold. Afterwards, you will then be able to explore throughout the Castle on your own or with the assistance of a PTF team member until the event is over at 3 a.m.
Everyone will have the opportunity to investigate with investigators of Paranormal Task Force and to use equipment and receive paranormal field training as desired.
Where: Pythian Castle in Springfield, Missouri
Cost: $75.00 per person
Minors have to be accompanied by an adult. No one under 12 allowed.
No refunds unless the event is cancelled or rescheduled.
Overnight at Pythian Castle Includes:
Pre-Investigative Tour
Overnight Access until 3 a.m. (Some areas will be restricted)
Private Ghost Hunt with Investigators from Paranormal Task Force
History & Hauntings of the Building
A Midnight Snack
Use of Hand Held Ghost Hunting Equipment (you can still bring your own if you desire)
Flashlights Required
- Note - An "at your own risk" liability waiver will be required to be signed by attendees. Paranormal Task Force and the Pythian Castle reserves the right to refuse admittance to anyone and to remove those who are disruptive to others. There is also no guarantee that anyone will witness or experience paranormal activity at this event.
About the organizer
Paranormal Task Force hosts various paranormal events from paranormal workshops & presentations to actual paranormal investigations of historic and haunted locations which assist with the ever so important raising of funds for historical preservation and other good causes.
Dare to be Scared! and let fur first or next Paranormal Adventure be with Paranormal Task Force (PTF)!