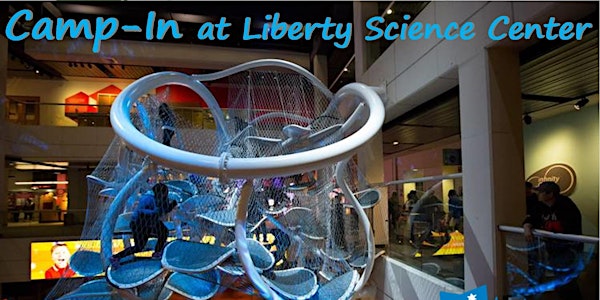 Overnight Camp-In at Liberty Science Center
When and where
Location
Liberty Science Center 222 Jersey City Boulevard Jersey City, NJ 07305
Refund Policy
Contact the organizer to request a refund.
Description
Spend the night at Liberty Science Center with Mishpucha! Explore the museum, meet other Russian-speaking Jewish families, work on science activities and sleep among the exhibits! You'll be solving a mystery as you learn about the world of forensic science and work together to find the clues. You'll have a chance to see a movie in the IMAX® Dome Theatre as well as a 3D Theater Show! The Camp-In includes hundreds of hands-on exhibits, live science demonstrations, evening snack, and light morning breakfast.
Program begins 6:00 PM on Saturday evening and ends at 9:00 AM Sunday morning. You're welcome to stay at the museum afterwards as long as you like!
For kids ages 5-12 and their parents.
Tickets: $65 per person (plus Eventbrite Processing Fee $2.29)
Program Includes:
Mystery at the Museum

– A treasure has disappeared! Work to uncover clues, perform experiments and find out what happened to our treasure.

Live Science Presentations

3D Theater Show in evening

IMAX Theater Show in the morning

Evening snack and light morning breakfast. *We strong advise eating a hearty dinner before arriving. Cafeteria will be open in the early evening to purchase additional snacks if needed.
REGISTRATION CLOSES JANUARY 31, 2016. THIS EVENT WILL ONLY TAKE PLACE IF THERE ARE AT LEAST 300 REGISTERED PARTICIPANTS. This is the requirement of the Liberty Science Center to have a private event. If we do not have 300 or more registered participants by January 31st, all purchased tickets will be fully refunded. Invite your friends! Let's make sure we have enough people to make this happen!
Each child will receive a patch entitling them to unlimited free admission to Liberty Science Center with a paying adult through September 1, 2016!
This program is made possible with the generous support of PJ Library of the Harold Grinspoon Foundation in partnership with Genesis Philanthropy Group.
FAQs
Who is the Mishpucha Overnight Camp-In for?
Russian-speaking Jewish families with children ages 5-12.
Where will we sleep?
In the public exhibition spaces of the museum, in designated areas on the floors.
What to Wear
You will be sleeping in the clothes that you wear to the Camp In, so we strongly suggest that you dress in layers, as the building temperature fluctuates during the night, and comfortable shoes such as sneakers.
What to Bring
Sleeping bag and pillow
A camping mattress pad
Toothbrush and toothpaste
Brush or comb
Minimal toiletries
Sleeping mask (due to safety regulations the building does not get completely dark)
Flashlight (for adults)
There's lots to do, so we recommend you only bring the essentials. Your belongings should be packed in a large clear plastic bag (XXL zip top bags work well) that is clearly labeled with your name.
What Not to Bring
Valuables such as jewelry or large sums of money
Stuffed animals
Air mattresses
Gum, food, and drinks (they are not permitted on the exhibition floors or in the theaters)
Pajamas and lingerie (changing of clothes is not permitted)
Lanterns, tents, and other outdoor camping equipment
Electronic devices such as radios, digital music players, video games, portable televisions, etc.
Chargers (e.g., for your mobile phone) or anything that needs to be plugged in to a wall outlet, excluding medical devices (please note any such items on the Registration form).
What if I have Liberty Science Center Members in my group?
Member discounts do not apply to the Camp In program.
What is available for snack and breakfast?
Snack: Nature Valley Chewy Granola Bar, cookies, chocolate pudding cup, bottled water, and coffee and tea for the adults
Breakfast: A variety of Kellogg's brand cereals (Apple Jacks, CoCo Krispies, Corn POPS, Froot Loops, Frosted Flakes, Raisin Bran Crunch, Frosted Mini-Wheats), orange juice, milk, plus your choice of a muffin or banana.
I have food allergies. Can I bring my own snack and breakfast?
Yes, please let us know on the Registration Form. Refrigeration is available upon special request.
Will I get a good night sleep?
We strongly recommend getting a good night sleep on the night before your Camp In. Our Overnight Team will be there to make sure the sleeping spaces are safe, reasonably comfortable, and as quiet as possible; however, sleeping in an unfamiliar environment with your fellow campers might not be quite as restful as being home in your own bed.
May I change into my pajamas?
Changing of clothing is not permitted. We strongly suggest wearing layers, so you can remain comfortable throughout the evening.
Can we wander and explore Liberty Science Center all night?
No. Exhibits will be shut down from 11:00 pm to 7:00 am.
What time do the lights go off/on?
Lights out begins at 11:30 pm. The lights go back on beginning at 6:30 am. It takes a full 30 minutes to get all of the lights off and then on again.
How dark will it get?
For your safety, the building does not get completely dark. If you require complete darkness, we recommend using a sleeping mask.
Where do I park?
Central Parking operates the lot owned by the State of New Jersey adjacent to the Center. Fees are $7.00 per day for cars and vans and $10.00 for buses and are applicable during both daytime and evening operations. The parking fee goes towards the greening of Liberty State Park.
Is the building handicap accessible?
Yes. Liberty Science Center is a handicap accessible facility.
Can we stay the next day?
Yes. You are welcome to remain in the building the entire next day.