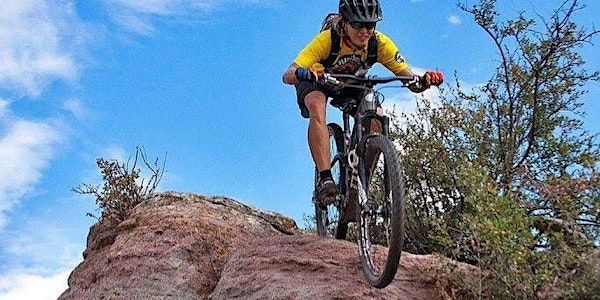 Overland Mountain Bike Association: Women's Clinic!
Event Information
Location
Soldier Canyon Group Area
$125
Bellvue, CO 80512
Refund policy
Refunds up to 7 days before event
Eventbrite's fee is nonrefundable.
Description
This is a one-day workshop perfect for women wanting to explore specific techniques or acquire a completely new skill in mountain biking. Whether you're a beginner or intermediate/advanced, all levels are welcome and will receive coaching specific to their skill-level from 4 amazing local riders and qualified coaches: Sarah Willett, Renee Hutchens, Marie Walsh, and Tina Lamers. (Bios on Facebook Event Page!).
Date:
September 28th, 9am-3pm
This time we will have 2 tracks :
1) Beginner - covers how to mount, dismount, pedal correctly, handle small obstacles, adjust bike, learn about bike components and basic fit, and basic cornering. Best for those transitioning from road to mountain biking or women new to MTB generally. Perhaps you like riding the Valley Trails in Lory but don't feel comfortable on other trails or are just starting out.
2) Intermediate/Advanced - Rider is comfortable on blue and some black trails, looking to finesse more advanced skills such as technical sections, steeps, catching air, etc. For both those looking to nail the hard line or alt lines and practice some jumps and drops that challenge them too. Your favorite local trails might be Wathen and Mill Creek.
-----------------------------------
Bike Demos & Equipment: Courtesy of Scheel's. Once you have registered if you would like to demo a bike for free, as part of the Northern Colorado MTB Festival, please contact Tina Lamers at klamers@gmail.com. She will arrange demos with Scheels for those who register at least 1 week before the clinic. Provide the following information:
Name
Trek or Evil Bike model(s) of Interest
Rider Height
Rider Weight for Suspension Set-Up
Bikes come with flat pedals on them. If you want SPD/clips, please bring your pedals with you and Scheels will install them. Those demoing bikes will need to arrive by 8:30 on Saturday morning. Do think intentionally about the bike you're most likely to ride with: do you want to learn on the bike you have or the bike you want to have and plan to buy? Both women-specific frames and unisex bikes will be available.
For all clinic participants, you're responsible for bringing your bike (preferably tuned & lubed & pumped up), helmet, gloves, shoes, and whatever other equipment suits you.
Food & Equipment: Food trucks will also be available at lunch, if you don't bring your own. Do plan to bring your bikes, helmets, additional gear you use (gloves, etc), sunscreen, and water. Please meet in the Soldier Canyon Group Area in Lory State Park, near the skills/jump park. Remember that weather is a toss-up in late September. We'll send updates the week of, but plan to dress for warmer or cooler temperatures, and bring rain gear.
*Please contact us if you'd like to join but have financial concerns or need additional details. Funds for this clinic cover the cost of travel, permits, and insurance for the clinic, but the bulk of the fees support Overland's trailbuilding, maintenance, and advocacy work. Your participation has a direct impact on your local trails!
**Note that only members are covered under our clinic insurance, so anyone who is not presently a member will purchase an OMBA membership as part of their registration to participate. Options include individual membership or family membership. To understand what this means and how awesome it is to be an OMBA member, simply visit this page on our website: http://overlandmtb.org/join-overland-mountain-bike-club/
Date and time
Location
Soldier Canyon Group Area
$125
Bellvue, CO 80512
Refund policy
Refunds up to 7 days before event
Eventbrite's fee is nonrefundable.