About this Event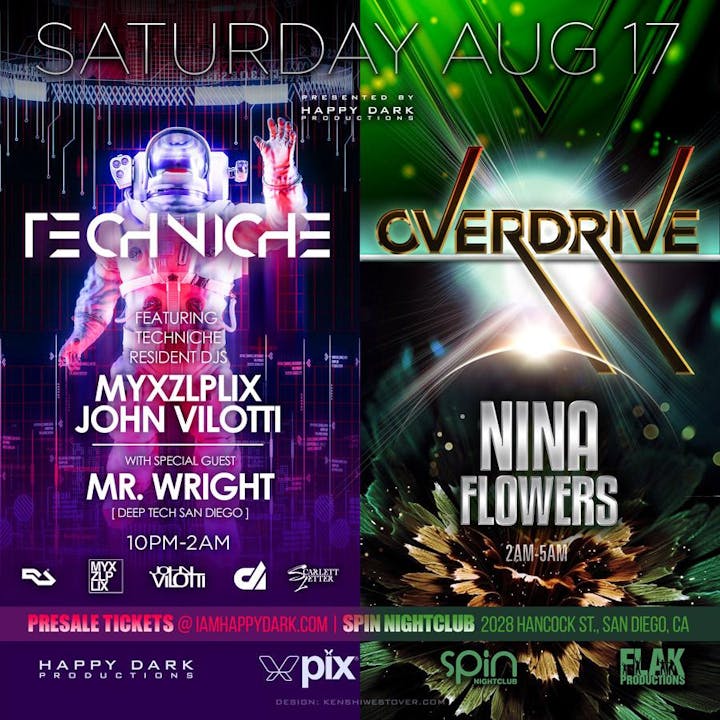 OVERDRIVE is thrilled to announce the return of one of the most in-demand DJ's on the circuit scene, Nina Flowers (2AM - 5AM)! Nina brings a triple threat of talent to venues across the globe. Be it his infectious understanding of how to bring music alive on the dance floor as a DJ and producer, a powerfully engaging connection to audiences as a drag performer, and as a makeup artist with skills that can be matched by none, he continues to amaze audiences worldwide. Fusing his high-energy tribal, tech and house drums with his infectious on-stage persona and intense dancing & energy, this performer is one to see as well as hear!
This month, Techniche (10PM - 2AM) brings together two of their Resident DJ's, Myxzlplix & John Vilotti, along with special local guest DJ Mr. Wright for the deepest, sexiest tech house & techno in SoCal!
☆ Tech house & techno with Techniche from 10pm - 2am
☆ Return of the incomparable, infectious Nina Flowers!
☆ Our signature production, lighting, lasers and vibe!
☆ All friendly, open-minded communities welcome! #PLUR