Jump start 2020 with the debut of Sydney Mardi Gras Party legend Kitty Glitter + tech house/techno with Techniche!
About this event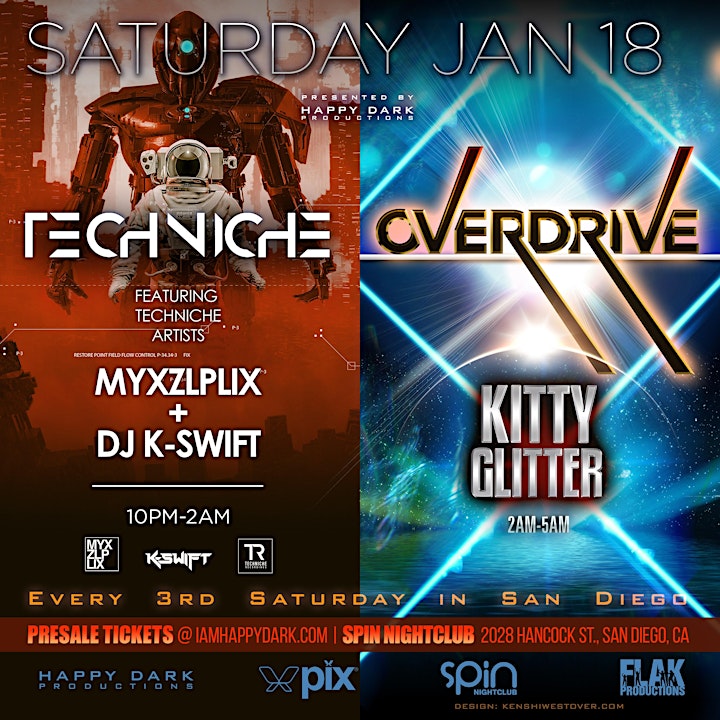 Are you ready to jump start 2020 in purrrfect fashion?! We're thrilled to feature the OVERDRIVE debut of DJ Kitty Glitter (2AM-5AM) this month! Originally from Sydney, Kitty Glitter gracefully bowed out of her spotlight on the drag stage and into the DJ booth in 2007. Since then, she has shined on dance floors in Australia, New Zealand, Asia, USA, Canada, Europe and India. Most loved for her unique blend of remixed pop and uplifting vocal house music, the crowds lick up every bit of sparkle she shines on them at every event she plays. Consistently in the top 10 most popular downloaded podcasts on Podomatic, it's no wonder her loyal fan-base grows with each new city she visits. A regular at pride events and festivals around the world, her perfect package of glamour and dance music is a highlight for every event she spins. Her highlights, of course, include playing for the Sydney Mardi Gras Party, year after year, for the past 10 years! Her playful purrrsona is addictive and everyone knows when Kitty Glitter is on the decks, you're gonna get caught up in an exhilarating glitterstorm!
Our revolutionary club culture collaboration continues this month as Techniche (10PM - 2AM) features two of their residents, Myxzlplix & Dj K-Swift, for the deepest, sexiest tech house & techno in SoCal!
☆ The debut of Sydney Mardi Gras Party legend Kitty Glitter!
☆ Tech house & techno with Techniche from 10pm - 2am
☆ Our signature production, lighting, lasers and vibe!
☆ All friendly, open-minded communities welcome! #PLUR