About this Event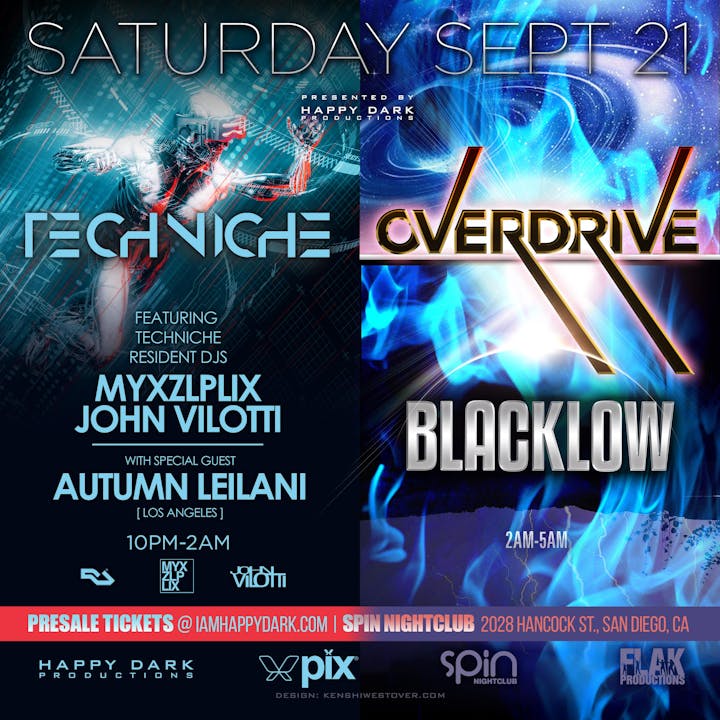 OVERDRIVE is thrilled to announce the headlining debut of genre-blending, feel-good DJ Blacklow! Blacklow's sound is a mixture of classic house, progressive house, tech house, and tribal house, all blended together to form high-energy, peak-hour joy with lots of vocals! He blends the old and the new together seamlessly to create an incredible dance floor journey on every outing. A standard Blacklow set includes a heavy dose of throwbacks and classics, mixed with the hottest new tracks drawn from a wide array of inspiration.
This month, Techniche (10PM - 2AM) brings together two of their Resident DJ's, Myxzlplix & John Vilotti, along with special guest & local favorite Autumn Leilani for the deepest, sexiest tech house & techno in SoCal!
☆ Tech house & techno with Techniche from 10pm - 2am
☆ Headline debut of high-energy, feel-good DJ Blacklow!
☆ Our signature production, lighting, lasers and vibe!
☆ All friendly, open-minded communities welcome! #PLUR