Description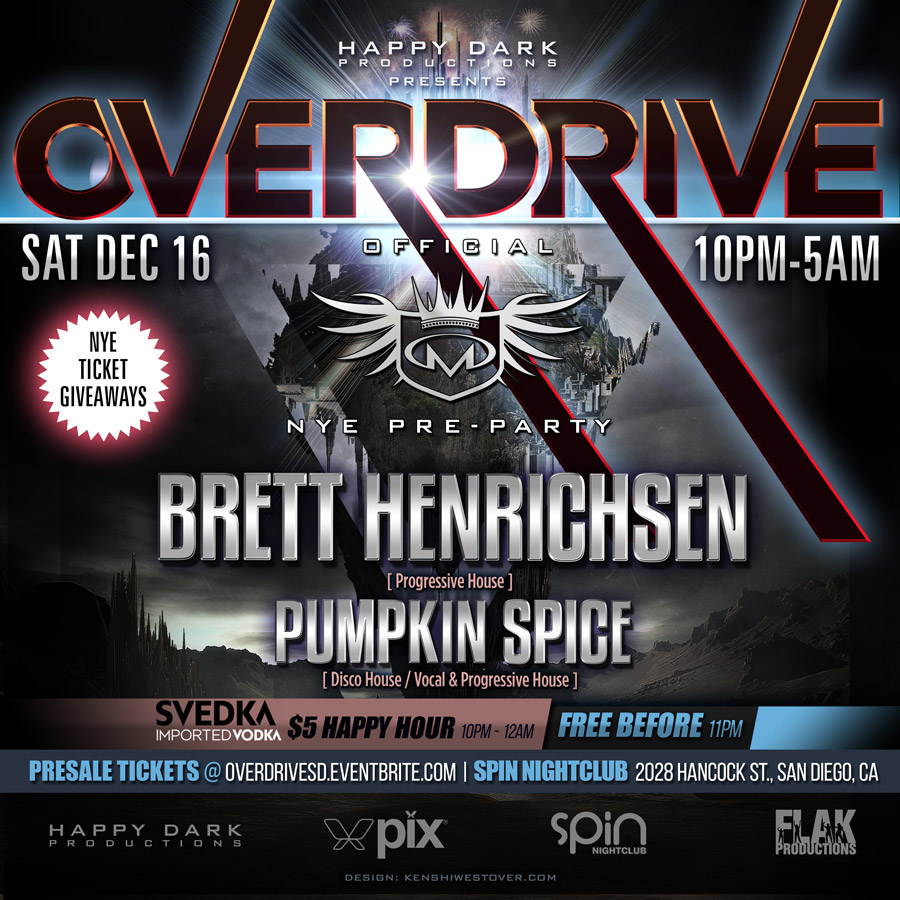 Overdrive is pleased to bring you the Official San Diego Masterbeat 2018: New Year's Los Angeles Kick Off Party! Only those in attendance will have the chance to win FREE MASTERBEAT WEEKEND PASSES! World Famous Masterbeat DJ Brett Henrichsen will keep you dancing 'til early morning with his famous vocal circuit sound! Arrive early as rising star DJ Pumpkin Spice from SF will get your body moving pronto with his fun & fabulous blend of disco house, vocal & progressive house! Join DJ's Danny Verde, Oscar Velazquez, Eddie Elias, Grind, Alex Acosta, Micky Friedmann & Brett Henrichsen as they take you into 2018. Events will be held from December 30 – January 1 at The Mayan, Stock Exchange and Avalon.

☆☆☆☆☆☆☆☆☆☆☆☆☆☆☆☆☆☆☆☆☆☆☆☆☆☆☆

Brett Henrichsen has always had a passion for dance music. Working by day as a Marketing Specialist for IBM, Brett spent nights in clubs and record stores watching and learning from top DJ's and listening to his favorite style of music: high energy, vocal and progressive dance. Brett attributes his endearing success as a DJ to having years of "on the job training" running a record label, producing his own events, and continuing to attend clubs and major events as a customer himself. This unique blend of experience contributes to Brett's deep connection to each event and venue he plays and his passion to ensure every set is a musical journey for the guest.

☆☆☆☆☆☆☆☆☆☆☆☆☆☆☆☆☆☆☆☆☆☆☆☆☆☆☆

An up and coming star within the gay scene, Pumpkin Spice is proving that his ambition, talent, and versatility combine for a powerful trifecta. This trifecta has scored him many accomplishments such as several Billboard charting remixes, and appearances all around the country.
From his home base in San Francisco, California, Pumpkin Spice works in his studio to consistently bring new remixes and sets every month to his followers.

**********************************************************

Listen:
DJ Brett Henrichsen - https://soundcloud.com/djbretthenrichsen
DJ Pumpkin Spice - https://soundcloud.com/djpumpkinspice

Follow on Facebook:
DJ Brett Henrichsen - www.facebook.com/DJBrettHenrichsen
DJ Pumpkin Spice - www.facebook.com/Pumpkinspicedj/

**********************************************************