Description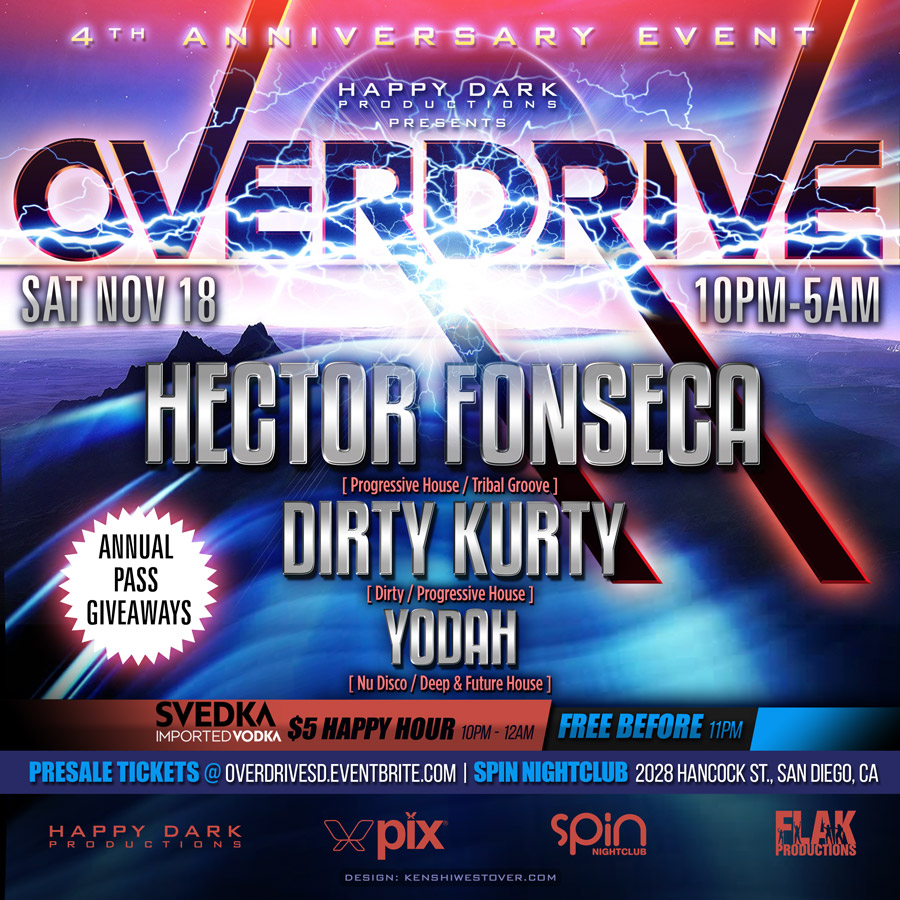 JOIN US FOR OUR 4-YEAR ANNIVERSARY EVENT! We're excited to announce the return of global superstar DJ/Producer Hector Fonseca (2AM - 5AM), fresh off his return from a South American tour to Brazil and Chile! Joining our headliner will be local phenom Dirty Kurty (12AM - 2AM), who consistently erupts our dance floor with her infectious energy and hard-hitting beats. Lastly, making his Overdrive debut will be Kurty's production partner, Yodah (10PM-12AM), bringing along his unique blend of nu-disco and deep & future house, to make sure your night begins with some feel-good beats.
☆ Return of Audio4Play artist DJ HECTOR FONSECA, directly off his Brazil tour!
☆ 4-year anniversary event w/ annual pass giveaways!
☆ $5 SVEDKA Happy Hour from 10pm - 12am!
☆ FREE before 11PM!
☆ Our signature production, lighting, lasers and vibe!
☆ All friendly, open-minded communities welcome! #PLUR

===============================================

Named Best International DJ/Producer by EDGE – one of the largest LGBTpublications in the world – Hector Fonseca is an international DJ superstar and coveted celebrity remixer! He has charted over 15 Official Billboard #1 dance remixes for artists like Sia, Lady Gaga, Rihanna, Katy Perry, Blondie, Kerli and Beyonce. He has also released various hit remixes and productions on the scene's top record labels such as Star 69, Nervous NYC, Tommy Boy, and Chumbomundo to name a few. His passion in the studio and DJ booth has earned him fans around the globe in addition to respect amongst his peers as a highly skilled trendsetting DJ/Producer.

As a DJ, Hector has headlined some of the most important parties worldwide including MATINEE (Ibiza, NYC,
Miami, Los Angeles and Las Vegas), World Pride, Black Party (NYC), White Party (Palm Springs and Miami), Circuit Festival (Barcelona), G Village (Italy), Beyond (London),The Week (Brazil), Prism Festival (Toronto), Rapido (Amsterdam), Ultra with Kerli (Miami) and Amnesia (Ibiza) to name just a few. Not only an in-demand DJ but also prolific producer, he released 3 top selling compilation albums in "NYC Pride Festival" (Kult Recordings), "New York Anthems" Vol. 2 and 3 (Star 69 Records) to rave reviews. His podcast radio show "The International Sound" is one of the top ten shows on Podomatic worldwide. His weekly radio show in Sao Paulo, Brazil "Sound of New York" on 97FM has an audience of over 2 million people!! He has also given back to the community that has made him a star by doing benefits for the It Gets Better Project, Task Force, Care Resources & Lifeball (Vienna).

Not only an in-demand DJ but also the prolific producer, he released 2 top selling compilation albums in "New York Anthems" Vol. 2 and 3 on Star 69 Records and launched the subsequent World Tour for the CD series titled "NY Anthems Tour". This successful tour made stops in almost every major house music market worldwide! He has also charted over 20 Official Billboard remixes including 15 #1 remixes for artists such as Lady Gaga, Beyonce, Katy Perry, Rihanna, Sia, Pet Shop Boys, Cher & Betty Who!

He has also worked with the best in the Circuit, House & EDM scene including Peter Rauhofer, Chocolate Puma, Nervo, Bimbo Jones, Todd Terry, Kerli, Superchumbo, Offer Nissim, Maya Simantov, Suzanne Palmer, Winter Gordon, Tom Stephan, Blondie & many more! With his star burning brighter than ever, Hector Fonseca has proven he is an important force to be reckoned with in the global house music scene!

===============================================

Dj Kurty is known for her PASSION. If you have ever experienced seeing her live, then you have seen her jumping around behind the tables, singing all the lyrics and making the crowd FEEL something they have never felt before.. Pure LOVE and passion for the music.

She grew up in New Jersey, and immersed herself in the New York club scene in the 80's. She frequented many NY clubs such as the Sound Factory, The Roxy, and the Limelight, where she found her love for house music. She moved to San Francisco in the early 1990's and experienced the underground rave scene and found a new love for deep, sexy, soulful house.

KURTY then moved to San Diego in 2001 and met up with famed DJ/ Producer and her mentor Antonio Aguilera, and joined the San Diego Mixmasters/Global BPM crew, where she learned to mix ALL styles of music ranging from Hip Hop to Electro to Down tempo house. If you haven't seen or heard KURTY perform, this needs to go on your bucket list!!
=============================================
This month, we are excited to introduce you to a new local talent, DJ Yodah! Yodah is Dirty Kurty's production partner and will start the night off right with his feel-good blend of nu-disco and deep & future house to get your feet moving pronto!
=============================================
LISTEN:
Hector Fonseca : https://soundcloud.com/hector-fonseca-music
Dirty Kurty: djdirtykurty.podomatic.com
Yodah: www.djyodah.com

FOLLOW:
Hector Fonseca: www.facebook.com/DJHectorFonseca
Dirty Kurty: https://www.facebook.com/KURTYmusic/
Yodah: https://www.facebook.com/YODAH619
============================================