Description
Okay, y'all... it's time to O.D.! The Alumni Group is bringing you a new concept in brunching and day parties. It's time to Over Dose!! Over Dose is not like other brunches. At our party, you get unlimited drinks AND food! We want you to go ALL THE WAY IN on the entire experience. Don't stop 'til you get enough -- eat and drink until you can't anymore! Your O.D. is scheduled for Saturday, January 12th from 12-7 p.m. at Mist Harlem. Just $45 gets you unlimited access to our delicious buffet AND bottomless brunch cocktails for the whole 7 HOURS!! Don't miss your chance to overdo it like you've never done it before!
$45 (Plus Tax & Gratuity) Gets You an Unlimited Southern Buffet and Bottomless Drinks for the duration of the event.
**Seating during brunch is on a first come first served. RSVP does not guarantee seating**
***For Reservations or Pre-Paid Brunch Arrangements Please Email or Call Keira (646) 299-3000 or Email RSVPBrunch@MistHarlem.com***
***Once you are done dining please be considerate of others waiting and relinquish your seats***
****Please use #TAGBRUNCH when sharing socially.****
Please follow us on instagram @The_Alumni_Group
MEDIA DISCLAIMER, photos and videos are occasionally taken at our events. The Alumni Group reserves the right to use any photograph/video without the expressed written permission of those included within the photograph/video. The Alumni Group may use the photograph/video in publications or other media material produced, used or contracted by The Alumni Group including but not limited to: brochures, invitations, books, newspapers, magazines, television, websites, etc.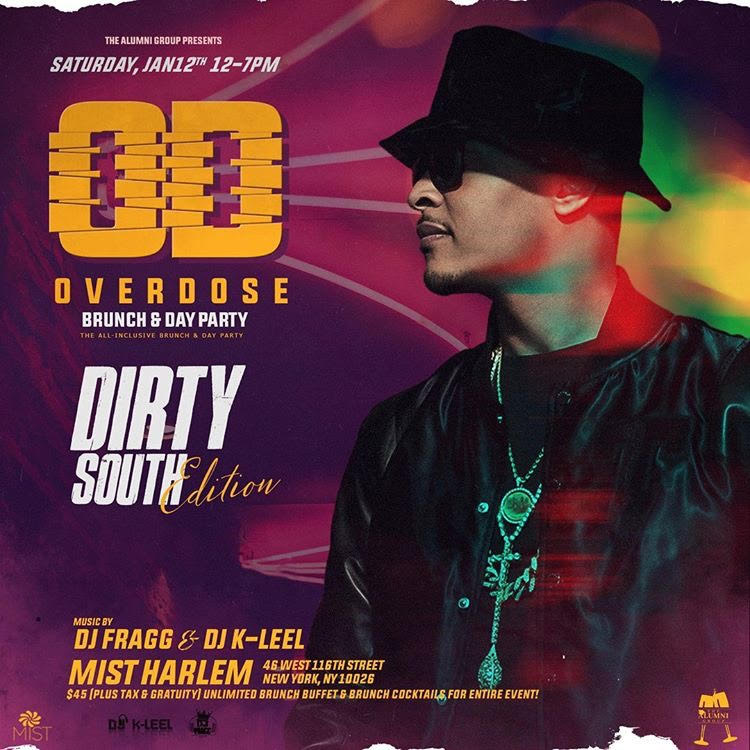 OverDose Bottomless Cocktail Menu: Mimosa (Traditional, Strawberry, Mango, Lychee, Sorrel), Sangria (White/red), Rum Punch, Blue Long Island Ice Tea
OverDose Food Menu (Items Subject to Change)

Southern Cornbread
Southern Fried Catfish
Southern Fried Chicken
Southern Macaroni & Cheese
Southern Shrimp & Grits
Red Velvet, Blue Velvet, and Classic Waffles & Southern Fried Chicken
Southern Inspired Sliders
Southern Steak & Eggs
Gumbo
Red Beans & Rice
Jambalaya