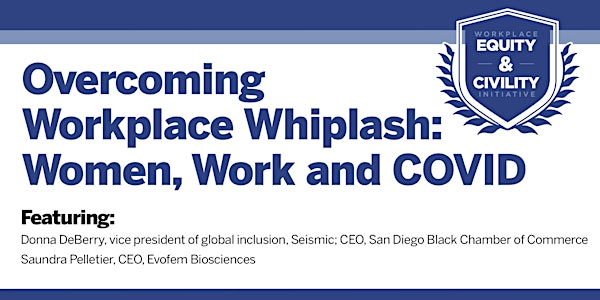 Overcoming Workplace Whiplash: Women, Work and COVID
The Workplace Equity & Civility Initiative invites the community to Overcoming Workplace Whiplash.
About this event
Overcoming Workplace Whiplash: Women, Work and COVID
This event is free and will be presented on Zoom. Attendance is limited.
Featuring:
Donna DeBerry, vice president of global inclusion, Seismic; CEO, San Diego Black Chamber of Commerce
Saundra Pelletier, CEO, Evofem Biosciences
Moderator:
Barbara Bry, founder, Workplace Equity & Civility Initiative
--
Women have borne the brunt of the COVID pandemic. Just months before the pandemic hit, women became the majority of job holders in the U.S. Since then, three million have left the workforce, many because of family care demands.
As the COVID crisis persists, employers and employees are asking: What does an equitable workplace look like?
During this interactive program:
Leading employers will talk about the changes they made during COVID and how they are planning the future of the workplace.
In small groups, you'll have an opportunity to share your experiences about what's worked and what hasn't worked during COVID and how you'd like to re-imagine your workplace.
Issues that will be discussed include:
How much flexibility will I have in determining my work situation?
How should my employer support me in terms of structuring tasks, building relationships and trust, collaboration, and boundary setting?
If I choose to work remotely, will I be penalized in promotion opportunities?
If I have family care responsibilities, how will my care providers (schools, daycares, in-home caregivers, etc.) support me, particularly if my family member needs to quarantine because of COVID exposure? How will my employer support me?
What is good and bad about working remotely?
How do these issues vary by gender and age?