Overcoming Today's Challenges | Business and Leadership Workshop
Description
(Disclaimer: You are receiving this email based on our current IAW members list. Downloaded monthly on February, 2019 from NAPW-IAW website. If you feel you have received this in error, please inform us via email. Thank you.)



Email us: IAWSantaClarita@gmail.com
FALL 2019 | "LUNCH and LEARN" Workshop Series #1
Join us for a valuable set of workshop series launched this coming October 15, hosted by our IAW Santa Clarita Leadership Team.
October theme "Overcoming Today's Challenges" will kick off with series of topic sessions presented by:
Nicky Dare, President Santa Clarita, founder of DARE Education "Business Resiliency and Sustainability"
Connie Spark, CEO of Wadeco Business Center "Get Certified"
Margo Berg, Life & Relationship Coach, CEO My Shoes, My Journey "What Brings Joy"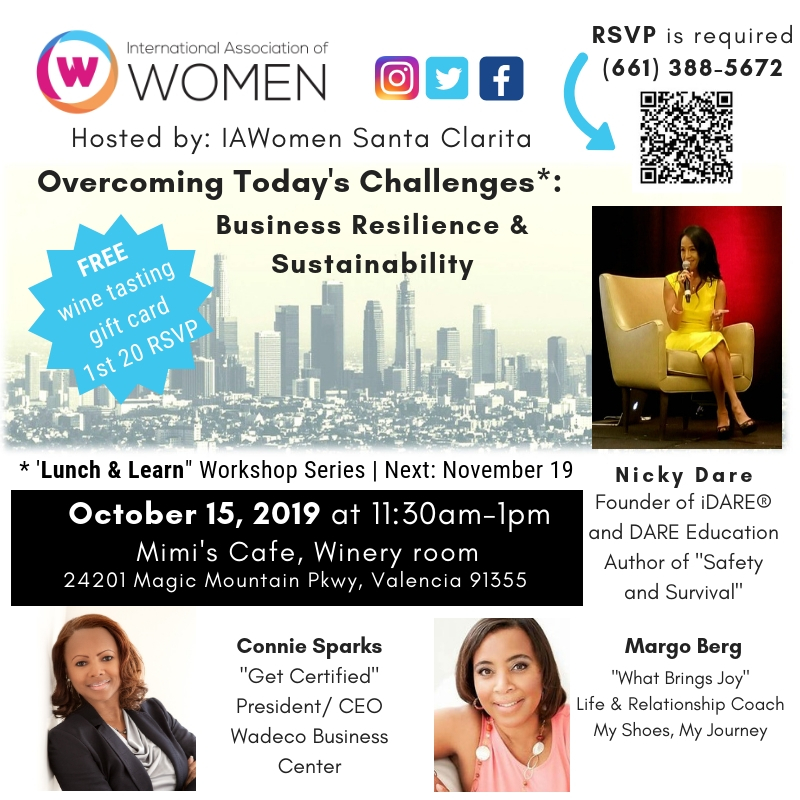 Tuesday, October 15, 2019 at 11:30am
Mimi's Cafe, 24201 Magic Mountain Pkwy, Valencia, CA 91355

Pay your own meal. Thank you!
What to bring: Plenty of business cards! We are here to power network!!
Who may attend: New Members, Members and their guests are welcome
Don't fall behind, RSVP early to our next Workshop on Tuesday, November 19 @ Mimi's Cafe.
FALL 2019 | Workshop Series # 1
Nicky Dare "Business Resiliency and Sustainability"
Having a disaster plan in place might not prevent the worst-case scenario, but it could increase a company's odds of survival.
Safety and Survival Through Self-Reliance, both applied to your personal and professional lives.
The frequency of unprecedented natural and anthropogenic disasters increases every year. Make sure you, your family, and your business are prepared for the unexpected.
https://Education.NickyDare.com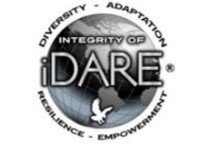 Connie Spark's topic: Get Certified!
If you haven't heard, the government, private, and nonprofit organizations are looking for minority and women owned businesses to do business with. Connie Sparks, owner of Wadeco Business Center will share her experience working with women owned businesses, helping them get certified and access to procurement contracts. You will also learn the benefits of being certified, the process, and various certification status.
Connie Sparks
President/Chief Executive Officer
Wadeco Business Center
Margo Berg's "What Brings Your Joy?"
Take time out to do what brings you joy! Self-care is not selfish it's important. Are you doing what brings you joy? If not, learn how, with just a few simple steps.
Margo Berg
My Shoes, My Journey
Life & Relationship Coach
Feel free to call us if you have any questions or concerns.
(661) 388-5672


Please use these hashtags when sharing and posting on social media pages. Thanks!!
#IAWomen
#IAWomenSantaClarita
Please save the dates of our 2019 monthly meetings, social wine tasting, and community events: All of our in-person networking meetings are held on 3rd Tuesdays every month.
2019 October 15 Tuesday
2019 November 2 Saturday at Agua Dulce winery 11:30am
2019 November 19 Tuesday
2019 December 10 Tuesday
2020
2020 January
2020 February
2020 March 7 Saturday at Agua Dulce winery 11:30am
2020 April
2020 May
2020 June
* New Members Orientation
** Social Networking at the Winery 11am-2pm