Overcoming Loneliness - Live-streamed Meditation Workshop with Gen Rinzin
In this morning workshop, discover meditations that overcome painful feelings of loneliness and inspire true peace, joy and connection.
About this Event
This event is being offered by live-stream for those in the Pacific Northwest region of the US (including WA, ID, MT & AK; outside this area? Find a Kadampa Center near you). Registrants will receive a link enabling them to watch and listen by phone, tablet or computer.
The feelings of disconnection and isolation are pervasive, especially now that we are conducting more aspects of life online. We can even feel distanced from our closest friends and relatives. In the first session of this workshop, we will investigate why being alone sometimes, but not always, feels lonely. Gen Rinzin will share a powerful antidote to loneliness: Buddha's methods to grow the love in our heart. Through incorporating new attitudes towards our own experience of being lonely, we become empowered to reach out to others in positive, relational and healthy ways.
During this half-day workshop, Gen Rinzin will explain practical yet profoundly effective meditations for escaping the confines of loneliness and finding peace and happiness within.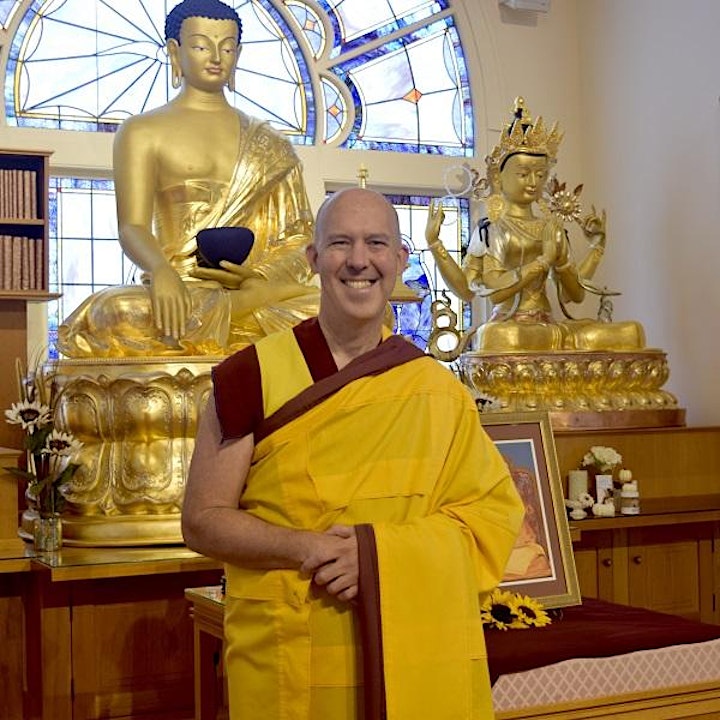 About the Teacher
Gen Kelsang Rinzin was ordained as a Buddhist monk in 2004 and taught at Heruka Buddhist Center in Fort Collins for 15 years. He was appointed to the Resident Teacher position at Kadampa Meditation Center Washington in October 2020. Gen Rinzin communicates his love of Dharma with a down to earth approach and humor that helps others to appreciate and understand the teachings and put them into practice. His teachings are clear and practical so that the listener can readily integrate the methods for keeping a peaceful mind into their busy, modern life.
Schedule
Session 1 - 9:30-10:45am
Session 2 - 11:15am-12:30pm
Stay for an optional 30-minute Q&A after Session 2
Cost
$35 ($25 for monthly supporters of Kadampa Meditation Center WA).