Description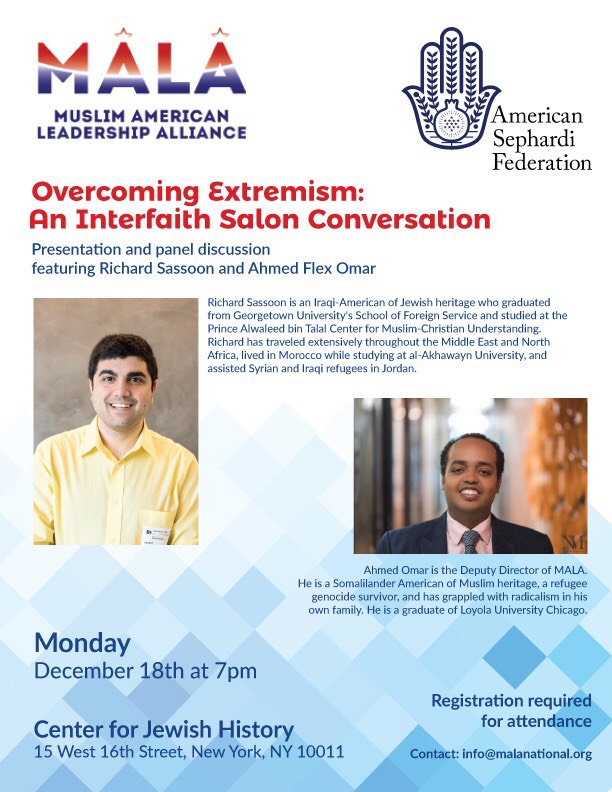 Two emerging young leaders with first-hand experience facing extremism come together for an open dialogue on how decent people of all backgrounds can build bridges of understanding.

Richard Sassoon is an Iraqi-American of Jewish heritage who graduated from Georgetown University's School of Foreign Service and studied at the Prince Alwaleed bin Talal Center for Muslim-Christian Understanding. Richard has traveled extensively throughout the Middle East and North Africa, lived in Morocco while studying at al-Akhawayn University, and assisted Syrian and Iraqi refugees in Jordan.

Ahmed Omar is the Deputy Director of MALA. He is a Somalilander American of Muslim heritage, a refugee genocide survivor, and has grappled with radicalism in his own family. Ahmed is a graduate of Loyola University Chicago.

Come for an evening of thoughtful exchange on challenges and opportunities.

By engaging in informed and inclusive dialogue the discussion aims to help ensure a world that transcends discrimination on the basis of religion, ethnicity, gender identity, sexual orientation. or national origin.
Registration is required for attendance.