Description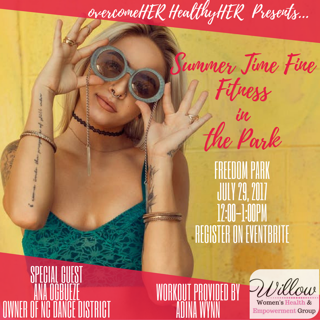 overcomeHER is a lifestyle brand that creates a space for women to grow spiritually, personally, and professionally. Our HealthyHER initiative highlights women in the health industry while creating a space for women to work out and feel good about themselves. Come and connect with other amazing women in the Charlotte area while participating in a fun dance based workout routine created by the talented Adina Wynn, owner of Willow: Women's Health and Empowerment Group.
GET TO KNOW YOUR INSTRUCTOR ADINA WYNN:
Adina Wynn is the founder and leader of Willow Women's Health and Empowerment Group (WWHEG), an organization whose mission is to promote health and wellness among all women through dance, fitness, education and collaboration. She has been a dancer since the age of 5 and has over 10 years of experience as a dance and cheerleading instructor. Throughout her journey, Adina has been a member of multiple dance and cheerleading groups, including the Spirit Led Performing Arts Ministry, 102 Jamz Dance Squad, the James B. Dudley cheerleading team, and the North Carolina A&T State University cheerleading and competition teams. She has trained countless young women on the art of dance and loves to cultivate the talents and skills of others.
GET TO KNOW OUR SPECIAL GUEST ANA OGBUEZE:
Ana Ogbueze (Pronounced Oh-Boy-Zee) – Professional Dancer, Choreographer & Founder of NC Dance District: Charlotte's 1st industry style hip-hop dance studio for adults.
You might recognize her from the CIZE commercials or dancing along side Fitness Celebrity Shaun T! A UNCC alum and former Goldduster, Ana began her professional dance career as a NBA dancer for the Charlotte Bobcats, now the Charlotte Hornets. Since then, she has trained at top dance studios in London, New York & L.A. and has worked for the Oxygen Network, filmed 2 Coca Cola commercials and been featured as a fitness talent for Beachbody.
NC Dance District, was just awarded the 2016 Expertise Award for "Best Dance Teachers In Charlotte" and was recognized for it's superior performance opportunities for local dancers.
Currently Ana choreographs for the sensational girl group Volume 4 and recently starred in, "Shaun T Trains Europe". Learn more about Ana and her company by visiting http://www.thedancedistrict.com/
WHERE WILL WE BE IN THE PARK?
Enter through the front entrance of Freedom Park. Keep going straight until you see the stop sign. Make a left and then keep going until you reach the end of the parking lot. You will see an old and vacant black train cart to the right (this is how you will know you are in the right place). Park and walk over to the little bridge to the right. Keep walking straight on the path until you see us. We will be right before you get to the water and you will see our overcomeHER sign.
WHAT TO WEAR?
Please make sure you wear workout attire and possibly a hat for shade. Feel free to bring sunscreen even though we will be in the shade.