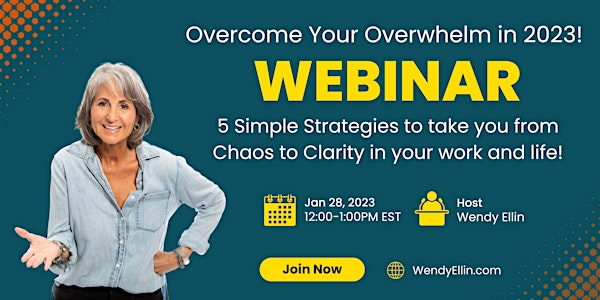 Overcome Your Overwhelm in 2023!
Learn how to Get Organized in the New Year so you can reach your goals, perform to your maximum capacity, and enjoy your job!
About this event
Is the way you're working, really working?
Learn an easy way to set up your priorities AND get your inbox to zero, and keep it that way!
Who is it for?
Anyone who is sick and tired of working in chaotic energy every day, and wants to experience calm instead.
Anyone who has no systems for getting their work done efficiently and without stress
Anyone who is leading a team and would like a toolbox to help their team be as productive and happy in their job
Anyone who is disorganized in their work and is ready to change that.
Why should you attend?
Get a toolbox for getting real work done
Learn an easy way to set up your day & prioritize your daily work
Learn how to create a supportive morning routine
Start to feel better about your workload and getting things done
Start to convert chaos into clarity and focus