About this Event
Over/Under Music Fest Lineup
TENNIS | DJ WINDOWS 98 (Win Butler of Arcade Fire) | OF MONTREAL
NEIGHBOR LADY | QUIET HOUNDS | KEBBI WILLIAMS & THE WOLF PACK | CONTROLLERISE | TROOP BRAND
Beer List
Stay tuned for official announcement of the Over/Under taplist. We promise an unparalleled selection, ranging from juicy IPAs to barrel-aged stouts, wild sours, low ABV options and more.
About Over/ Under Music Fest
OVER/UNDER is an immersive music festival experience rooted in duality. At O/U, we toast to unique stories, eclectic artists and interesting beers.
Acts across two stages will run the gamut from intimate performances to dance-party DJ sets, within the walls of an unconventional brewery, Monday Night Garage. Between sets, discover inspiration from a range of hand-selected, local organizations, as they showcase their craft through collaborative demonstrations.
Explore a bit further, and you'll uncover another layer of the O/U experience—a cozy, natural greenspace dotted with fire pits, encouraging conversations amongst friends new and old. The O/U dichotomy is extended still to the beers you sip, with a taplist highlighting barrel-aged stouts, wild sours, and everything in between.
O/U provides a distinctive opportunity to celebrate through great music, delicious beer, and quality conversations. Everyone has a story to share.
Tickets
General Admission & VIP Tickets go on sale Friday, September 13 @ 10am!
VIP Tickets Include: 4 beer tickets, early entry beginning at 4:30pm, first access to 25+ unique beers, VIP viewing area, VIP bar access, and limited edition Over/Under glass.
General Admission Tickets Include: Includes show entry and access to 25+ unique beers.
About The Artists
Tennis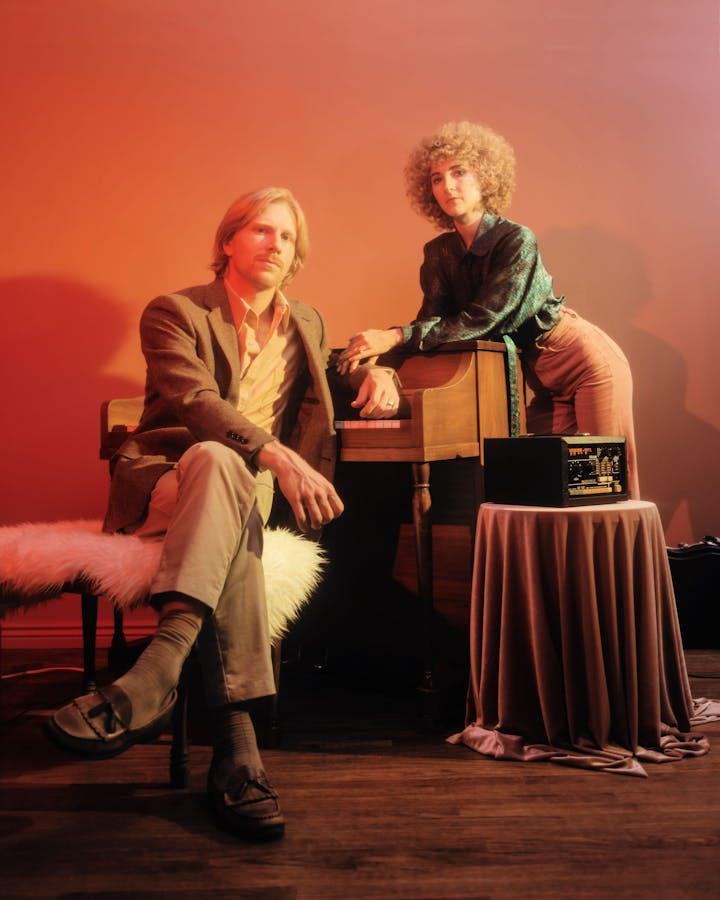 I never learned how to swim.
In years of sailing, I never let the water touch me. The ocean was an abstract dread, an obliterating void as untenable as outer space.
In January 2018 we went on tour. After years of scraping by, we found our footing with our fourth record Yours Conditionally. It was a commercial success that set us up to to play the biggest rooms of our career. But three shows in, I developed a raging case of influenza. Each night I dragged myself onstage and croaked out the set in a delirium. After a particularly bad soundcheck, Patrick asked me if we should cancel the show. I couldn't imagine giving up the thing we'd work so hard to achieve. "I'll be on stage even if you have to mic my coffin," I joked.
The next morning I fainted and had a seizure while grocery shopping for breakfast. Patrick carried me through the check-out lanes screaming for a doctor. I woke later in a hospital bed. Patrick leaned over me, crying. "That's it," he said. "I'm canceling the tour. I thought you were dead. We're quitting the band. I'm going to be an accountant." But I was on the mend. We missed two shows and pressed on.
During sound check at the 930 club, Patrick stepped out to take a phone call. His father had been in the hospital all week, but he had cancer and brief hospitalizations were routine. Back at the hotel that night, Patrick poured two shots of whiskey and handed me one. "I'd like to toast my dad." He said. "The doctors offered to put him on life-support to give me a chance to fly out there, but I didn't want him to suffer. Instead I said goodbye."
Patrick went home to grieve with his family and rejoined us on the road two days later. I couldn't believe how quickly our lives had unraveled in the midst of what was supposed to be a milestone in our career. As the tour continued, we found refuge in playing music together. Songwriting had always been an extension of our inner-world. Now we retreated to that world every time we stepped onstage.
After the final show of our tour in Austin, we received another phone call. Patrick's mother Karen was in the hospital on the brink of a stroke. We got on a plane and went straight to her bedside. Her recovery took weeks. In the hospital waiting room, I wrote the opening line of "Matrimony II": I only have certainty when you hold my hand.
On a hot July day, after Karen's return to good health, we sailed as a family into the Pacific and scattered Edward's ashes at sea. I marked our position on the chart with a small x. The album was already well under way. In that moment, I realized what I wanted to call it.
Swimmer is a tour of the darkest time in our lives. But it is not a dark record. Named for the feeling of suspension and upendedness that characterized this period, it is the story of deep-rooted companionship strengthened by pain and loss. These songs carried us through our grief. It is us at our most vulnerable, so we kept a small footprint, recording everything ourselves in our home studio. I set out to describe the love I have come to know after ten years of marriage, when you can no longer remember your life before that person, when the spark of early attraction has been replaced by a gravitational pull.
Swimmer is available everywhere February 14, 2020.
Instagram / Facebook / Twitter / Soundcloud / Website
of Montreal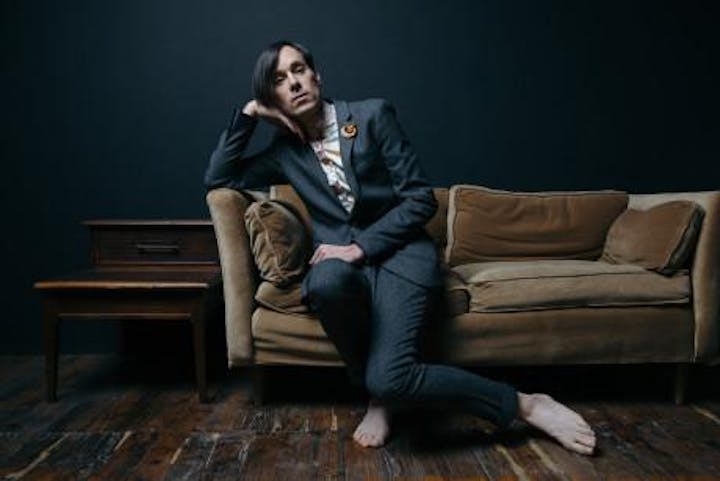 Two important events occurred during the making of White Is Relic/Irrealis Mood. I became "Simulated Reality" paranoid and I fell in LOVE.
Well a lot more happened during the process of writing and recording, but those are the two big ones. I also reached a healthy point of self-forgiveness for my failed marriage and became deeply educated in the lies of America the Great.
I feel like a switch was recently turned on in my brain and now I'm beginning to see through the lies that have been fed to me my whole life by the masters of media and by those who control and manipulate the narrative of our cultural identity and social order.
My paranoia began during the presidential election cycle and reached a dangerous peak shortly after the inauguration. In the meantime I watched and read countless works of art in a mad effort to be reminded of how many truly brilliant people there are living/struggling among us and to try to maintain a positive outlook. The works of Angela Davis, Noam Chomsky, Chris Kraus, Ta-Nehisi Coates, and the Autobiographies of Malcolm X and Mark E Smith were all great inspirations, to name a few.
Musically, I was very inspired by the extended dance mixes that people used to make for pop singles back in the '80s. It's so cool how a lot of the 80's hits had these really intricate and interesting longer versions that wouldn't get played on the radio and could only be heard in the clubs. I used that template with these tracks, I wanted them all to feel like the extended "club edit" of album tracks.
I also decided to abandon the "live band in a room" approach that I had been using on the recent albums and work more on my own or remotely with collaborators. I used the same drum sample packs throughout because I wanted the album to have a rhythmic continuity to it. I wanted the drums to have a strong and consistent identity, similar to how Prince's Linn Electronics LM-1 drum machine played such an important role on his classic albums. Zac Colwell also played a huge role on this album, adding saxophones and synths to most of the songs. I also got a lot of help from long time collaborators, and "of Montreal" touring members, Clayton Rychlik and JoJo Glidewell.
The two title concept came to me when I was thinking about how difficult it is to frame the message of a song with just one title, because so often the songs are about so many different subjects. 'White Is Relic' was inspired by James Baldwin's writings regarding the creation and propagation of a toxic American White identity. I've come to learn how it's just a tool wielded by the 1% to give poor white people a false sense of superiority in an effort to keep the masses placated and numb to how deeply we're all getting fucked by our capitalist rulers. An 'Irrealis Mood' is a linguistic indicator that something isn't yet reality but does have the potential to become so.
I'm always searching for new identities so this concept of the death of "Whiteness" appeals to me greatly. Might be the only way to save the world.
-Kevin Barnes, January 2018
DJ Windows 98 (Win Butler of Arcade Fire)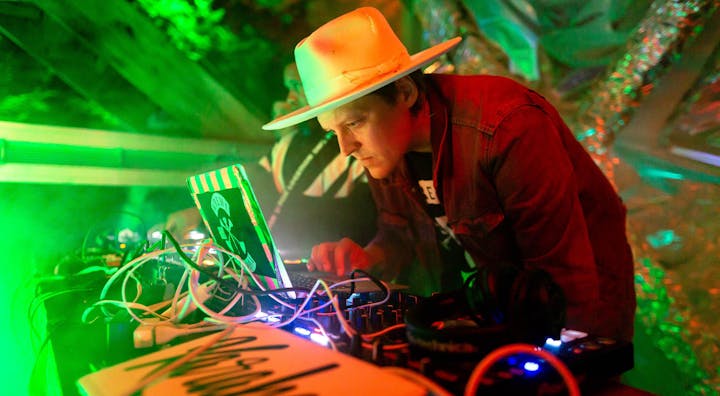 Neighbor Lady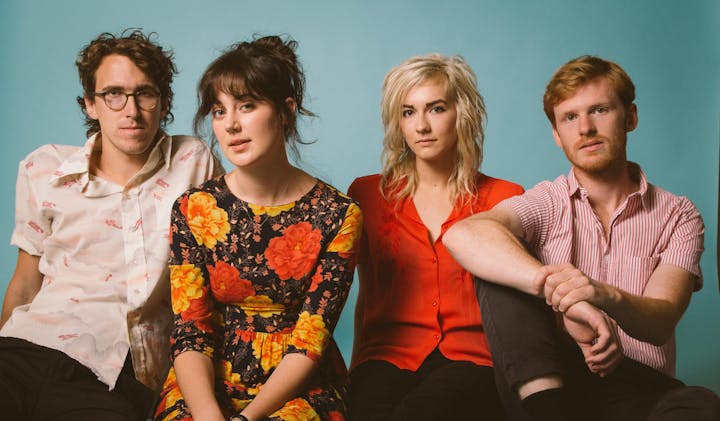 A missing link between indie-rock and classic country western, Atlanta-based Neighbor Lady is comprised of Emily Braden, Jack Blauvelt, Merideth Hanscom, and Andrew McFarland. Led by the siren voice of front-woman and songwriter Emily Braden, Neighbor Lady began as a solo project. She began writing music by herself and for herself; lyrically, the songs chronicle events in her personal life and her emotions surrounding those events.
Having grown up on a farm in pastoral Rome, Georgia, she moved to Athens, Georgia after high school, met guitarist Jack Blauvelt and formed Neighbor Lady, a small band centered on supporting Emily's songwriting. As Braden puts it, "Neighbor Lady started because I was too nervous to play a show by myself, so I asked my friends to play with me."
Neighbor Lady's debut LP Maybe Later consists of 7 songs that introduce the band's foundations of country-kissed indie-rock in a poignantly sweet and evocative style — the album shifts fluidly between the dreamy, stripped-down, aching melodies of just Braden and her guitar, to the powerfully noisy and fiery hooks of the full band. Neighbor Lady's momentum is indebted to their blend of a powerfully dynamic band paired with Braden's soaring vocal melodies, creating a sensation both comforting yet heartbreaking in the same moment. You'll feel compelled to put "Let It Bleed" on endless repeat. And there's an immediate Southern element to Neighbor Lady, emanating from Emily's voice (which has been compared to Patsy Cline, Dolly Parton, Kate Bush and Nancy Sinatra), some of Jack's pedal steel-esque guitar melodies, the slower 2-stepping rhythm in the song "I Wish Nothing," and the fire in songs like "Fine" and "Silently Separately."
Friendship Fever is happy to close the polarizing gap between here and there with the release of Maybe Later, available now.
Quiet Hounds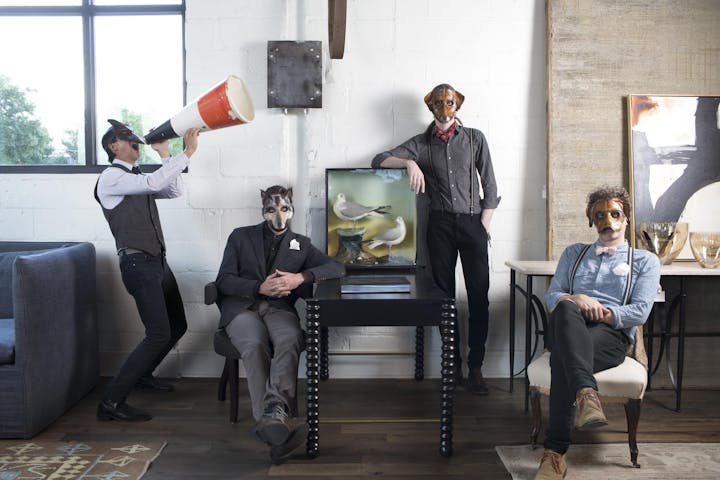 "Quiet Hounds - Everything Else is Noise (October 11)
A lush, wanderlust-soaked collection of dreamy pop arrangements, Everything Else is Noise marks the sixth major release from Atlanta's critically-acclaimed Quiet Hounds. Compared to its melancholy predecessor, 2017's Characteristics of Living Things, the ever-mysterious and evolving quartet's latest offering is a train running on more confident rails--upbeat, full-blooded and restless.
The album is anchored by the epic, mesmerizing "River Delta", describing the growing distance between two individuals and the delta that separates two meandering paths. The gentle cadence of a Springsteen shuffle carries the whimsical counter melodies, echoing the likes of Paul Simon in an unlikely spawn birthed from another dimension--a wall of sound breaking like waves on a beach.
Then there's the most audacious album opener, "Antioch", calling upon a more modern interpretation of the Beatles' fab four-era harmonies. Sonically, the track presents something more akin to the drawn out soundscapes of Tame Impala -- summoning rollicking, rhythmic attacks when a roar seems more appropriate than a bite. Its patient build at each intersection lays the backdrop for lead singer Eric Toledo's haunting, layered vocal maneuvers.
"Our process isn't thematically mature until the song -- or the record -- tells us what it wants to be about," remarks Toledo. "'Antioch' was definitely the catalyst for the record as a whole, and got us really excited about where it would take us sonically."
In this inner monologue, Toledo plays out his anxiety, pining for a life of simplicity, exploring vulnerability in the information age, and projecting a hopeful future of enlightened bliss.
"Perhaps it's a pervasive human condition, but now more than ever, constant reflection keeps me from the now," says Toledo. "In our time of noise and distraction, living in the now is the only truth."
Over the course of the record, the band stays true to simplistic song structures, opting for linear progressions and expanding on sonic fabrications with analog synths to augment its fibrillating pulses & epic soundscapes. There is a consistent, thematic throughline, much like acts in a play:
The violent fall of Antioch / A rushing roaring river delta / Never ending ladders / Hidden amongst the chamber sounds / From afar daring greatly / Her supine kiss / Distracted and neurotical
While these tracks can be enjoyed in isolation and can certainly stand on their own, this deliberate contextualization of each song stitches the collection together--the sum of its parts blossoming into something more; a deeply introspective concept album exploring essentialism and existentialism in relation to the human condition.
Everything Else is Noise began to take shape in the summer of 2018, in the comfort of the spacious 800 East studios nestled in Atlanta's Inman Park. Opting for spontaneous collaboration over any pre-planned orchestration, the band collected for the day with whatever
instruments they could get their hands on, crafting a dozen concepts in a day-long session that would serve as the bedrock of compositions over the course of the next year.
Final production took place in the home studio of producer & multi-instrumentalist Deke Spears, who found himself holing up in his basement for months at a time, struggling through severe asthematic conditions through the spring and summer seasons of 2019. Spears ultimately found resilience and healing in the sounds that would shape the dynamic for the collection as a whole.
"Every time I make a record I learn more about who I am and what I am capable of," says Spears. "With Everything Else is Noise, I pushed myself into unexplored sonic places, blending my 60s and 70s fundamental thinking with modern textures. I think it has turned out to be an eclectic and inspired work."
In the end, Everything Else is Noise is a cinematic soundscape that sends time periods and genres into oblivious collision at each turn and transition, all the while never forgetting its melodic roots and simple, time-tested sensibilities. This is without a doubt a new high water mark in the evolution of Quiet Hounds, and bodes well for what's to come on a larger scale for this beloved Atlanta band. "
Kebbi Williams & The Wolfpack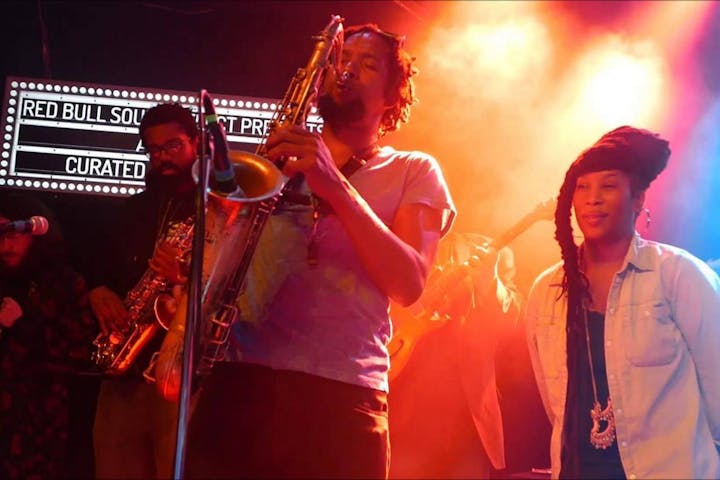 Kebbi Williams is an original member of the Grammy-winning Tedeschi Trucks Band, mighty blues-rock powerhouses who have been steadily touring to critical acclaim for the better part of a decade. On his own, Williams helms Wolfpack ATL, a horn-heavy collective of some of the area's sharpest jazz, funk and blues musicians. Voted "Best Band to Blow the Roof Off the Joint" by Creative Loafing, Wolfpack ATL is a tour de force onstage, captivating audiences with their musicianship, enthusiasm and dedication to their craft, and ensuring that everybody within earshot has a thoroughly funky good time.
Williams has music in his blood: he got his first music lessons from his father, Earl, a multi-instrumentalist who plays bass, banjo, harmonica, flute and more – and his uncle Milan, a founding member of the Commodores, wrote some of the band's classic hits, among them "Machine Gun" and "Brickhouse." Williams, an Atlanta native, earned undergraduate and Masters degrees in Jazz Studies from Howard University.
Controllerise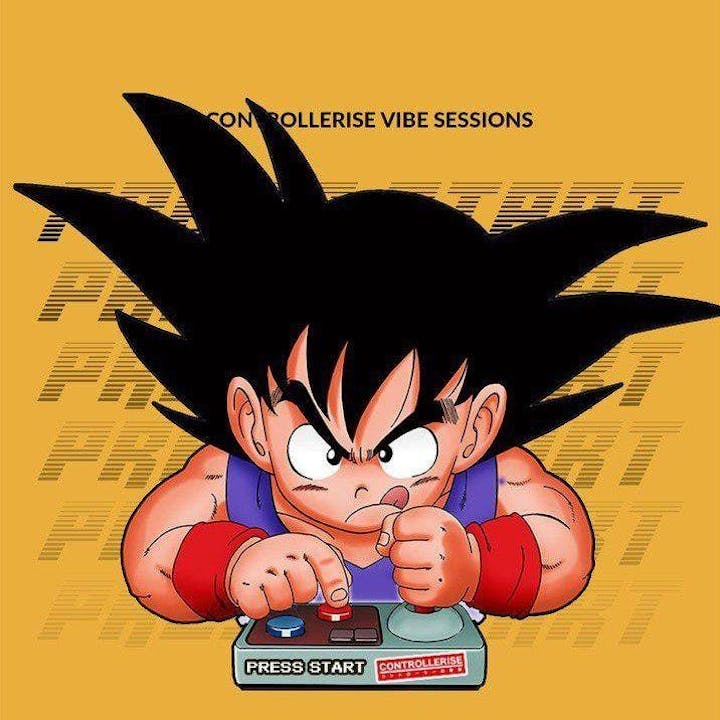 As a beacon for gaming, anime and beat culture in Atlanta, Controllerise brings together a community of fans and has built a cult following in the Atlanta with its weekly Monday night vibe session 'Press Start'. There, producers perform Beat/DJ sets to a crowd as diverse as their musical selections in front of a back drop of new and classic Anime and video games. Controllerise is curated by culture influencers' STLNDRMS, BLKCUBES & MICxSIC.
Troop Brand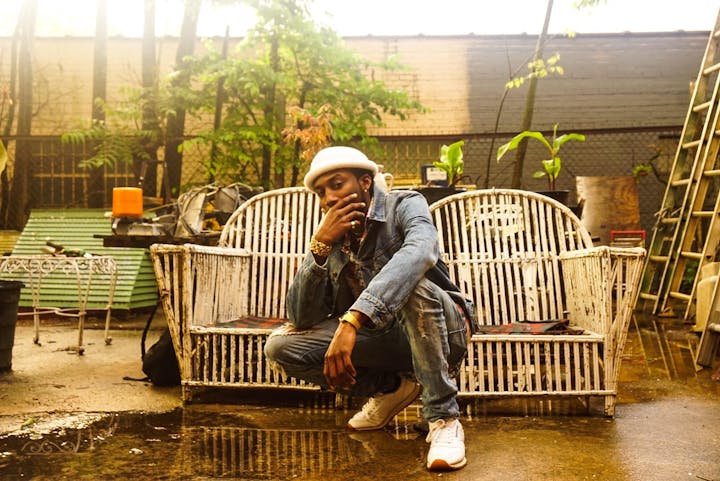 ABOUT TROOP: Mississippi-bred, Atlanta-based hip-hop and R&B artist Troop Brand first made waves with his 2017 single "Indeed." The young MC has collaborated with the likes of The Far East Movement ("Like a G6") and ATL producer Wheezy (Drake, Meek Mill, Young Thug), toured with hip-hop artist Pell, and experimented with his own pop-friendly, country-leaning brand of rap. A classically trained opera singer who was raised on tour with his mother and singing in the church choir, Troop is known for hitting a mean falsetto and using down-to-earth lyrics that attest to his Southern roots. Touting looks from FADER, Pigeons & Planes, Beats 1 Radio, and more, this MC and singer continues to build buzz after the release of his debut album, Carpe Diem.
Follow Troop Brand's Journey:
Performers
Date and Time
Location
Refund Policy