Over the Top: Broadband Video's Impact on Future TV
When and where
Location
Clyde's of Gallery Place 707 7th Street Northwest Washington, DC 20001
Refund Policy
Contact the organizer to request a refund.
Description
You are invited....
to an event of the Broadband Breakfast Club
Over the Top:
Broadband Video's
Impact
on
Future TV
http:broadbandbreakfastseries.eventbrite.com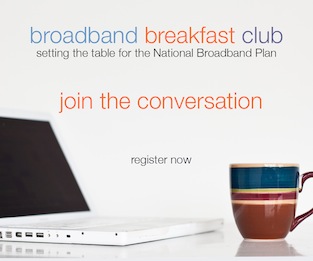 Over the Top: Broadband Video's Impact on Future TV
"Over the Top," or video distribution directly over broadband networks, is the new way video is increasingly being consumed by a younger generation of internet users. What are the needs and preferences of this new generation, who watch films and programs on smart phones, tablets and laptops -- but not on necessarily on televisions or through cable or broadcast programming? Apple's iTunes, Netflix, Hulu, Aereo and a range of other companies have begun to pave a new direction for what's being called "future video" and "future TV". What are the impacts of these new viewing patterns and video viewing options upon pay-television and broadcast providers? Are the new players in the broadband landscape able to purchase rights to also offer pay-television content? And is the traditional consumer "bundle" of television, telephone and broadband service no longer desirable for the typical consumer? These and other questions will be addressed by a panel of experts and moderated by Drew Clark, Chairman and Publisher of the Broadband Breakfast Club
Panel:
John Bergmayer
Senior Staff Attorney
Public Knowledge
John Bergmayer specializes in telecommunications, internet, and intellectual property issues. He advocates for the public interest before courts and policymakers, and works to make sure that all stakeholders--including ordinary citizens, artists, and technological innovators--have a say in shaping emerging digital policies. He is a member of the Colorado bar and a graduate of the University of Colorado Law School.
Michael E. Drobac
Senior Policy Advisor
Patton Boggs
Michael Drobac helps clients from the technology and telecommunications sectors define public policy objectives, develop strategic messaging in support of those objectives and define and execute outreach strategies. He advocates before Congress and federal agencies in support of policy objectives. Prior to joining Patton Boggs, Mr. Drobac was director of government relations for Netflix. He established and served as the first director of the company's Washington DC office. Mr. Drobac also brings nearly ten years of experience in legislative affairs on Capitol Hill, acquired during periods of service to the offices of three United States senators. For Senator Kay Bailey Hutchison, Mr. Drobac reviewed all legislative items for the senator, with a primary focus on telecommunications and technology as well as judiciary matters, serving as lead policy advisor on Internet and technology issues for the Senate Commerce Committee.
Daren Miller
Director
Content Partner Management
Centurylink
Daren Miller is a 30 year veteran of the telecommunications, cable and media industries. He currently serves as head of programming for CenturyLink. Miller's responsibilities include content licensing and management for CenturyLink's consumer video product platforms, including its wire line video service, PRISM, as well as its broadband portal. Prior to joining CenturyLink (formerly through Qwest Communications), Miller served in a number of senior management roles with TCI, Liberty Media and Fox Sports affiliates. He was the principal architect and manager of TCI's, subsequently Liberty Media's, portfolio of 15 regional sports networks and related businesses, now known as Fox Sports Nets. Miller has held roles in cable MSO programming licensing and television network management and operations for those affiliates. He has extensive experience in the negotiation of sports television programming as well as multiplatform pay television distribution rights.
Miller is currently based in Denver, Colorado.
Sharon Peyer
Founder
HitBliss
Sharon Peyer is a co-founder and VP, Business Development of HitBliss. In this capacity she oversees efforts related to the licensing of content distributed in the HitBliss store, efforts to attract third party brands to HitBliss Earn and HitBliss' consumer marketing efforts. From 2004 until 2007, Sharon held similar responsibilities at Pixamo, a photo sharing and social networking startup that she co-founded and successfully sold. Prior to Pixamo, Sharon worked in a variety of entrepreneurial capacities primarily within the investment and venture capital industries in the United States and Europe. She holds a Bachelor of Science degree from Georgetown University and a Master degree in Business Administration from the Harvard Business School.
Eric J. Wolf
Executive for Technology Strategy and Planning
PBS
Eric Wolf is PBS' Vice President for Technology Strategy and Planning. He spends much of his time at the intersection of media, technology, public policy, and the future. He's currently working on issues as varied as the upcoming spectrum auctions, PBS next generation of content distribution, and unified asset management tools for PBS' internal departments. Prior to PBS, Eric spent 9 years with AOL leading groups that built products used by tens of millions of people around the globe. Earlier in his career Eric held technology and organizational leadership roles at Peter D. Hart Research, a public opinion research boutique, and Symbolics, Inc. He holds 3 U.S. patents in the realm of interactive communications and an undergraduate degree in Computer Science and Political Science from Brown University.
Additional speakers have been invited
Moderator:
Drew Clark is the Chairman and Publisher of the Broadband Breakfast Club, the premier Washington forum advancing the conversation on broadband. Additionally, under his leadership as Executive Director of Broadband Illinois, he has helped unite the Land of Lincoln around a vision of Better Broadband, Better Lives. Illinois' State Broadband Initiative has become the national model for public-private collaboration. Broadband Illinois provides the tools that citizens, communities and businesses need to get online and to get more out of their internet use. Clark earned his Bachelors of Arts (with Honors) in Philosophy and Economics from Swarthmore College, his Master of Science from the Columbia University Graduate School of Journalism, and his Juris Doctor from George Mason University School of Law. He has written widely on the politics of technology, entertainment and telecommunications for Ars Technica, GigaOm, National Journal, Slate, the Washington Post, and the Northwestern Journal of Technology and Intellectual Property. He also serves on the board of the Rural Telecommunications Congress. You can find him on Google+ and Twitter.
Telecommunications advocates, policy-makers, journalists, top officials and the general public, all seeking to trade insights on these important issues, are invited to attend this event of the Broadband Breakfast Club, which includes full American and Continental breakfasts, for as little as $45.00, plus a modest registration fee.
This event is on the record and open to the public.
For News and Events on BroadbandBreakfast.com follow us at http://www.twitter.com/broadbandcensus
Event Details
Title: Over the Top: Broadband Video's Impact on Future TV
Date: Tuesday, July 16th, 2013 8 a.m. - 10 a.m.
Where: Clyde's of Gallery Place, 707 7th Street NW, Washington, DC 20001
The breakfast begins at 8 a.m., followed by a discussion, beginning shortly after 8:30 a.m. and ending by 10 a.m.
The Broadband Breakfast Club is a "widely attended event" under House of Representatives Rule 25, clause 5(a)(4)(A).
-----
For individuals outside of Washington, or those whose schedule doesn't permit attendance in person, archived webcasts of the Broadband Breakfast Club are available for free on BroadbandBreakfast.com.
The Broadband Breakfast Club seeks sponsorship of our events from interested companies and organizations. For details on sponsorship opportunities, please contact Sylvia Syracuse at 646-262-4630 or sylvia@broadbandcensus.com. The Broadband Breakfast Club is produced by Broadband Census News LLC.
Follow us on Twitter at www.twitter.com/broadbandcensus
______________________________________________________________
The Broadband Breakfast Club is Sponsored By: