Description
You are invited....
to an event of the Broadband Breakfast Club
Over the Top:
Broadband Video's
Impact
on
Future TV
http:broadbandbreakfastseries.eventbrite.com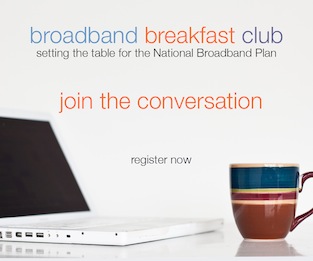 Over the Top: Broadband Video's Impact on Future TV
"Over the Top," or video distribution directly over broadband networks, is the new way video is increasingly being consumed by a younger generation of internet users. What are the needs and preferences of this new generation, who watch films and programs on smart phones, tablets and laptops -- but not on necessarily on televisions or through cable or broadcast programming? Apple's iTunes, Netflix, Hulu, Aereo and a range of other companies have begun to pave a new direction for what's being called "future video" and "future TV". What are the impacts of these new viewing patterns and video viewing options upon pay-television and broadcast providers? Are the new players in the broadband landscape able to purchase rights to also offer pay-television content? And is the traditional consumer "bundle" of television, telephone and broadband service no longer desirable for the typical consumer? These and other questions will be addressed by a panel of experts and moderated by Drew Clark, Chairman and Publisher of the Broadband Breakfast Club
Panel:
John Bergmayer
Senior Staff Attorney
Public Knowledge
John Bergmayer specializes in telecommunications, internet, and intellectual property issues. He advocates for the public interest before courts and policymakers, and works to make sure that all stakeholders--including ordinary citizens, artists, and technological innovators--have a say in shaping emerging digital policies. He is a member of the Colorado bar and a graduate of the University of Colorado Law School.
Michael E. Drobac
Senior Policy Advisor
Patton Boggs
Michael Drobac helps clients from the technology and telecommunications sectors define public policy objectives, develop strategic messaging in support of those objectives and define and execute outreach strategies. He advocates before Congress and federal agencies in support of policy objectives. Prior to joining Patton Boggs, Mr. Drobac was director of government relations for Netflix. He established and served as the first director of the company's Washington DC office. Mr. Drobac also brings nearly ten years of experience in legislative affairs on Capitol Hill, acquired during periods of service to the offices of three United States senators. For Senator Kay Bailey Hutchison, Mr. Drobac reviewed all legislative items for the senator, with a primary focus on telecommunications and technology as well as judiciary matters, serving as lead policy advisor on Internet and technology issues for the Senate Commerce Committee.
Daren Miller
Director
Content Partner Management
Centurylink
Daren Miller is a 30 year veteran of the telecommunications, cable and media industries. He currently serves as head of programming for CenturyLink. Miller's responsibilities include content licensing and management for CenturyLink's consumer video product platforms, including its wire line video service, PRISM, as well as its broadband portal. Prior to joining CenturyLink (formerly through Qwest Communications), Miller served in a number of senior management roles with TCI, Liberty Media and Fox Sports affiliates. He was the principal architect and manager of TCI's, subsequently Liberty Media's, portfolio of 15 regional sports networks and related businesses, now known as Fox Sports Nets. Miller has held roles in cable MSO programming licensing and television network management and operations for those affiliates. He has extensive experience in the negotiation of sports television programming as well as multiplatform pay television distribution rights.
Miller is currently based in Denver, Colorado.
Sharon Peyer
Founder
HitBliss
Sharon Peyer is a co-founder and VP, Business Development of HitBliss. In this capacity she oversees efforts related to the licensing of content distributed in the HitBliss store, efforts to attract third party brands to HitBliss Earn and HitBliss' consumer marketing efforts. From 2004 until 2007, Sharon held similar responsibilities at Pixamo, a photo sharing and social networking startup that she co-founded and successfully sold. Prior to Pixamo, Sharon worked in a variety of entrepreneurial capacities primarily within the investment and venture capital industries in the United States and Europe. She holds a Bachelor of Science degree from Georgetown University and a Master degree in Business Administration from the Harvard Business School.
Eric J. Wolf
Executive for Technology Strategy and Planning
PBS
Eric Wolf is PBS' Vice President for Technology Strategy and Planning. He spends much of his time at the intersection of media, technology, public policy, and the future. He's currently working on issues as varied as the upcoming spectrum auctions, PBS next generation of content distribution, and unified asset management tools for PBS' internal departments. Prior to PBS, Eric spent 9 years with AOL leading groups that built products used by tens of millions of people around the globe. Earlier in his career Eric held technology and organizational leadership roles at Peter D. Hart Research, a public opinion research boutique, and Symbolics, Inc. He holds 3 U.S. patents in the realm of interactive communications and an undergraduate degree in Computer Science and Political Science from Brown University.
Additional speakers have been invited
Moderator:
Drew Clark is the Chairman and Publisher of the Broadband Breakfast Club, the premier Washington forum advancing the conversation on broadband. Additionally, under his leadership as Executive Director of Broadband Illinois, he has helped unite the Land of Lincoln around a vision of Better Broadband, Better Lives. Illinois' State Broadband Initiative has become the national model for public-private collaboration. Broadband Illinois provides the tools that citizens, communities and businesses need to get online and to get more out of their internet use. Clark earned his Bachelors of Arts (with Honors) in Philosophy and Economics from Swarthmore College, his Master of Science from the Columbia University Graduate School of Journalism, and his Juris Doctor from George Mason University School of Law. He has written widely on the politics of technology, entertainment and telecommunications for Ars Technica, GigaOm, National Journal, Slate, the Washington Post, and the Northwestern Journal of Technology and Intellectual Property. He also serves on the board of the Rural Telecommunications Congress. You can find him on Google+ and Twitter.
Telecommunications advocates, policy-makers, journalists, top officials and the general public, all seeking to trade insights on these important issues, are invited to attend this event of the Broadband Breakfast Club, which includes full American and Continental breakfasts, for as little as $45.00, plus a modest registration fee.
This event is on the record and open to the public.
For News and Events on BroadbandBreakfast.com follow us at http://www.twitter.com/broadbandcensus
Event Details
Title: Over the Top: Broadband Video's Impact on Future TV
Date: Tuesday, July 16th, 2013 8 a.m. - 10 a.m.
Where: Clyde's of Gallery Place, 707 7th Street NW, Washington, DC 20001
The breakfast begins at 8 a.m., followed by a discussion, beginning shortly after 8:30 a.m. and ending by 10 a.m.
The Broadband Breakfast Club is a "widely attended event" under House of Representatives Rule 25, clause 5(a)(4)(A).
-----
For individuals outside of Washington, or those whose schedule doesn't permit attendance in person, archived webcasts of the Broadband Breakfast Club are available for free on BroadbandBreakfast.com.
The Broadband Breakfast Club seeks sponsorship of our events from interested companies and organizations. For details on sponsorship opportunities, please contact Sylvia Syracuse at 646-262-4630 or sylvia@broadbandcensus.com. The Broadband Breakfast Club is produced by Broadband Census News LLC.
Follow us on Twitter at www.twitter.com/broadbandcensus
______________________________________________________________
The Broadband Breakfast Club is Sponsored By:



Organizer of Over the Top: Broadband Video's Impact on Future TV
Broadband Breakfast is a unique media company. We began as a voice in the wilderness advocating for higher-capacity internet everywhere. Our rallying cry is "Better Broadband, Better Lives." As the coronavirus pandemic makes painfully clear, Better Broadband is vital: We need it now more than ever.
Broadband Breakfast is also an inclusive media community. We don't take sides on controversies around fiber or wireless, net neutrality or open internet orders, privacy rules or changes to Section 230. We bring people together through the Broadband Breakfast Club and online. Our news coverage and our events are topical, timely and smart..
Our Broadband Breakfast Club series meets monthly on the SECOND Wednesday of the month .
Events are held at Clyde's of Gallery Place, 707 7th St. NW, Washington, DC. Metro Stop: Chinatown/Gallery Place.
Events are open to the public and held from 11:30 a.m. to 1 p.m., with full plated lunch served beginning at 11:30 a.m.
To subscribe to our news service go to BroadbandBreakfast.com.
The Broadband Breakfast Club is Sponsored By:
UTOPIA Fiber - UTOPIA (Utah Telecommunication Open Infrastructure Agency) Fiber is the group of 11 Utah cities that joined together in 2004 to build, deploy, and operate a fiber to the home network to every business and household within their communities. Their network allows subscribers to connect to the world in ways they have never experienced before, providing blazingly fast Internet speeds, phone, and television services. Using an active ethernet infrastructure and operating at the wholesale level, UTOPIA Fiber supports open access and promotes competition in all broadband and telecommunications services. It is the largest open access network in the United States.
Broadband.Money - Broadband.money makes finding and winning broadband grants easy. Sign up at today at broadband.money to line up for your share of $42 billion worth of broadband grant funding with a single application that unlocks grants in multiple states. Find underserved and unserved areas in your territory. Need match funding? No problem. Get on the fast track to funded with many sources of private money to choose from. Discover, apply, get match funding, and win grants. It's really that simple. www.broadband.money
Lit Communities -Lit partners with municipal, county and other governmental entities, as well as a variety of private partners to deploy last-mile fiber optic network infrastructure. Residents and businesses connected to our networks will receive service from a local internet service provider that delivers a local brand and promise of great service and customer support. Our networks also support a wide variety of other services in addition to the internet, including but not limited to voice, telehealth, home security, home automation, small cell, DAS, wireless backhaul, and public safety applications such as gunshot detection sensors and smart traffic control systems.
BroadbandNow - BroadbandNow is a data aggregation company helping millions of consumers find and compare local internet options. BroadbandNow's database of providers, the largest in the U.S., delivers the highest-value guides consisting of comprehensive plans, prices and ratings for thousands of internet service providers. BroadbandNow relentlessly collects and analyzes internet providers' coverage and availability to provide the most accurate zip code search for consumers.
Powerhouse Management - Powerhouse has been building innovative tech brands for consumers since 1994. In a world that's more connected than ever, Powerhouse doesn't just change with the times, it changes the times. Powerhouse brands include VyprVPN, a secure No Log VPN created to bypass restrictions imposed on sites and content so that users can access a free and open internet. Outfox offers games improved internet user control. Giganews serves consumers, ISPs, telecom companies and multi-service operators in more than 170 countries, and is the undisputed leader in Usenet services. Golden Frog is an advocate for privacy rights and uncensored internet access around the world.
Samsung Electronics America - Samsung is a global leader in technology, opening new possibilities for people everywhere. Since being established in 1969, Samsung Electronics has grown into one of the world's leading technology companies and has been recognized as one of the top 10 global brands. Through relentless innovation and discovery, Samsung is transforming the worlds of TVs, smartphones, wearable devices, tablets, digital appliances, network systems, medical devices, semiconductors and LED solutions.
Render Networks - Render Networks provides an entirely new approach to fiber deployment. Utilizing innovative geographic information systems (GIS), mobile and automation technology, Render's platform and data management enable network operators, engineers and builders to deliver quality networks without the need for manual, paper-based construction packs. Render uses real-time geospatial data to provide increased control and visibility, resulting in significant resource productivity across the delivery lifecycle.
Positron Access -Positron Access Solutions manufactures carrier grade products that increase the bandwidth delivered by Tier-1 carriers and over 150 Tier- 2 / 3 Operators. Positron's G.hn Gigabit Access Multiplexer (GAM) extends fiber or fixed-wireless Gigabit services over the existing in-building wiring in Multi-Dwelling Units (MDU) and Multi-Tenant Units (MTU) and over the outdoor existing wiring from the curb to the SFU gateway in rural areas. It delivers managed real-time non-blocking virtually symmetrical Gigabit speeds to each subscriber without the cost and construction disruption of installing fiber to each door (up to 800 feet over existing telephone pairs or 2,800 feet over existing RG6 coaxial cable and splitters). The GAM is auto-configured and supports user self-installation, eliminating the need to enter the premises. It is installed and activated in hours. Developed, manufactured and supported in North America.
California Emerging Technology Fund - The California Emerging Technology Fund (CETF) has been on a mission over the last decade to forge partnerships and foster public policy to close the Digital Divide. This work has been strategically-focused, results-oriented, and people-centered. CETF is a leading proponent of the Digital Equity Bill of Rights.