Triumph Foundation's annual OTL Wheelchair Baseball Tournament is expected to be another home run!
About this event
Triumph Foundation is hosting our Over-the-Line Wheelchair Baseball Tournament.
Join Triumph to see people who have physical impairments push the limits of their ability.
WHEN: October 9, 2021 from 8:30 AM to 4 PM (Games begin at 9 AM SHARP - YOU MUST BE ON TIME TO CHECK-IN PRIOR TO THE START OF THE GAME)
WHERE: Barry A. Sanders Sports Field 6300 Balboa Boulevard Van Nuys, CA 91316
36 people with disabilities, including children, adults and Veterans, will participate in this modified baseball game.
12 teams of three players, consisting of at least one quadriplegic and one paraplegic player, attempt to hit a ball "over the line" into a sectioned-off territory. Teams will compete all day to win the championship.
The field, located at Lake Balboa Park, is specially designed for the use of people with disabilities made with a rubberized surface designed for wheelchairs, walkers, and those with an unsteady gait due to physical disabilities.
Can able-bodies participate? We want to give as many wheelchair athletes as possible the opportunity to play. Due to limited spots we cannot promise that able bodies will be allowed to play. Spectators are welcome, so please invite your friends and family.
Interested in becoming a sponsor or volunteering? Email info@Triumph-Foundation.org
Triumph Foundation, a 501(c)(3) nonprofit organization. www.SupportTriumph.org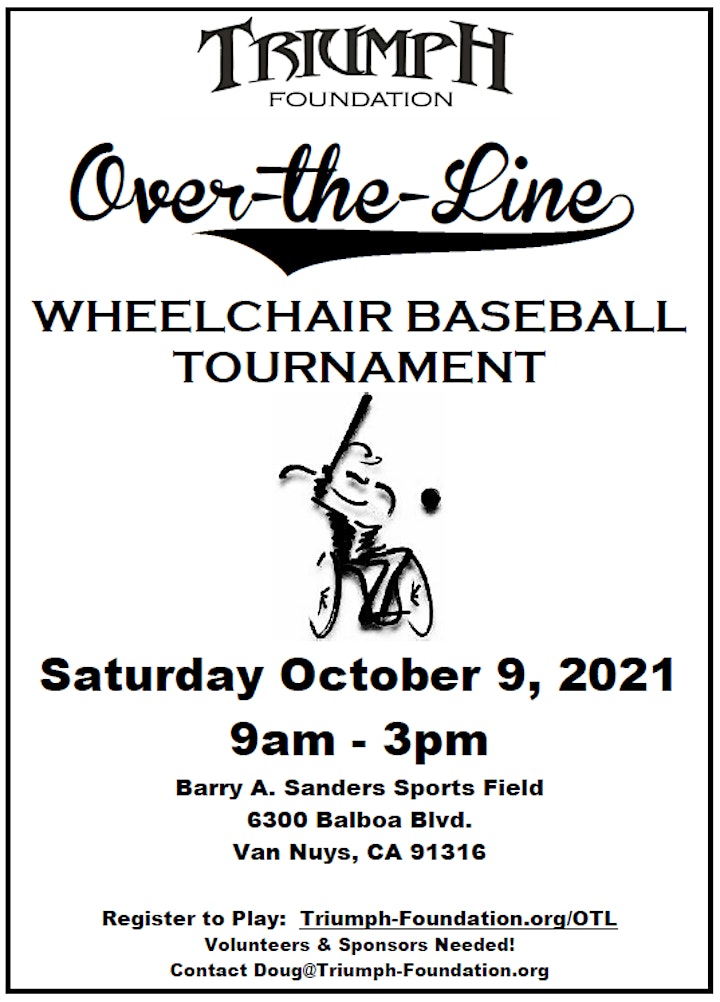 Organizer of Over-the-Line Wheelchair Baseball Tournament 2021