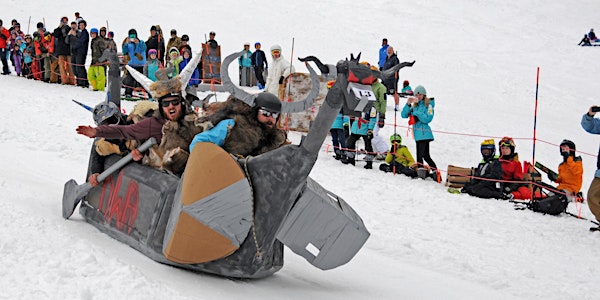 "Over the Line!" Cardboard Box Derby
This will prove to be a crazy event that will test your ingenuity and engineering skills. With just cardboard, duct tape, string and decor
When and where
Location
Schweitzer Mountain Resort 10000 Schweitzer Mountain Road Sandpoint, ID 83864
About this event
This will prove to be a crazy event that will test your ingenuity and engineering skills.   With just cardboard, duct tape, string and decorations you must build a sled that is faster, more creative and longer lasting than your competitors.  Please read the following list of requirements carefully so there is no confusion.
Sleds must be built from only cardboard, duct tape, string, paper decorations (think paint and balloons)

Up to 4 People per sled – everyone must be sitting during the run no more than 6 inches above the ground.   Minimum age is 9 years.

Helmets are required, soft boots only (no ski boots)

Start line will be determined by the speed of the snow

This is a timed event – best combined time of 2 runs will advance to finals (3 participants – one run each)  Best final time wins.

The bottom of the sled must be fully exposed cardboard.  No paint or tape

may be applied.

Pre-waxed cardboard is permitted and YOU MAY wax the bottom!
No plastic, metal, wood or other hard building materials or decorations

No changes in sled or participants between runs

Participants will haul their own device up the hill and push it down.   Please be sure you have a haul rope and strong bodies.

Registration and releases must be done in advance

Cash $20 entry fee on site- Fully refundable after you clean up the mess

Limited to 30 entries
The winner gets a $100 gift card.
So .... do you still want to do it?
You MUST pre-register.    Everyone riding in the sled must have a signed release (under 18 signed by a parent or legal guardian)    Check in is from 12 -12:45.   Hauling uphill starts at 1:00.   Competition over at 2:30.
You are required to clean up your mess and haul it the trash receptacle.
Most of all - it will be so much fun!