Actions and Detail Panel
Over Accessorized Girls' Night Out 5 Year Anniversary
Sun, June 11, 2017, 3:00 PM – 7:00 PM EDT
Description
Over Accessorized Ladies Night Out
On June 11, 2017, Over Accessorized will host its 10th Semi Annual Over Accessorized Ladies' Night Out Event and Celebrate its 5th Year Anniversary. Each spring and fall we raise funds for local non-profits in the Maryland/DC areas to support their endeavors. This season we are donating to a newer foundation, although we have not disclosed the name of the foudation as of yet, their focus is to provide support in the means of transportation to and from doctors appointments, meal prep, and resources. We have not revealed the name of the foundation as of yet, because we love a gooood suprise. The founder of this foundation has a heart of GOLD and the puriest intentions. After losing her mother a little over a year she has kicked into CEO mode and has made great on her word on supporting others as they battle with kicking Cancer's A**.
The purpose of Over Accessorized will always remain the same and that is to promote small businesses, give back and create an alliance in business by uplifting, and creating a new way to market and promote the creativity of women in Business. Each season hundreds of women flock to our event to Sip, Socialize and Shop all for a GREAT cause.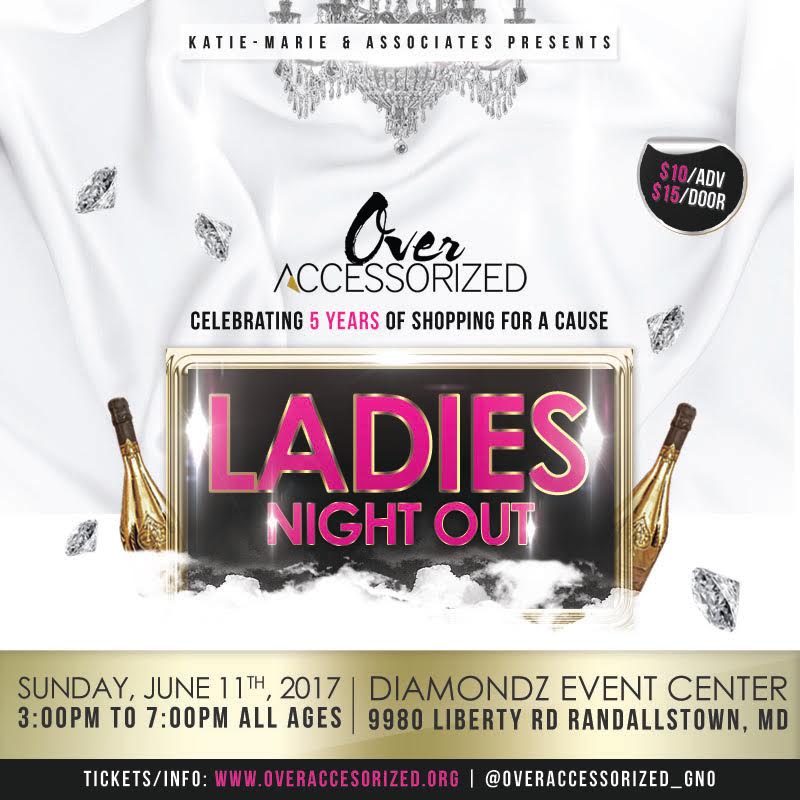 We are Baltimore's largest Girl's Night Out Company and we plan to stay that way!
---
We are currently accepting new vendors/small business owners to exhibit their products or services. If you are interested in being apart of Girls' Night Out please submit your request. Please be sure to include your name, business name, type of produt or service and your social media/websites. All exhibit request will be reviewed. We have space restrictions and all businesses will not be accepted. Thank you for your interest.