Ovarian Cancer Alliance of San Diego: 2nd Annual Teal Steps 1K/5K Walk
Sales Have Ended
Ticket sales have ended
Thank you for contributing to ovarian cancer awareness! We greatly appreciate your participation and/or donation. If you purchased tickets to participate and would also like to donate to the cause, you can return to the event page and choose the "Donate to Awareness" option. If you are participating in the walk, you will receive an email reminder of the event 2 weeks prior to the walk (September 10th, 2017)! Please feel free to contact us if you have any questions or concerns about your order. We are available by email at: OCASDwalk@gmail.com
Sales Have Ended
Ticket sales have ended
Thank you for contributing to ovarian cancer awareness! We greatly appreciate your participation and/or donation. If you purchased tickets to participate and would also like to donate to the cause, you can return to the event page and choose the "Donate to Awareness" option. If you are participating in the walk, you will receive an email reminder of the event 2 weeks prior to the walk (September 10th, 2017)! Please feel free to contact us if you have any questions or concerns about your order. We are available by email at: OCASDwalk@gmail.com
Description
Registration Timeline
Early bird admission ($25) - Opens March 6th at 7am until May 31st at 1130pm
General Admission ($30) - June 1st at 12am until Sept 5th at 1130pm
Late Admission ($35) - Sept 6th at 12am until Sept 8th at 5pm
Walk-up ($35) - Day of the event (T-shirts are not guaranteed)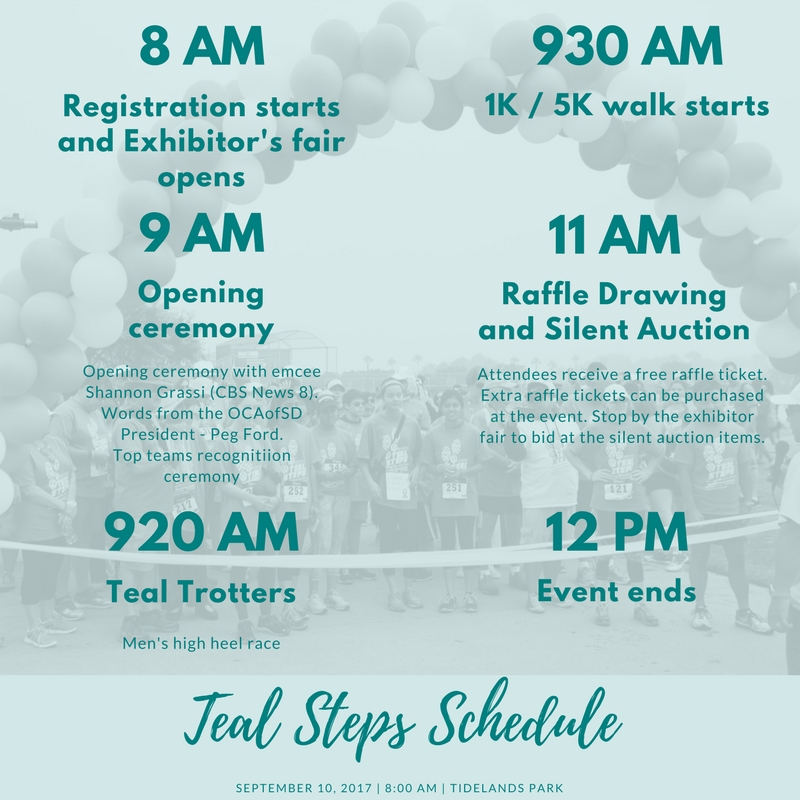 There are 41 registered teams!
Top registrants team:
1. Margaret's Rockstars (Margaret Gerdeman) - 64 members
2. It's Kind of a Big Teal (Renata Lutz) - 58 members
3. Linda's Team (Pat Morris) - 53 members
Top fundraising teams:
1. Linda's Team (Pat Morris) - $1180
1.
Margaret's Rockstars (Margaret Gerdeman) - $1180
2. Team Kathy (Kathy Hagan) - $1175




1K/5K Walk benefiting the Ovarian Cancer Alliance of San Diego.
The Ovarian Cancer Alliance of San Diego (an all volunteer organization) in 2016 hosted their first Annual Teal Steps 1k/5k Walk to support their community outreach programs and to raise awareness of ovarian cancer, the most lethal gynecologic cancer. Last year's event was outstanding with over 400 participants streaming through a beautiful venue at Tidelands Park, Coronado. Over $25,000 was raised supporting 53 educational presentations reaching over 1900 attendees throughout San Diego County.
The goal this year is to double our numbers, so we can expand our programs even further!
Join us on a flat and easy course running along side of the Coronado Tidelands Park and the beautiful, picturesque Coronado Bayfront. Participants will be able to walk in either one or both of the course options! If you would like to start with the 1K, then conquer the 5K, please feel free to do so as well! Neither of the walks are timed, so you can relax and enjoy the beautiful view as you walk! Strollers and service animals are allowed during the walk.
Registration Timeline
Early bird admission ($25) - Opens March 6th at 7am until May 31st at 1130pm
General Admission ($30) - June 1st at 12am until Sept 5th at 1130pm
Late Admission ($35) - Sept 6th at 12am until Sept 8th at 5pm
Walk-up ($35) - Day of the event (T-shirts are not guaranteed)
Thank you to our sponsors for the generous support


Teal Title Sponsor




Circle of Hope





Teal Crown Sponsors




Teal Ribbon Sponsors




FAQs
Can I sign up with my friends and family as a team?
Absolutely! This year we are introducing team registrations. You will have the option to create a new team or join an existing one. You can sign up as a team member by registering to walk or by making a donation. Teams will have access to create a personalized website with the team's description and photos.
I registered as an individual, how can I join or create a team now?
If you want to create a team, or join an existing team after registering, please follow the instructions on this link:
https://www.eventbrite.com/support/articles/en_US/How_To/how-to-join-or-create-a-group-after-registering-individually?lg=en_US
What is included with my registration fee?
Every participant in the walk will receive a free Participant t-shirt. Please make sure to choose your size when you are checking out. We also offer a very special Survivor t-shirt for ovarian cancer survivors. However, do not feel obligated to wear a Survivor t-shirt, as you can opt for a standard Participant t-shirt.
Participants will also receive a goodie bag and a raffle ticket!
Can I buy extra t-shirts for people unable to attend?
You may purchase extra t-shirts (either Participant or Survivor) by choosing the Extra Participant T-Shirt or Extra Survivor T-Shirt option when checking out. Please make sure to select the size for this extra t-shirt!
Can I register at the event?
We will be accepting walk-up registration on the day of the event. If you choose to pay with cash or credit card, the ticket price will be $35. We will not accept checks.
If you choose to register at the event, we cannot guarantee that you will recieve a t-shirt or that one will be available in your size as we can only have so many extra on hand. The only way to guarantee yourself a t-shirt is to register ahead of time on this website!
Are children's admission free?
Children the age of 3 y/o and younger are free whether you register online or in-person!
What are my transportation/parking options for getting to and from the event?
We strongly recommend carpooling as the Island may be congested. Parking is free on surface streets and available on a first come first served basis. The main parking available will be the parking lot at the Coronado Tidelands Park at 2000 Mullinex Dr, Coronado, CA 92118. Parking will also be available at the Ferry Landing Marketplace at 1201 1st Street, Coronado, CA 92118. You have the option to park on the San Diego side and take the ferry over, or you can simply park in the ferry landing parking on the Coronado side. The ferry landing is only a 3 minute walk away from Tidelands Park! Important note: if you choose to take the ferry, you are responsible for the payment of your ferry ride. We will not reimburse you.
What's the refund policy?
Unfortunately, all tickets are non-refundable and non-transferable, but don't feel bad, you are contributing to an amazing cause!
How can I contact the organizer with any questions?
If you have any questions, feel free to contact us by email at: tealsteps@gmail.com
Follow us on Facebook for special coupon codes!