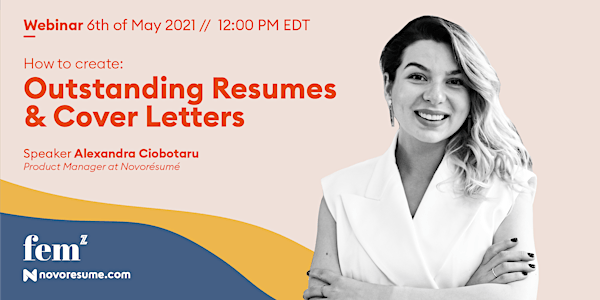 Outstanding Resumes & Cover Letters
Learn how to build your resume and cover letter with Alexandra Ciobotaru, Product Manager at Novoresume!
About this event
Are you looking to improve your job application? One of the most parts of your application is your resume and cover letter. Learn all insider knowledge as well as tips and tricks on how to build a successful resume and cover letter, and nail your application!
The event is led by Alexandra Ciobotaru, Product Manager at Novoresume.
Alexandra Ciobotaru has built a reputation as a business thought leader in the start-up ecosystem in Copenhagen. She concentrates on product and growth at Novoresume, including the appraisal of new product ideas, strategizing appropriate to-market plans, and balancing resources to ensure success for the entire organization. She is actively involved in promoting women in STEM, and she has been nominated for Nordic Women in Tech Awards in 2018 & 2020. In August, Alexandra launched her podcast, Femme Lead, the podcast on female leadership and role models.
Novorésumé is an intuitive online resume builder. The team at Novoresume uses feedback from recruiters and hiring managers to create the best application for resume and cover letter building. Today, more than 5.5 million users worldwide use this service. Novoresume offers excellent templates to use, a content optimizer to help you add the right information, and a professional career blog to stay on top of the latest news in recruitment standards.
The event is powered by FemZquared - a platform that empowers Gen Z and Millennial women to share their stories and promote authnticty and inclusivity on sicial media.
Website: www.femzquared.com
Instagram: @femzquared