Outstanding Minority Scholarship: Jazz, Jokes, & Jams
The Outstanding Minority Scholarship: Jazz, Jokes & Jams Outstanding Minority Scholarship Extravaganza
About this event
The Annapolis Alumnae Chapter of Delta Sigma Theta Sorority, Inc., in collaboration with the Annapolis Alumnae Delta Foundation, Inc. presents the 38th Annual Outstanding Minority Scholarship event. Join us virtually on Saturday, May 22, 2021 from 3pm to 5pm to celebrate the 2021 scholarship recipients!
This year's theme "Jazz, Jokes, & Jams" is guaranteed to be an afternoon of music, laughter, jams, and vendors. It will feature powerhouse speaker Delegate Shaneka Henson, DJ Prez will keep the jazz and jams going, and Kasaun Wilson will bring the jokes! You will also have the opportunity to experience our 2021 scholars! We encourage "Cameras On" for this stellar event, walk the virtual red carpet in your glam attire, and use the virtual background that will be provided prior to the event. You don't want to miss it!
Tickets can be purchased at five levels to support future scholarships:
General – $30
Violet – $50
Crimson – $75
Pearl – $100
Diamond – $250
A donation can also be made in any amount! No amount is too small!
Can't make the event? Consider making a donation towards future scholarships.
Tickets can be purchased through Eventbrite or by mail. If you prefer to make a tax-deductible donation or to pay by check, please make checks payable to the Annapolis Alumnae Delta Foundation, Inc. and mail them to:
The Annapolis Alumnae Delta Foundation, Inc. P.O. Box 58, Galesville, MD 20765
Raffle tickets can be purchased through a separate website called RallyUp. Click here for more information and to purchase raffle tickets! Don't delay, purchase more than one ticket and increase your chances!
We are raffling these AWESOME prizes:
Grand Prize –Two hour virtual interior design consultation by ASH Interiors
1st Prize - Executive Chef Prepared Four-Course Surf & Turf Dinner for Two with a Bottle of Wine by Chef Will, A Special Flair
2nd Prize – Certificate for free travel consultation and $100 towards travel when booking a trip with SunFun Travel
3rd Prize – Two week trial fitness training and hoodie with LiveNow Fitness
4th Prize - $100 in gift cards fromChar-kooterie, Visa, and Amazon
Red Carpet Vendor Advertising Package
For a $50 registration fee, each vendor gets an advertising package that includes:
Showcasing the business continuously throughout the two-hour event.
The MC and DJ will be shouting out the business and highlighting any special promotions.
Posting the business' website twice in the Zoom chat, allowing potential customers to click directly on the link to shop on your website!
Posting the company's website on the Chapter's social media pages from May 22, 2021 through June 22, 2021.
Featuring your business during the June 19, 2021 Chapter meeting, allowing members to further support your business.
Note: Vendors selling Delta Sigma Theta Sorority, Inc. paraphernalia must be an approved vendor!
All proceeds benefit future scholarships! We appreciate your continued support with helping amazing, deserving young men and women achieve their goals and dreams to further their education!
For more information about tickets, raffle tickets, scholarship donations, and vending, please contact SpringActivity@annapolisalumnaedst.org.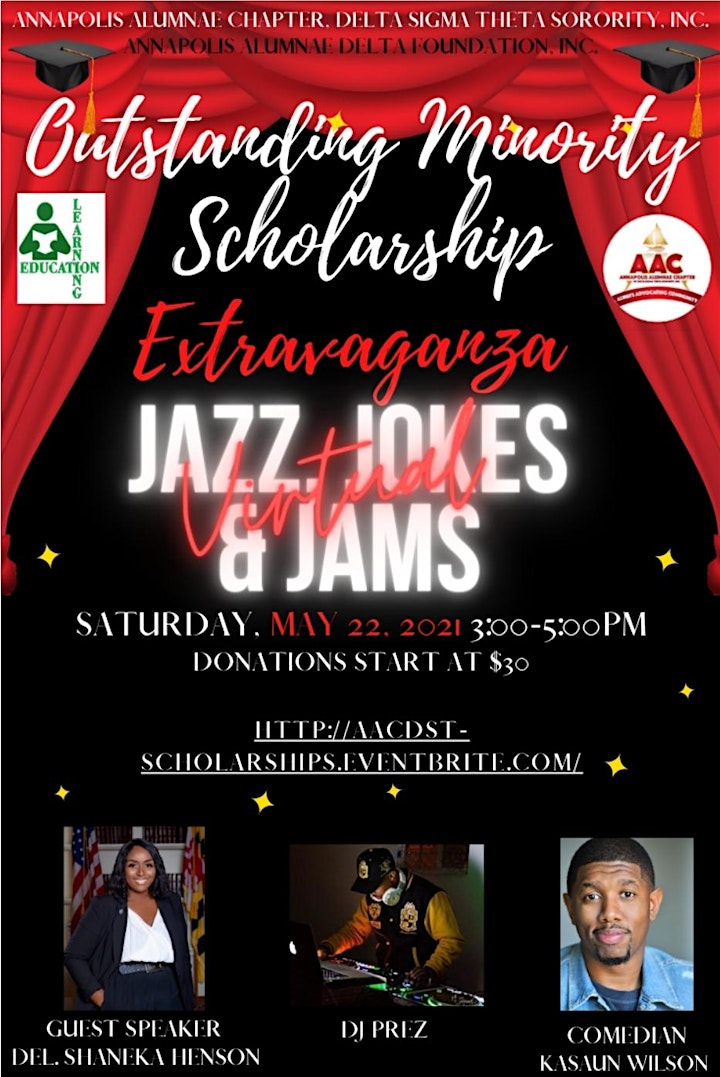 Organizer of Outstanding Minority Scholarship: Jazz, Jokes, & Jams