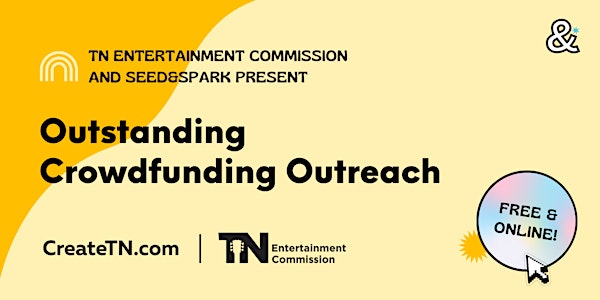 Outstanding Crowdfunding Outreach
Presented by TN Entertainment Commission
About this event
The link to the livestream will be emailed out to you 1 hour before the event starts!
So you've defined your audience (with help from our Crowdfunding to Build Independence workshop!), but now you need to figure out how to actually reach your audience. We've got good news: this workshop will tell you exactly how to do exactly that!
Seed&Spark's team will teach you how to approach marketing before launch, from leveraging your existing network to the best ways to reach your target audience via social media, email, and more.
Make sure to RSVP to receive the livestream link, as well as our follow-up email with our workshop deck, plus additional educational resources!
About our sponsor TN Entertainment Commission
Our vision statement is to increase high quality job opportunities for Tennessee's creative & technology class through the promotion and implementation of programmatic initiatives that reinforce the State as a relevant market for the production & development of multimedia entertainment properties.
Check out their website and follow them on Instagram and Twitter.
About Seed&Spark
Connecting people through stories that matter. Seed&Spark is where creators and audiences work together to tell stories that celebrate diverse voices and foster vibrant conversation. Join a free virtual event, start — or support — a creative project. Find your next spark of curiosity, inspiration and community! seedandspark.com
-