Description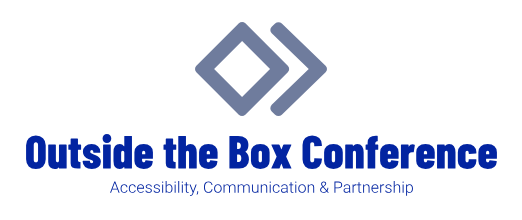 PLEASE READ INFORMATION BELOW PRIOR TO REGISTRATION!
Join us for an inspirational weekend filled with new perspectives and ideas. Learn from local and national presenters alongside parents and school professionals of children who are Deaf-Blind, Deaf and Hard of Hearing, Blind and Visually Impaired, and who have Autism Spectrum Disorder. Choose from a variety of breakout sessions and visit vendors and exhibitors for information and resources. Outside the Box provides families and educational staff a unique opportunity to learn together. National and local presenters with experiences in a variety of content areas give the participants the knowledge and skills needed to help their child in the areas of behavior, communication, vision, assistive technology as well as other topics.
***Please note, families are welcome to attend either day of the conference, however, sessions offered on Saturday, October 12th will be specifically geared toward this audience***

Friday, October 11, 2019

8:00 AM - Registration/Check In

8:30 AM - 5:00 PM: Keynote & Sessions
Saturday, October 12, 2019

8:00 AM - Registration/Check In

8:30 AM - 5:00 PM: Keynote & Sessions
6:00 PM - 9:30 PM: Dinner/Dance
Session Topics:
Autism, Behavior, Blind/Low Vision, Communication, Deaf-Blind, Deaf/Hard of Hearing, IEP/Legal Issues, Others

For full session descriptions and presenters please visit the Outside the Box Conference site at https://outsidetheboxconference.org/.
Childcare will not be provided at the conference

Meals & Hotel Accommodations
Family attendees and children will be provided breakfast, lunch and dinner on Saturday.
Attendees are responsible for hotel accommodations***. Please contact the Dover Downs hotel directly at 800-711-5882. A block of rooms has been reserved. Ask for Outside the Box rate.
For general conference questions or information please contact Karen Robinson at 302-454-2305 or karen.robinson@christina.k12.de.us