A gathering for prophetic people who are out of the box
About this event
A gathering for prophetic people who are out of the box. Here, Dr. Alexis is calling for visionaries, prophetic dreamers, entrepreneurs and every day people who live life supernaturally. Those who don't fit into the main system, who are on their own journey with God and seeking community to grow.
out·li·er
/ˈoutˌlīər/
noun
a person or thing situated away or detached from the main body or system."less accessible islands and outliers"

a person or thing differing from all other members of a particular group or set.
Dream -A year ago the Lord gave me a prophetic dream about being an outlier. Upon waking I looked up the definition and realized that that was indeed me.
The more I thought about it, I realized that there were others who were also prophetic outliers. Those were one of the thousands of people who watch my prophetic broadcast monthly. Those are the people who were fed up with clicks and tribes and say JUST JESUS! Those are the people who have experiences that others may think are weird but continue to trust God and worship.
Perhaps that is you who is reading this? Perhaps you never really fit in but desired a community to share your prophetic encounters and supernatural experiences with. That's who we are, everyday people who are moving in the things of God, we are out of the box prophetic people who are ministers, entrepreneurs, CEO's & creatives. We impact our communities by being led by Holy Spirit.
In this gathering we are bringing different prophetic outliers to give you tools to prophetically live life in abundance. This is training and equipping you to step into your own lane. I hope to see you in Dallas ready to shift
I have asked my friend Psalmist Raine to come in and do prophetic worship and my prophetic friends to come and help us to tap in.
Topics like
*Supernatural marriage
*Prophetic Faith & Supernatural Pregnancy
* entrepreneurship
* Prophetic Prayer Strategy
* Global Strategies and more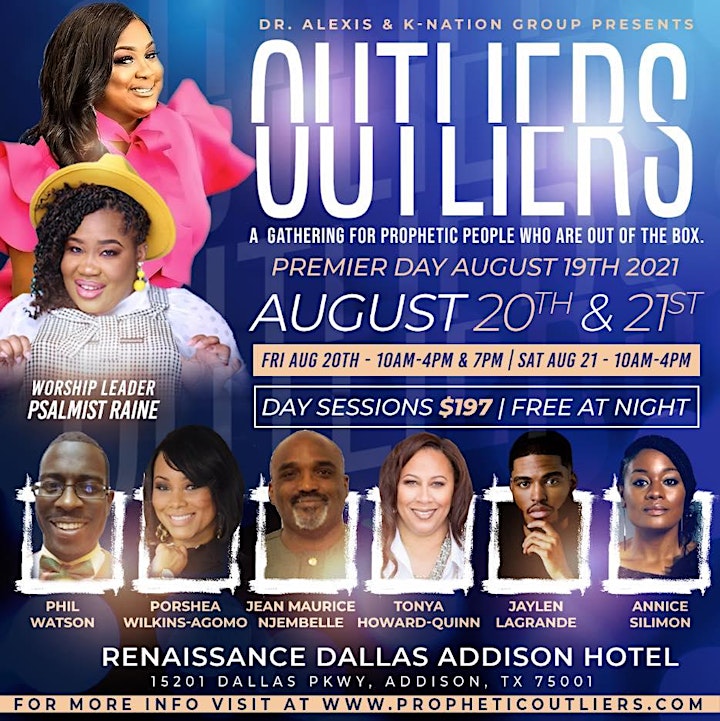 Dr. Alexis is  a Ph.D., Poet, Promoter and vision coach. She is the founder of K-Nation Group and Create Event Solutions LLC.   She travels internationally speaking and coaching leaders all over the world. Since 2012 Dr. Maston has created and produced over 25 diverse events ranging from university conferences, church conferences, parties and comedy shows. 
Dr. Maston is most noted for creating major events such as RESET, WRITE IT, Generals of Deliverance, Upgrade, Prophetic Pop ups and most recently The Love and Laugh Comedy show featuring KEVONSTAGE and EJ SPEAKS. Dr. Maston events began with only 30 people and in a 4 year time span she built her event audience to 4500.
Now Alexis, wants to help you to launch your own genius . Join Dr. Maston as she tours the country with her Genius Table tour, The Genius Academy and Genius Circle