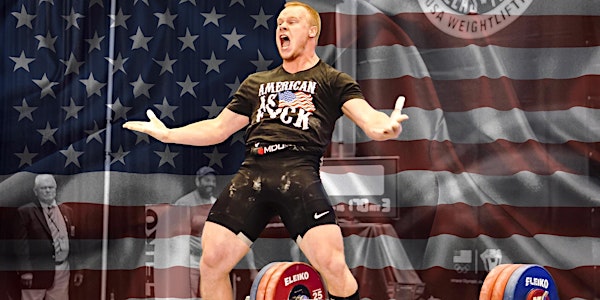 Outlaw Barbell Camp (El Paso, Tx)
When and where
Location
CrossFit 4th Dimension 1480 Common Drive #B El Paso, TX 79936
Refund Policy
Contact the organizer to request a refund.
Description
The Outlaw Way program is built around a hierarchical movement structure which places Olympic Weightlifting (along with Gymnastics skills) at the top of the developmental food chain. We believe Weightlifting is not only important for our sport – nearly 50% of the point value for the last four Games seasons has been from WL movements or accessories – but we believe it is the single greatest developer of neuromotor processing, utilization of contractile potential, and overall coordination under load. In other words – athleticism. That athleticism is especially important in a sport which rewards those who are proficient with a barbell with half of its total points.
The goal of the Outlaw Barbell Training Camps is to continue the Weightlifting education started during previous camps, but dig far deeper into the lifts, the science, the accessories, and the programming needed to cue, coach, and develop successful lifters. The Outlaw BB camps will be presented by 2x National Champion, 3x World Team member, and Outlaw Barbell Head Coach – Jared Fleming. Jared has been coached by multiple world level coaches, has trained with Olympians, and has competed against some of the best international lifters throughout his career. The coach that gave Jared his start in the sport, and actually taught him how to lift – his father, David Fleming – will be accompanying Jared to lead the Outlaw BB camps. David isn't just Jared's dad. He has coached on 2 world teams including the 2015 World Championships in Houston, Tx, was the 2011 Junior World team Head Coach, and is a USAW Level 4 International Coach. He is also a programming expert, a meet coaching expert, and developed a legendary set of drills and accessories to engrain proper movement pathways in young lifters.
This is not a PVC and basic drills seminar. It is a course that will provide new depth and insight into what good technique actually is, how to coach it, and the accessories or positional work which develops it. Jared and David will also be covering specific topics about programming, how to break down video, biomechanic differences in lifters, meet management, and almost anything else you can think of related to Weightlifting.
The Snatch and Clean & Jerk will be the clear focus of the Outlaw Barbell Training Camps, but here are some other highlights you can expect:
-Hands on sessions taking every attendee through the correct positions at every point for the Snatch and Clean & Jerk.
-Instruction on all accessory movements, including: hang positions, Jerk specific drills, pulls, and others.
-Break down of the essential angles, trajectories, and bar track for excellence in technique. With instruction on how to utilize these to analyze your athletes or yourself.
-Biomechanic discussion to focus on the differences in setup and positions for every body type.
-Video analysis of lifts for every attendee, and feedback for how to improve.
-Examples of multiple styles of Weightlifting templates, and instruction on how to program for different level lifters/athletes.
-Max out sessions (aka "bro-sessions")
-Meet management and strategy tips for all level coaches.
Who should come?
Anyone who is instructing or participating in Weightlifting at any level. This includes coaching clients at local affiliates, and anyone looking to gain knowledge or deeper understanding of the lifts.
Do I need to be a good lifter to attend?
Absolutely not. If you are inexperienced or struggling with the lifts, this is the perfect seminar for you to attend. The goal, execution, and desired outcome of the lifts will be made crystal clear to anyone of any experience level.