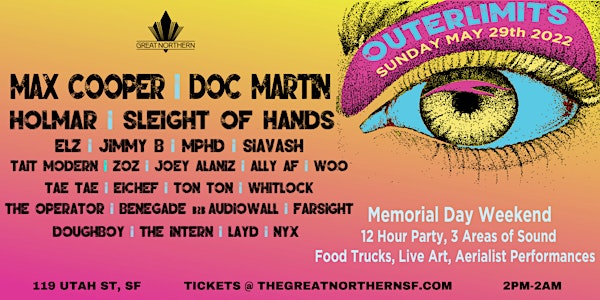 Outerlimits w/ Max Cooper | Doc Martin | Holmar | Sleight of Hands & More
The Great Northern Presents
Performers
Max Cooper, Doc Martin, Hólmar, Sleight Of Hands, Elz, Jimmy B, MPDH, Siavash, Tait Modern, Zoz, Joey Alaniz, Ally AF, Woo, Tae Tae, Eichef, Ton Ton, Whitlock, The Operator, Benegade, Audiowall, Farsight, Doughboy, The Intern, Lay D, NYX
Location
The Great Northern
119 Utah St.
San Francisco, CA 94103
Outerlimits is back this Memorial Day weekend! Join us for our one day indoor/outdoor festival of music, art & culinary creativity!
About this event
Max Cooper
Max Cooper has carved a unique space as an audio-visual artist with a science PhD and an international reputation as a leading electronic musician.
His work carries an emotional resonance and sensory immersion, often focusing on humanity's place in the world.  He merges electronic music and visual art with scientific enquiry through installations, live performance, immersive audio-visual experiences, a range of digital media and award-winning music videos.
-----------------------------
Doc Martin
The Doc began his mission on the decks back in the summer of 1986. His focus on house music from the land of funk and disco, was triggered while playing the club and warehouse scene in San Francisco. As one of the major players in laying the foundations of a strong West Coast dance scene, Doc has always been a master
of mixing the crowd with the music. Neatly avoiding pigeonholing, while embracing a myriad of different styles, his set creates a warm unique vibe of empathy on the dance floor.
Doc Martin's live sets truly bring people together. The variation in his style of music is endless. What makes him so different from the rest? A unique ability to spin everything from deep house vocals that have much depth and meaning to us all in some way, to his funky tribal Bass lines mixed with threads of acid, his passive collection of classics rare records that are only to be heard at his gigs. Doc Martin has developed the respect as a house DJ that so many of us admire. It is this respect that keeps him constantly touring; from New York to London, Japan, and everywhere in between.
-----------------------------
Hólmar
Hólmar discovered his passion for music while putting together playlists for a dance troupe he formed called "Black Widows". Eventually he was asked to perform these playlists "live" at parties all over Reykjavik's then bustling underground scene. 
Eventually, he ended up moving to New York and throwing rollicking parties all over the Big Apple. He formed the infamous Crack & Speed Records with his good Parisian friend Jef-k. On C&S he debuted his music as a part of the "super" group Mr. Negative & The Spencer Filipsson Experience. During one of Hólmar's parties at a former brothel on the Lower East Side, he met Greg Oreck and shortly thereafter founded "Thugfucker". After working together for a few years, during one hot summer night in Hólmar's studio in Williamsburg, they created "Disco Gnome". This record ended up being the first release on Life and Death Records and launched them into the international scene along with Tale of Us and Dj Tennis. 
In 2018 we saw his departure from "Thugfucker", launching his solo career. In 2019 in addition to his acid tourist antics traveling all around the world and playing parties and festivals, he has released "The Mothership" E.P. on Get Physical and the "Disarmed" remix with Nico Stojan as Lovestruckk on Oüie Records.
-----------------------------
Sleight of Hands
The first rule of professional magicians is that they must never reveal their secrets, and ridiculously-talented Producer and DJ-duo, Sleight of Hands, aren't giving away any of their mystery any time soon. What they have inevitably divulged through their accomplishments is that when a Bay Area rave specialist and a British transplant with a classical music background come together, the resulting dynamism is no illusion. Manny Alferez (DJ M3) and Phil Collis have artfully dedicated the focus of their wizardry to a shared passion for electronic music, and Sleight of Hands beams as a beacon of fresh disco-laden house sounds that is here to stay. 
-----------------------------
Void Sound | 21 + | No Refunds