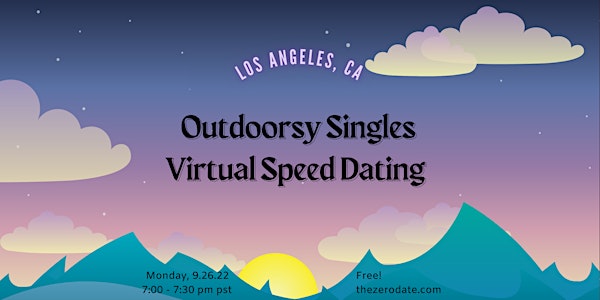 Outdoorsy Singles Virtual Speed Dating _ Palo Alto, CA (free)
A Virtual Speed Dating Experience specifically curated for outdoor-loving singles in Palo Alto, CA, Hosted by The Zero Date.
About this event
Are you ready to go on an adventure?
Join us on Monday, September 26th for an incredibly fun evening of Virtual Speed Dating with outdoorsy singles in your wheelhouse!
The Zero Date curated this guided virtual experience specifically for the outdoorsy and the outdoorsy at heart! This event is for you if you're into hiking, running, outdoor yoga/meditation, biking, camping, or any other outdoor activity. Come and meet some awesome singles from the comfort of your home.
Come experience the best way to meet other Palo Alto, CA singles.
You will meet up to 6 singles people in 30 minutes. Dates are 5 min long with a short break in between. If you mutually "heart" each other, you can exchange contact info and take it from there.👋 🫶 💓
Register on Eventbrite to save your spot!
🎟️ Here's how to participate:
1️⃣ RSVP on Eventbrite to save your spot
2️⃣ Go to https://thezerodate.com/ to set your preferences
3️⃣ Show up on Monday, 2/26 at 7pm & slide the toggle to get dates. No scheduling or planning required on your part.
🕺What's the vibe like? 🕺
The Zero Date takes all the best parts of a house party and online dating and wraps them into one. We will lead you through a series of fun, high-energy dates designed to help you break the ice, embrace the unexpected, and build connections that you wouldn't have made otherwise.
Show up,
meet your dates,
and connect over your shared love for adventure ✨
See you at Date Night!