Outdoors Empowered Network 2018 National Summit - Boston & New Hampshire
Description
The 2018 Summit!
At Outdoors Empowered Network's 5th annual Summit, join your community of peers, to connect and learn, share information, evolve our best practices, and dig deep on the programs and practices that you deliver everyday.
This is our first East Coast summit! Hosted by the Appalachian Mountain Club, at Cardigan Lodge, one of their classic, full-service accommodations. We'll hope for a terrific fall full of colors as we head to New England. Learn more about Cardigan Lodge.
To see the agenda for the Summit, please visit our website here.
Together, we are building community capacity to connect young people to nature.
---
Full Summit Registration Includes:
Meals from Tuesday dinner through Friday lunch

Comfortable, dorm style sleeping on site - Tuesday through Friday

For information about booking Friday night lodging following AMC's celebration, please see the FAQ section below or head to our website
We have one day tickets available for participants who would like to attend, but not for the entire Summit. The one day ticket price includes a light breakfast at registration, lunch and full programming on Thursday October 18th.
If you are coming from further away and would like to purchase a one day ticket that includes dinner and lodging, please contact Hannah (hannah@outdoorsempowered.org) and we'll create the perfect ticket for you!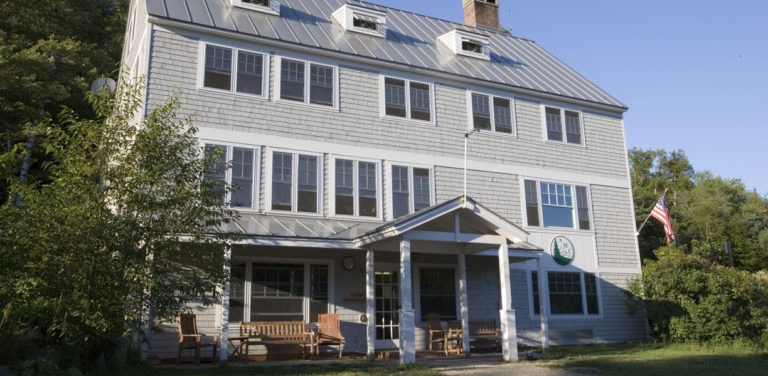 Potential Topics and Speakers:
Best Practices: We'll continue the important work we brought to fruition at the 2017 Summit, and extend what we learn by sharing the specifics our program policies, and more importantly, the rationale behind them.

Course Curricula: From day-hiking to multi-day backpacking courses, Network Member Programs are using scenarios, direct instruction, team building, debriefs and more. Sessions will address a number of curricula questions in order to illuminate best practices and allow participants to maximize learning others in the field.

Gear Management: We continue to work towards a solution- this time within Salesforce- to improve and automate our gear inventory management systems. Progress will be shared on lessons learned.

OEN's Strategy and Growth: We are the Network, and as such, we'll discuss our strategic plan and its implications regarding the support we're able to provide, what's next in terms of our plan for new members and how we best work together to make sure that everyone benefits from being part of our national level community. Your input is invaluable...you ARE the Network!

Partnership: This year, we will have special guests Carol Olson (invited) discussing new work that she is coordinating between OEN, Latino Outdoors and Youth Outside.
---
FAQs
Who should attend the Summit?
Any and all program staff of OEN member programs. We also welcome those of you who are a part of an effort to train youth service providers in outdoor leadership skills and/or to provide them with gear through gear libraries. Every year, there are attendees that fall into this category, sharing what they are learning and learning from us over the course of the Summit.
What if I can only attend the Summit for one day?
Even if you can't make it for the entire Summit, we'd love for you to attend! We have one day tickets available for those who are interested in our Thursday 10/18 programming. These tickets include a light breakfast, lunch and the entire day's programming. If you would like dinner or lodging for one night included, please contact Hannah (hannah@outdoorsempowered.org) and we will create the perfect ticket for you!
What time should my flight arrive in Boston on Tuesday 10/16?
We encourage participants to arrive in Boston by mid-afternoon on Tuesday, we will meet at the Appalachian Mountain Club's Boston office for a tour and dinner prior to heading to Cardigan Lodge.
How does transportation work for the Summit?

We will provide shuttle transportation from Boston to Cardigan Lodge on Tuesday evening and back to Boston on Friday. There are a couple options for getting to AMC's office from the airport. Please click here to read our guide on local transportation for the summit and contact Hannah if you have any trouble accessing the sheet.
How can I arrange carpooling and ride sharing from the airport to AMC's office with other attendees?
We've set up a Google Sheet for attendees to enter their travel information so that you can arrange local transportation with other attendees. Please click here to add your information to the sheet.
When should I plan to fly home?
On Friday 10/19 we will return to Boston after Lunch for the Youth Opportunities Program's 50th Anniversary party. Discounted lodging will be provided in Boston for the night for an additional cost, so you should plan to head home anytime on Saturday. We will be providing a guide for activities in Boston and other nearby areas if you'd like to extend your trip to explore YOP's programming and this beautiful region.
What are my transportation options to get to the event?
We will be providing transportation between Boston and Cardigan lodge. We recommend using Lyft, Uber, etc. to get from the airport to the Youth Opportunities Program's office on Tuesday 10/16 and to get back to the airport on Saturday 10/20. We will collect flight information from participants to share if you'd like to arrange transportation with other participants.
Is lodging included?
Yes, lodging is included from Tuesday night 10/16 to Friday morning 10/19 at the Cardigan Lodge. There will be discounted lodging options available for an additional cost on Friday night 10/19. Feel free to stay with friends, family or find a local AirBnB option. If you're finding that the cost of lodging in Boston on Friday night is too high, please contact Hannah (hannah@outdooorsempowered.org) and we can find a solution!
What are the lodging options for Friday night 10/19?
Unfortunately Boston is hosting a big rowing regatta event the weekend of 10/19 so hotel prices are on the higher end. We've found a few options for lodging and recommend sharing rooms at either hotel or at an local airbnb.
We have a block of rooms held at the Marriott Residence Inn Boston Harbor on Tudor Wharf for a discounted rate of $289. These suites can fit up to 4 with a queen sized bed and a full sized sleeper sofa. The rooms will be held until September 19th. Though it's on the pricier end, we've heard that this hotel is very nice, it also includes breakfast and is located across the street from the AMC event on Friday night. Visit this link to book a discounted room.
You can also book a discounted room at the Constitution Inn for a discounted rate of $189 with no extra taxes or fees. These rooms are more dorm/hostel style with two double beds that can fit up to 4 people. This hotel does not include breakfast and is a bit further from the AMC event on Friday night. If you'd like to book at the Constitution Inn, please contact Elizabeth Benner (EBenner@ymcaboston.org) and tell her you're with the AMC group.
We are aware that the cost of lodging is steep but hope that this does not discourage you from attending the Summit or AMC's celebration - we can always get creative and brainstorm more options. Please don't hesitate to contact Hannah (hannah@outdoorsempowered.org) with any questions or concerns.
What do I need to bring?
Casual clothes (anticipate warm days and cool nights), shoes for a gentle hike, water bottle and something nice to wear to the Friday evening AMC anniversary party.
In addition to a notebook, materials about your organization and/or program to share, and a thumb-drive with the slides/photos for your Program Share, a full list of suggested things to bring includes:
Change(s) of clothes
Warm jacket
Pillow w/ pillow case
2 pairs of shoes
Raincoat
Pajamas/sweats
Extra socks!
Hat
Towel & washcloth
Toiletries
Soap & shampoo
Shower shoes
Sunscreen (#15 or higher)
Sunglasses
Flashlight
Day pack
Waterbottle
Camera
Where can I contact the organizer with any questions?
Contact Hannah Shapiro at 773-885-4986 or hannah@outdoorsempowered.org or contact Kyle Macdonald at 415-516-9919 or kyle@outdoorsempowered.org
Head over to the OEN website for more information, a detailed agenda & a local post-Summit guide.