Join us for a new outdoor version of our popular Tantra Speed Date. Meet singles in person & in a socially distant way!
About this Event
Relationship skills game + speed date, you'll share moments of fun, guided connection with up to 10 dates in a socially-distant way.

Just like our popular pre-pandemic event (pictured above), we'll do exercises that are playful, PG-rated (verbal dyads, dance, improv), and infused with positive relating skills.
And... at a 6-foot distance. (Read more about our guidelines below)
You'll leave not only with matches, but with a spring in your step and the refreshing feeling of connecting with other singles.
Event capacity is limited and will sell out. Get your ticket today!

~ WHAT TO BRING ~
A mask (this is mandatory).
A blanket to sit on.
Water.
Paper and pen (for your matches).
Be sure to check in and receive your dating materials when you arrive.
~ IMPORTANT EVENT DETAILS ~
*You may not attend this event if you have tested positive for Covid19 or if you have Covid-like symptoms. Please stay home. We will be happy to refund your ticket.
This is an outdoor event.
Everyone will be required to wear a mask.
We'll maintain social distancing (6-feet) but we'll be in person so you can see and feel the physical presence of your dates.
Exercises will be modified so they are social-distancing appropriate (i.e. no touching) with every effort made to maintain the magic of this event.
Please keep your phone in your pocket for both sanitary and attentiveness reasons.
Event begins 30 minutes after start time. Event will be closed after that time. See cancellation/late policy below
Events do sell out, so purchase tickets now to guarantee your spot.
~ LOCATION DETAILS ~
We will be in the Pilgrim Hill section of Central Park, close to the entrance on East 72nd street.
Exact location will be emailed to you close to the start of the event. We will be arriving an hour early to claim a spot (and we have several spots we've scouted out to choose from). There may also be one of us at the entrance to find you (look for someone with a Tantra Speed Date sign).
Bathrooms - There is a bathroom nearby the area we chose, however it may not be open, so plan accordingly.
If it rains we will make a judgement call as to whether we will raincheck or continue with the event (we should have a few spots under trees, so if it's light rain we'll be fine).
~ FAQ ~
How does this work with the pandemic going on?
Very similar to the in-person events. However, we will respect social distancing, require masks at all times, and we will limit the attendance to half capacity. The dating stations have been modified (and some new ones created) so that we can maintain the spirit of the event while maintaining social distancing.
What is Tantra Yoga?
Well, for starters, it's not what you saw in American Pie! Tantra is thousands of years old (of Hindu and Buddhist tradition) and has become a buzzword, which unfortunately has some misleading definitions. Translated from Sanskrit, it means "weaving," which means bringing oneness to yourself and consciousness to what you do. The exercises are designed to bring you into a state of being more present when you meet your dates. And who doesn't want to be more present, right?
What if I don't feel comfortable doing the exercises?
Thanks for asking! While the exercises are straightforward and fun, you are always 100% at choice for how you wish to participate. If you find an exercise that doesn't work for you, then--just like in yoga--you have the option to modify or completely opt out. Everyone is encouraged to participate at their own comfort level, and our facilitators demonstrate what that looks like so everyone is clear before we begin.
What's the age range?
Some events are open and some have a specific age range (stated in the title)--though it's merely a suggestion, not a rule. See our statistics and learn why people love the open events on our FAQ.
More questions?
We're happy to answer! See our FAQ or Contact your Facilitator.
~ SUCCESS STORIES ~
~ TV, PRESS & TESTIMONIALS ~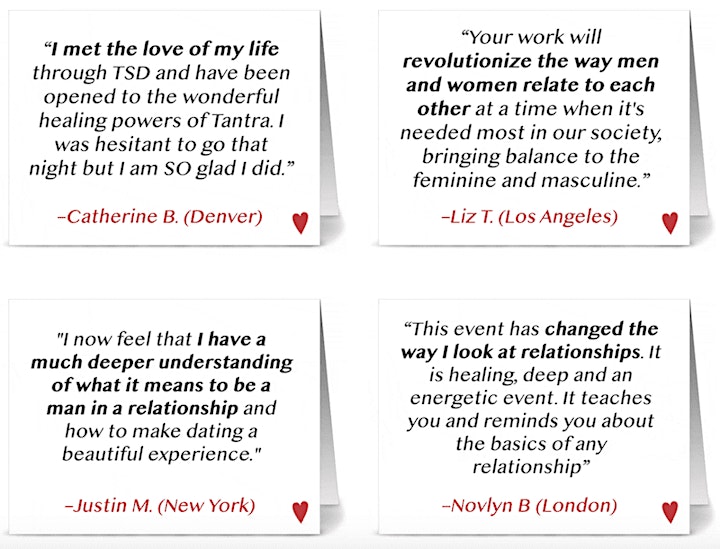 ~ YOUR FACILITATOR ~